Celtics
Who's that new guy? Everything you need to know about Daniel Theis, the Celtics' dunking German rookie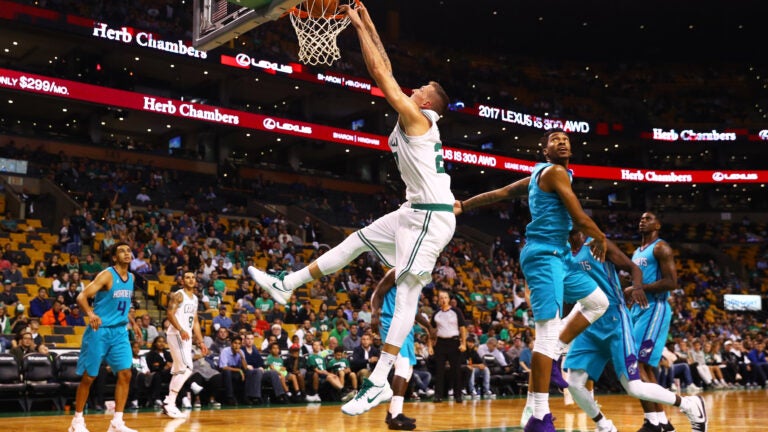 Daniel Theis's preseason debut may have left Celtics fan with a few lingering questions — namely, who is that guy?
One of Boston's less-heralded offseason additions, the 25-year-old German rookie ended up leading the Celtics in points Monday night, despite playing just 14 minutes off the bench. Theis finished with 12 points on 5-for-8 shooting, with seven rebounds, three assists, and one block. And that stat line leaves out all of the dunks.
"I just tried to bring some energy and have fun out there," Theis said after the game.
But was Monday's performance an anomaly or a preview of how much energy and fun Celtics fans should expect this upcoming season?
The Celtics signed Theis this offseason after the 6-foot-9, 240-pound forward went undrafted in 2013 and remained in Germany, where his team won three straight top-tier league championships. According to The Boston Globe, the Celtics had had their eye on Theis for "nearly six years." In fact, when his Brose Bamberg team completed their three-peat this past June, Celtics director of player personnel Austin Ainge was in the stands.
What the scouts have said
The dunks of course are what grab the headlines, but Theis says his biggest strength is his versatility. And indeed, his talents are multifold.
In a recent podcast, NBA writer Keith Smith described Theis as "a slightly less athletic" version of Chris "Birdman" Anderson, "who can actually shoot."
Daniel Theis posterizing Boris Diaw #EuroBasket2017 pic.twitter.com/tBDmgVus5x

— NBADraftProspects (@draftprosnba) September 9, 2017
Theis won the German League's best defensive player award last season and the Globe reports that the Celtics believe he will be able to guard multiple positions.
Rafael Uehara, an international basketball blogger, recently wrote that while Theis may be somewhat undersized in the NBA, he was able to hold his own down low against larger opponents.
Theis makes most of his impact defending close to the basket. He is attentive to his responsibilities coming off the weak-side in help-defense and goes up off two feet with ease to challenge shots via verticality or play above the rim as a shot blocker – averaging 2.2 blocks per 40 minutes over the last three years.

More impressive, perhaps, is how Theis often does preventive work as well, slowing down the development of plays by using his mobility to slide laterally and put his big body in the way to discourage immediate drives to the basket by opposing ball handlers turning the corner or attacking downhill off pick-and-roll.
Uehara also noted how Theis finished with an impressive 24 percent defensive rebounding rate over the past three years.
On the offensive end, he proved to be an efficient inside scorer with good hands to catch the ball off pick and rolls. And as he showed in his preseason debut, the big man is by no means allergic to putting the ball on the floor.
.@dtheis10 getting it done through contact! pic.twitter.com/oUp6aet5QI

— Boston Celtics (@celtics) October 3, 2017
According to the Globe, Theis also spent the last few years working on his long-range shot to compliment his athleticism and defense. Over the past three years, he shot 36.4 percent from three-point range (which is about a foot shorter in European play). He was one-for-one from deep Monday night.
According to Uehara, Theis did have a relatively high turnover rate last year. The German admitted after Monday's game that he was still adjusting to the speed of the NBA.
"It's so quick," he said, according to MassLive. "In Europe, it's more like play the system to the end when the shot clock is running down. Here it's a little faster, but I'll get used to it."
What we know about his role this season
The Celtics started Al Horford at power forward and Aron Baynes at center Monday night. Theis didn't enter the game until there was less than two minutes left in the third quarter, but did go on to play the rest of the game. He'll also be competing against Marcus Morris, Guerschon Yabusele, and Semi Ojeleye for playing time in the Celtics' revamped front court.
Theis's debut certainly looked promising.
"He was quick to the rim, and we needed that," Stevens said after the game.
Even when the Celtics still had Ante Zizic on the roster, Smith said he thought Theis might be the team's first option at the five behind Baynes or Horford. As SB Nation's Celtics Blog wrote Tuesday, he could potentially fill the role formerly occupied by Kelly Olynyk — both in terms of minutes and within the team's offense.
"With his combination of scoring, rebounding, defending, and passing, Theis looks as primed as anybody for more opportunity," wrote Celtics Blog's Bobby Manning. "Whatever the C's decide for him, he showed he can make the most of his minutes."
Off the court
Theis appears to be very active across social media, mostly sharing photos with teammates and in-game highlights.
And in case there was any confusion over the international big man's last name, he cleared that up Tuesday by retweeting an NBC Sports Boston video, which, among other things, helped clarify the German pronunciation of Theis.
https://twitter.com/NBCSCeltics/status/915337158390665218