Celtics
Morning sports update: 'Jayson Tatum's defense is beyond his years,' according to Brad Stevens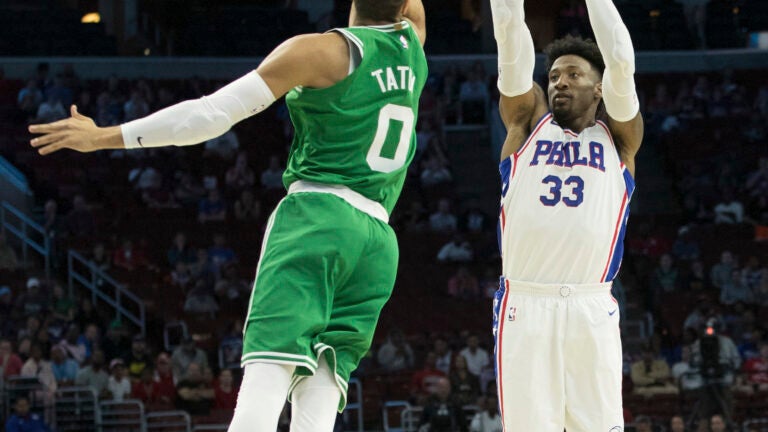 The Red Sox season comes to an end, the Patriots are getting ready to face the New York Jets, and the Celtics keeping rolling through preseason.
'Jayson Tatum's defense is beyond his years,' according to Brad Stevens: Boston's head coach spoke effusively about the rookie's defensive play before the team's preseason game against the Philadelphia 76ers.
"I don't know if surprised is the right word, but Jayson Tatum's defense is beyond his years," Stevens said, via Mass Live's Jay King. "He's very savvy and very long. He uses his length. His arms are out and he gets his hands on balls and deflects passes and discourages drives just because of his length. I think he'll continue to get better and better with the other stuff systemically, but he's done a good job for a young guy so far."
Astros beat Red Sox 5-4 in Game 4, advance to ALCS: On a rainy day at Fenway Park — the fourth straight day game — the Red Sox again saw a starter struggle early, with Rick Porcello giving up Houston's eighth first-inning run of the series. The reigning AL Cy Young winner, who led the AL with 22 wins last year and the majors with 17 losses in 2017, gave up two runs in three innings, walking three and striking out four while allowing five hits. (Boston.com, via AP)
Here's what the Red Sox had to say after their season-ending loss: "It's always tough. It felt that we had the momentum going our way, and we let it slip away from us. It's unfortunate. We have a great group of guys in here. We fought hard. It's tough to come up short like we did today." (Boston.com)
Here's what John Farrell had to say about his ejection, his team, and his future: In Game 4 of the ALDS, Boston's starting pitcher lasted longer than John Farrell. The Red Sox manager was ejected in the bottom of the second inning after a spat with the home plate umpire. While he wasn't in the dugout for the remainder of the contest, Farrell still kept tabs on his team and watched them lose a closely fought battle to the Houston Astros. (Boston.com)
Bill Belichick talks about what he's seen from Devin McCourty and the Patriots' defensive backs so far this season: The head coach shared his thoughts on McCourty, who is on pace to finish the year with 140 tackles.
"Devin's a very good tackler, always has been," Belichick said in a conference call on Tuesday. "He's got good quickness, good playing strength and a good feel for the ball. He's fast. He's made some of those tackles in space pursuit from behind that a lot of other guys might not make because of his excellent speed at the position. Tackling's a lot about technique and good fundamentals, putting yourself in a good position and having the strength to wrap up and get the runners on the ground."
"I think he and Patrick [Chung] tackle very well at that position," he continued. "I think [they're] two of the better guys that we've had. I mean, I wouldn't put them in [Rodney] Harrison's category. But you're talking about a Hall of Fame level player in my opinion, but those guys – Devin and Pat – in terms of their tackling are very good. They're very dependable. They're very good in space, which those are hard tackles sometimes when good runners have space to operate. They do a real good job there. Not just running backs with size, but receivers with speed and quickness. They get opportunities with a lot of different types of players. Devin's done a great job for us."
Bruins fall at home to Avalanche, 4-0: Sven Andrighetto and J.T. Compher scored first-period goals for the Avalanche, who improved to 11-0-0-1 in their past 12 games in Boston since the most recent loss on March 30, 1998. (B0ston.com, via AP)