Celtics
Who's that new guy? Meet Semi Ojeleye, the Celtics' possible Jae Crowder replacement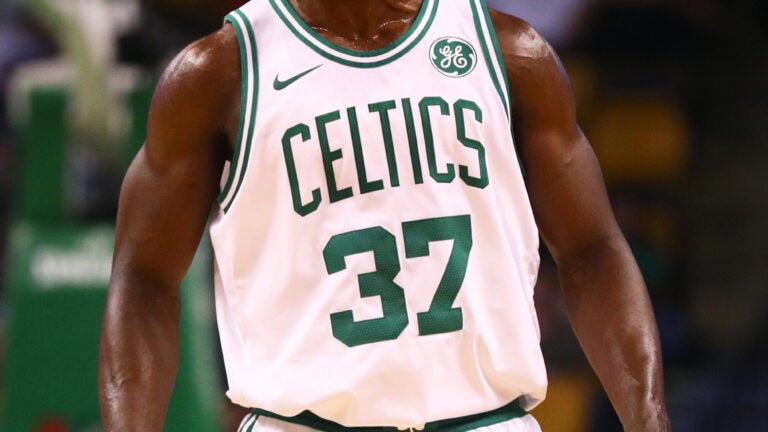 Four years later, Brad Stevens got his man.
Back when he was a coach at Butler University, the Celtics coach apparently had his eyes on a high school player named Jesusemilore Talodabijesu Ojeleye. The Kansas-born son of Nigerian immigrants went by Semi (pronounced shem-mee), for short.
"We were starting to recruit him before he blew up and had Kansas, Duke and everybody else on him," Stevens told MassLive this past summer just weeks after the Celtics picked Ojeleye in the second round of the 2017 NBA Draft.
As a high school senior, Ojeleye led his undefeated team to a Kansas state title, set state scoring records with his 38-points-per-game average, and was named national basketball player of the year by Parade magazine in 2013 (He also held a 4.0 grade point average and was a National Honor Society member).
Ojeleye ultimately opted for Duke, where he struggled for two seasons before transferring to SMU. In his role there, the 6-foot-7 junior blossomed, leading the Texas school in scoring and rebounds — and to the NCAA tournament, where his presence made the Mustangs a popular pick to make a deep run (Narrator: They didn't, in spite of Ojeleye's efforts).
As if they need another another athletic wingman, the Celtics took the American Athletic Conference Player of the Year 37th overall in the draft, a pick that was generally praised at the time. However, it's still unclear how much Boston fans will see the Ojeleye's No. 37 jersey on the court this season.
What the scouts have said
As his Draft Express scouting video chronicles, Ojeleye is both an impressive leaper and a strong inside finisher, which has resulted in a number of rim-rocking dunks. He also has a nose for crashing the boards for offensive rebounds and put backs.
But Ojeleye can also space the floor and shot 42.4 percent from the college three last season for SMU. According to Draft Express, in addition to being able to create is own shot, he has shown to be a particularly good spot-up shooter. In fact, Ojeleye was first in the NCAA in jumper efficiency off the pick-and-pop, which was a popular element in the Celtics' offense last season.
On defense, his "strong" 240-pound base and lateral quickness make him a versatile (there's that word again) defender capable of guarding power forwards all the way down to some shooting guards. According to Sporting News, he scored third overall among all NBA Draft Combine participants in a lane agility drill this year.
"His flexibility defensively is going to be enormous," Stevens said during NBA summer league play. "I think that he will compete to be one of our better defenders right out the gate."
Former coaches also rave about his work ethic.
"How much time the kid puts into perfecting his craft is crazy," SMU assistant Jay Duncan told Sporting News. "We'd get back at something like 2 a.m. from a road game, and he'd be in the gym getting shots either after the game or first thing in the morning."
According to Draft Express, Ojeleye could still work on his decision-making and creating off the dribble. His current skill set makes him more of an undersized stretch-four in some respects than a true small forward. So those could be things to focus on during those 2 a.m. workouts.
What we know about their role this season
"We needed a guy like him," Celtics general manager Ainge said of Ojeleye after drafting him. "Sometimes when we didn't have a guy like Jae Crowder, it got thin at those positions."
Well, the Celtics traded Crowder in the offseason. And despite adding Gordon Hayward, the Celtics' rotation behind their new starting star forward is still uncertain — given the clot of new wing players they've added, in addition to second-year forward Jaylen Brown and lottery pick Jayson Tatum.
Given the amount of praise Stevens has heaped on Ojeleye, his role could be "similar to Crowder's, just with more limited minutes," according to The Boston Globe. Ojeleye played 21 minutes in his preseason debut and could be locked in a "playing time battle" with fellow rookie Guerschon Yabusele. But as the Globe wrote in July, we already know the Celtics' coach has something he likes in Ojeleye.
"Stevens loves positional versatility the way we love ice cream, so this is excellent news for Ojeleye."
Off the court
The third Academic All-American in the history of SMU men's basketball, Ojeleye's character earns heaps of praise.
As Sports Illustrated wrote about in a piece earlier this year, Ojeleye's career could have easily fizzled out at Duke. In Durham, he struggled to find "peace" among the pressures of classwork and basketball, and barely saw the court as a result. But Ojeleye, the son of a Nigerian doctor and nurse who immigrated to the United States, realized his path to the NBA might too require a change of location.
"I planned for things in college to go differently, to go more smoothly, to be at Duke," he told SI. "That was my plan. But plans change."
Stevens and the Celtics will be pleased if he indeed proves to be as durable on the court as he is off it.