Celtics
Jaylen Brown could be the Celtics' X-factor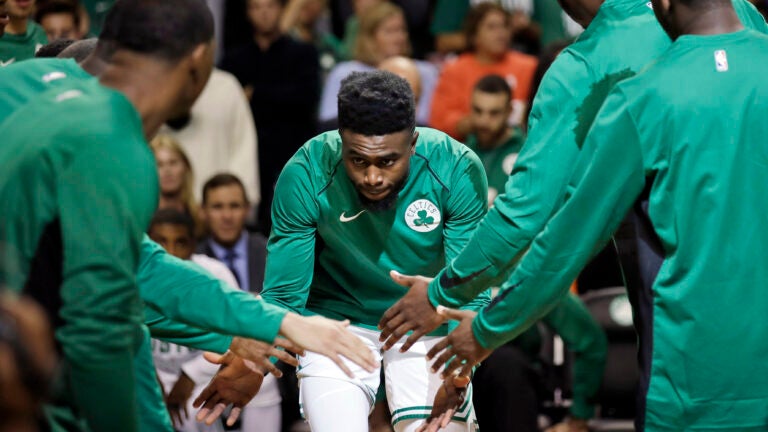 BOSTON (AP) — One of Jaylen's Brown's nicknames is "Old Man."
It sounds like a strange moniker for a 20-year-old NBA player, until you spend just a few minutes inside Brown's world.
During the Celtics' massive overhaul this summer, the focus was on the trio of new Boston additions: Kyrie Irving, Gordon Hayward and rookie Jayson Tatum.
But the forgotten player on Boston's rebuilt roster may be Brown.
The second-year forward out of California, where he was the PAC-12 freshman of the year in his lone year at the school, showed he is as cerebral as he is athletic. He didn't shy away from veteran tasks like guarding LeBron James during the playoffs. Now, he just might be the X-factor for the toughest challenger to the Cleveland Cavaliers' recent Eastern Conference supremacy.
One of just four players returning from last year's roster, Brown acknowledged he was surprised by the massive roster changes the Celtics made this summer. But he's tried to not affect his approach.
"I had a great summer, but I know there's been a lot of changes," he said. "Guys are gone that were here that had established roles and things like that…But it's above my paygrade, so I really don't pay attention to it. I'm just happy I'm still here."
Brown in many ways is both a poster child of the millennial generation, and is defining what it means to be a millennial athlete. He is using things such as social media not just to brand himself, but also as a tool to expand his understanding about the world around him.
This, all while giving people a very candid look of his maturation as an NBA player.
Brown can sometimes come off as reserved in public, but he is a free spirit in his social spaces online. His Twitter handle, @FCHWPO, is an acronym for "Faith Consistency Hard Work Pay Off."
Via his personal YouTube channel he's chronicling his journey — from offseason off-court adventures and trips, to a training regimen that includes 4 a.m. workouts.
"My mom always says how I learned to walk was by chasing a ball," Brown said. "So basketball has always taken me places that I could have never imagined."
This summer the Marietta, Georgia, native was invited to participate in the annual NBA Africa game. He has previously travelled to Australia, Italy and Greece. He's also just five states shy of visiting every state in the U.S.
That's because for everything Brown puts into his development on the court, he devotes an equal amount of time to feeding his intellectual curiosity off it.
Whether he's playing piano, testing his chess skills against young prodigies, freestyle rapping with friends, doing yoga, or soliciting book recommendations from his social media followers— Brown wants his brain to be as exercised as his muscles.
That includes him not shying away from the most polarizing off court topic in sports: the debate over athletes engaging in protests during the national anthem.
Prior to this season he reached out to every member of the Celtics' roster to solicit ideas for how the team might add to discussion.
"The president has made some comments and he's came at players and teams in the White House. But I think it's unconstitutional to do that," Brown said. "I think basketball and athletes have a tremendous opportunity with our platform to do something about it."
It showed the kind of leadership usually taken by more veteran players. But it's a welcomed sign for Celtics coach Brad Stevens, who will need Brown to play with that confidence as a new member of the starting lineup this season.
"It's new opportunity for me. It's a clean slate," Brown said.
Though he will be needed to supplement the scoring of Irving, Hayward and Al Horford, Brown's primary job will be to fill the void created on defense via the trade of Avery Bradley.
Stevens said Brown made most of his progress last season when Bradley was out with a hamstring injury. Brown started 20 games, including a stretch of 10 straight. He averaged 6.6 points and 2.8 rebounds his 78 regular-season appearances. That remained steady during the playoffs, when he averaged five points and 2.1 rebounds in 17 games.
"The challenges that he had to face on a given night — some went well, some didn't go as well. But every day was a learning process," Stevens said. "I thought he showed good growth in the Summer League, and that was all he really cared about."
Offensively, Stevens said Brown has improved his shot and is showing an increased ability to get the rim.
"But we need Jaylen to be a lockdown defender," Stevens said.
It may not have been the role that Brown envisioned himself having as his rookie year wound down, but it's one he's eager to embrace.
"I'm just trying to get better…just working, and working some more," Brown said. "I'm just trying to be the best basketball player, the best student, the best son, friend, etcetera. I'm just trying to get better in every facet."