Celtics
Kyrie Irving does his best to downplay season opener vs. Cavs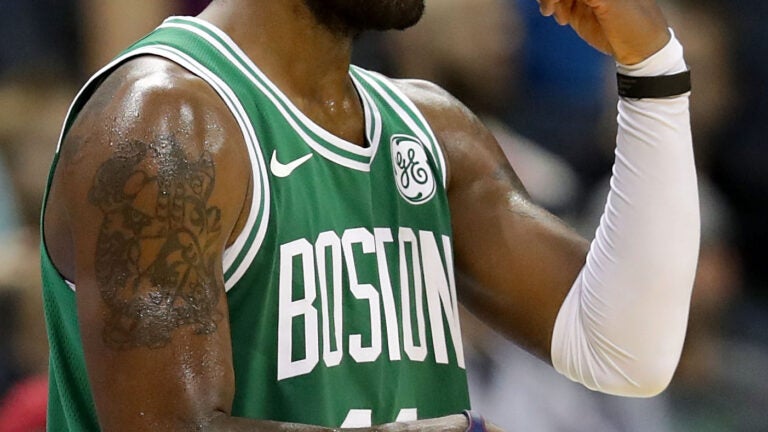 Listen to recent episodes of the Boston Globe's Season Ticket podcast.
When the NBA schedule was released in mid-August, the Celtics' opening-night game in Cleveland against the Cavaliers figured to have enough intrigue on its own. It would be a rematch of last season's Eastern Conference finals, except this time Boston would have All-Star forward Gordon Hayward.
Then, a week after the schedule came out, Cleveland agreed to send superstar point guard Kyrie Irving to Boston in exchange for a package that included point guard Isaiah Thomas and forward Jae Crowder.
Earlier in the summer, Irving asked to be traded, apparently having tired of living in LeBron James's shadow. News of his request was met with surprise around the league, mostly because few would choose to leave a championship-caliber team.
But Irving did, and just like that, the season opener transformed from an appetizing matchup to an event with leaguewide fascination.
Irving said he has fond memories of his time as a Cavalier but does not plan on being consumed by the drama surrounding Tuesday's game.
"Personally, it's just basketball to me,'' he said. "Going up there and understanding the legacy that I was a part of team-wise and individually, and just seeing the maturity and maturation process that I went through of coming in as a 19-year-old kid, and being in an unbelievable city such as Cleveland, seeing it grow, and honestly leaving a championship there, and leaving with one as well, it's pretty awesome.''
Irving said he is most looking forward to reconnecting with people he got to know during his six years in Cleveland. He knows that his return will generate significant interest for other reasons.
"All the kind of energy behind it is created anywhere except from me,'' he said. "That's pretty much it.
"I'm just happy to start NBA basketball back again. It was a long summer, understanding coming off the Finals loss and what we went through, and of course the trade happening. But now it's just time to move on to some more NBA basketball. And we move on. And I'm just pretty excited about that.''
[fragment number=0]
Still, Irving created a bit of a stir this week when he compared Boston with Cleveland and called Boston a "real, live sports city.'' Celtics guard Terry Rozier, who went to high school in the Cleveland suburb of Shaker Heights, said some people in Ohio were irked by Irving's comments.
"But I'm going to defend him because that's my teammate, at the end of the day,'' Rozier said. "We're coming in at the first game with the mind-set to get a win. So, like I said, he's my teammate, so I'm with him.''
In the coming days, Irving will be asked more about this matchup, and he will surely do his best to minimize it. The other Celtics, however, understand that this will not be just any game, especially not for him.
"A huge game for Kyrie, and I think one we're all looking to play our best for him,'' said Hayward. "Not only for the team, but for him. We know it's a big game for him.''
Hayward, of course, will deal with his own potentially awkward homecoming in March, when the Celtics travel to Utah to face his former team, the Jazz, for the first time.
Celtics forward Al Horford spent his first nine NBA seasons with the Hawks before signing a four-year deal with Boston in 2016. He said that before he made his first return to Atlanta as an opposing player last year, he didn't think it would be anything out of the ordinary.
"But then getting to see when I was walking into the arena, the people that work in the arena, the media people, some fans, people that I've known for many, many years, that's when it kind of starts getting to you,'' Horford said. "So I'm sure Kyrie will go through something similar.''