4 Celtics players who must step up without Gordon Hayward
COMMENTARY
For something that can give us so much joy, professional sports can be exceptionally cruel.
Perhaps the wildest summer in NBA history gave way to a preseason that showed exceptional promise for the Boston Celtics. Tuesday night, the entirety of Celtics nation tuned in to see what that promise could bring in an immediate test against LeBron James and the Cavaliers. People overseas set alarm clocks just to be awake to see it live. Dark corners of the internet were scoured for any sort of streaming glance at who these new Celtics might be.
And then…
The cold, cruel sports gods dealt Gordon Hayward a horrible hand. Conservatively, he is out months, which leads to another cold discussion that needs to be had.
Who fills the void?
A very Belichickian analysis of this situation is suddenly very necessary. The basketball season is, without any overtimes, 3,936 minutes long. Assuming the worst, the Celtics will have 3,931 of those minutes will be spent without Hayward on the floor.
Someone has play those minutes. Here's who'll be counted on the most.
1. Jayson Tatum
The Celtics were counting on Hayward to score a lot of points. Someone else is going to have to score those points and the young rookie is suddenly going to have to find a way to pick up some of that slack.
Luckily for Boston, Tatum's offensive game seems more mature than most NBA rookies. Just look at this and-1 from last night:
Nice composure from Tatum on this and-1 vs. LeBron. Followed up a scoreless 1st half to have 10 in the 3rd pic.twitter.com/ZXyrpUuPGq

— John Karalis ?? (@RedsArmy_John) October 18, 2017
First, he recognizes LeBron's momentum. When James hops, Tatum is moving just as he lands, putting LeBron off balance.
Secondly, he drive into LeBron's body, which is a bit off balance. He initiates the contact but because the defender is not in proper position, Tatum gets the benefit of the doubt.
Finally, he absorbs the contact and gets a good shot off.
Tatum will make plenty of rookie mistakes but this here is a clear indication that he's got some NBA-level offense in his repertoire. An oh-for-everything first half last night gave way to a wonderfully efficient 12 points on 4 of 7 field goal attempts.
It's not only encouraging to see a stretch like that from a rookie, it's especially encouraging to see it as a bounce back from missing everything before the half. The composure to do that is impressive, and the Celtics will need a lot more of it to stay afloat in Hayward's absence.
2. Jaylen Brown
The second-year Brown spent the summer and pre-season working on specific skills he felt he needed to take a step forward. Against the Cavs, he leapt forward with an aggressive mix of drives and threes. Like most of the Celtics, he struggled early, but bounced back with a very impressive second half.
Where Jaylen will need to really step up is on the defensive end. Hayward is an underrated defender, and with him out, someone will have to draw his defensive assignments as well as make up some of the scoring gap.
Brown has shown himself to be a much-improved defender. We know he's also amazingly athletic, which means live-ball steals and open court finishes like this: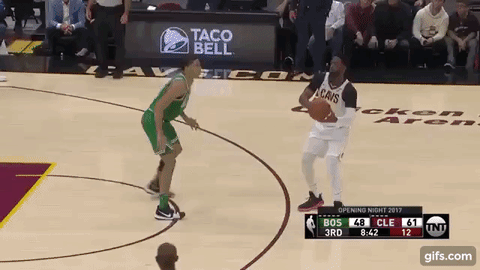 Sure, his dunk last night was a bigger highlight, but in this play he anticipated the pass, got out into the open court, maintained his dribble and finished at the rim. Any sort of play like this is a four-point swing (two your opponent doesn't score, and two scored for your team), which is why forcing live-ball turnovers and getting out into transition completely transforms games.
He'll find his half-court opportunities, but what Brown needs to do more than anything right now is defend, get steals, and run. He'll be rewarded if he does, and the Celtics will be rewarded with big runs.
3. Kyrie Irving
This one is simple: Kyrie Irving is now Boston's lone, star scorer. No one will be able to hit the ridiculous shots he can hit. Not to sound cliche, but this is the type of situation where stars raise their games.
The Celtics will still run their read-and-react offense, but without Hayward it's more likely to break down. When it does, it'll be mostly up to Irving to find a decent shot for himself. Just watch this:  
Here's how that play breaks down: Kyrie is really, really, really good at scoring the basketball. When set plays and other options aren't there, Kyrie should do a lot more of this.
4. Terry Rozier
I've questioned how Rozier would actually fit in this year. He had a nice pre-season, which followed a nice post-season. But he also had a sub-par regular season last year, which just can't happen now.
The need for another body to fill the minutes left vacant by Hayward pushes everyone below him on the depth chart up a spot. Personally, I'm in favor of keeping Marcus Smart in the primary backup ball handler role, which would push Rozier into more wing minutes. Even if the Celtics decide to put Smart in the starting lineup, that still makes Rozier the backup point guard. Either way, he's going to be asked to do a lot more than he was yesterday at this time.
This is where the coach-speak comes in. As horrible as Hayward's injury is for him and the team, it does present an opportunity for Rozier above all others. He stands to gain the most minutes in this, and he has no choice but to step up. No one wants their chance to materialize this way, but this is how it has happened. Nothing can change that now, so Rozier can only focus on the future. This is his chance, so he needs to make the most of it.
It's obvious the entire team needs to step up when a star goes down for extended time. However, these four players more than any others will be asked to make up for what the Celtics lost in Hayward.
The Celtics have 81 games left this season and most of those will be without a guy they counted on to be a major contributor. If these guys can elevate their games, the Celtics might be well positioned to make run if Hayward is somehow able to come back before the season ends.