Celtics
Here's what Celtics had to say following Gordon Hayward's grisly injury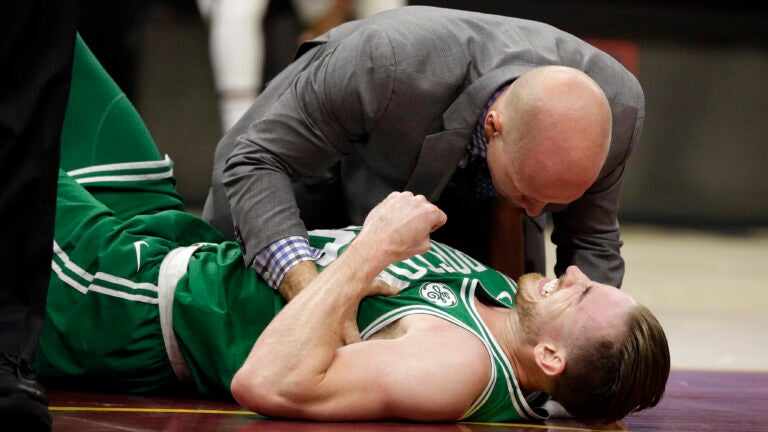 The Celtics were visibly shaken after Gordon Hayward went down with a fractured left ankle in the first quarter on Tuesday night. What started as a competitive contest slowly unraveled into what appeared to be an inevitable Cavaliers' blowout, as Cleveland mounted a 23-9 run following Hayward's injury.
A fiery Boston squad emerged from the locker room after halftime, however, and the Celtics outscored their conference rivals 33-18 in the third quarter. Despite Boston's three-point lead with less than two minutes remaining, the Cavaliers would ultimately make a 7-1 run to close out the game and hang on for the 102-99 win.
Amidst the emotional night, not even a tantalizing comeback could effectively lift the spirits of a dejected Celtics group that had just watched one of their teammates suffer such a horrific injury. Here's what the team had to say following their season opener:
Brad Stevens
"You hurt for him," the Celtics head coach, who also recruited Hayward to play at Butler, told reporters. "I really feel for him."
"He's put in a lot of great work, and I think he had his most comfortable week as far as feeling like he was going to play really well," Stevens continued. "Now we'll hopefully get a full recovery, and so it's a tough deal, but I guess that's part of it, the risk of injury."
Stevens also provided an update on Hayward's status, informing the media that the forward was en route to the airport via ambulance. From there, he was to be transported via MedFlight back to Boston and then be taken to New England Baptist Hospital in Mission Hill.
"Whether you play for the Celtics or you play for the Cavs, nobody wants to see that."
In terms of how the game went following Hayward's exit, the coach acknowledged the first half was "pretty bad" but thought the group "played with some semblance of organization and togetherness" in the second. As for what he told the shellshocked Celtics in the immediate aftermath?
"I don't have any magic words for that," Stevens said, via ESPN. "I mean, you're all hurting for him. I'm not going to try to take the human element out of it."
Jaylen Brown
"Prayers to Gordon," Brown said, via MassLive's Jay King. "I hope everything is all right. Hopefully he has a speedy recovery, and we'll be praying from him."
"It's tough. Gordon is a leader of our team, and going into the season, we leaned on him a lot," he continued. "Now we just have to come together even more and just try to be a better team until he comes back. But it's tough being out there to see something like that. I hope he recovers as best as he can."
The 20-year-old revealed that Semi Ojeleye, the Celtics second-round draft pick, led the team through a prayer while they huddled on the sideline for Hayward as he received medical attention.
"Semi led us through a prayer for Gordon, hoping everything was all right," Brown said. "He could bring us together during this time, and for him and his family, just to be there for him."
Looking forward, Brown believes that the onus is on the team to come together as a unit and play their best basketball.
"We got more than enough talent," he said. "We got a great coach in Brad Stevens, so at that point, it's just play basketball, play for each other, play the game the right way, and I think we'll be fine."
The Celtics offered shades of that mentality on Tuesday with their second-half performance. On the game, Brown scored a team-high 25 points and shot 47.8 percent from the field.
"I felt when you get hit with adversity, there's either two ways you can go: you can go forwards or backwards, so I think tonight we chose to go forward and we played a tough game," Brown said.
Jaylen Brown: Celtics chose to move forward after getting hit with adversity of losing Gordon Hayward pic.twitter.com/RGr9zUUDfu

— NBC Sports Boston (@NBCSBoston) October 18, 2017
Kyrie Irving
"Any injury is tough, especially when it's one of your own teammates," Irving said. "We understand that gotta just pick ourselves up and get on with continuing as best we can with the season until he's back with us. But spirits to Hayward."
"We know G is going to to be fighting to get back on the court," he continued. "But first things first, was just putting our good spirits in him as well, showing that we are as one and we've got his back."
Irving — who was a member of Team USA when Paul George broke his leg in similar gruesome fashion in 2014 — called Hayward's injury one of the worst ones he's ever seen.
"It's tough. I've seen a few injuries in my career and I've had a few," Irving said. "It's not a great sight to see, but you gotta pick yourself up. Just keep on fighting, man. We understand that G, God willing, will be fine, and we're going to continue to pray for him and be there for him as best we can."
Given the circumstances, however, Irving still understood his role with the team and emphasized that the team needed go out there and play basketball. In his first game wearing green and white, the point guard scored 22 points, recorded 10 assists, and shot 47.1 percent from the field, including 4-for-9 from three-point range.
"At the end of the day, there's still a game to be played, as sh—- as that sounds, but there's still a game to be played," he said. "We understand that. We're professionals, so when one of our brothers goes down, we just pick the rest of our guys up and understand that we send our well wishes to him and his family."
Al Horford
"It's hard. It's hard to see one of your teammates go down in that way," Horford said, via Mass Live's King. "I felt like it took us a little bit to get back going again. But we tried to stay together out there."
"We were very excited to have him really flourish, and he had a great week of practice," he continued. "Everything was great. This is a setback for him, but for us we have to keep encouraging him. He needs to take his time, get well."
Horford expressed that he is confident Hayward will make a triumphant recovery.
"Knowing Gordon like I know him, I know he'll be focused and he'll come back," he said. "Hopefully he comes back when he's ready, and at the right time."
Until then, the center said "different guys will have to have step up." One of those players is Marcus Smart, who entered the game off the bench to replace Hayward. Smart scored 12 points and grabbed nine defensive rebounds in his 35 minutes.
"It really affected our group, but we're trying to do our best to stay together and think about the next game and forward," Horford added.
A somber Horford recaps how the team coped with Hayward's injury pic.twitter.com/a38FhPBdHQ

— Celtics on NBCSB (@NBCSCeltics) October 18, 2017
Other Celtics