Celtics
Jayson Tatum's stats from his NBA debut mirrored those of Celtics legend Larry Bird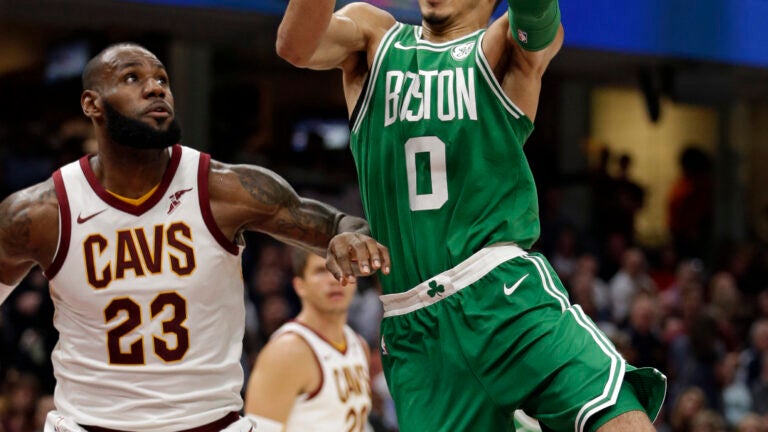 Jayson Tatum didn't exactly receive the warmest welcome to the NBA.
The rookie's very first shot in his league debut was met by none another than a block by LeBron James.
.@KingJames welcomes @jaytatum0 to the NBA! ✋ pic.twitter.com/eiAJelPv9g

— NBA TV (@NBATV) October 18, 2017
Jayson Tatum's first two pro minutes: Swatted by LeBron, defensive 3-seconds, and caught reaching on Wade. Welcome to the NBA.

— Adam Himmelsbach (@AdamHimmelsbach) October 18, 2017
After the game, Tatum said that facing James was nothing like he had envisioned.
"He's way bigger than I thought," the 19-year-old said. "He's way better than I imagined. That's the reason why he is who he is."
James' fierce block coupled with Gordon Hayward's traumatic injury coupled with first-game jitters may have rattled the young star for the remainder of the first half, as he shot 0-for-5 from the field.
But after halftime, Tatum, like many of his teammates, came out firing. The forward finished with 14 points, 10 rebounds, and three assists. Having already made history as the first Celtics player to start in his NBA debut since Paul Pierce in 1999, Tatum's impressive performance made the night all the more historic. He became the first Celtic to notch a double-double in their league debut since Larry Bird in 1979 and is only the third to do in franchise history.
Jayson Tatum is the first @celtics player to record a double-double in their #NBA debut since Larry Bird (1979).#NBARooks pic.twitter.com/NZ7KZ9SXwf

— NBA.com/Stats (@nbastats) October 18, 2017
Tatum and Bird's stats from their first games in green and white were eerily similar. They scored the same amount of points, snagged the same number of rebounds, and shot nearly the same field-goal percentage.
So Jayson Tatum is basically Larry Bird #CelticsTalk pic.twitter.com/DEfEmtzzLg

— Celtics on NBCSB (@NBCSCeltics) October 18, 2017
When asked what changed for him heading into the second half, Tatum said that he felt more relaxed.
"I think during the first half, I was nervous and anxious," he told NBC Sports Boston. "Then the game just slowed down for me during the second half. I think that helped out a lot."
Given the circumstances, head coach Brad Stevens had nothing but praise for the team's first-round draft pick: "I thought he did a pretty good job for his first game. It's pretty hard to do, being thrown into this environment for your first game."
Jaylen Brown echoed this sentiment and expressed the utmost confidence in his teammate: "Jayson, he's a special talent. We're going to get to see it this season, especially with Gordon going down, so Jayson has to step up but he's going to be all right."
Watch some of the highlights from Tatum's big night below.
Kyrie lobs it up to Jayson Tatum for his first #NBA basket on @NBAonTNT!#NBARooks pic.twitter.com/CqHcAlmqmy

— NBA (@NBA) October 18, 2017
https://twitter.com/NBA/status/920466938844860416