Celtics
Brad Stevens consulted Frank Vogel for advice after Gordon Hayward's injury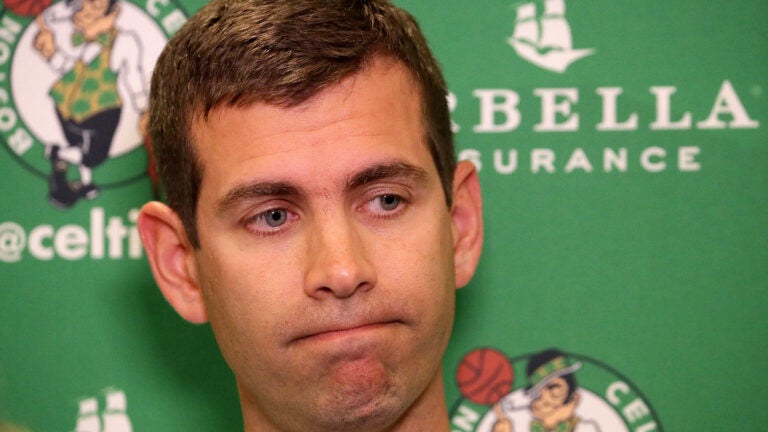 On his way to gym before the Celtics hosted the Milwaukee Bucks on Wednesday, head coach Brad Stevens made a phone call.
"I called Frank Vogel," Stevens told the media on Friday.
Why Frank Vogel?
Vogel was the head coach of the Indiana Pacers when Paul George broke his leg in a 2014 Team USA scrimmage. Because of  an awkward landing at the foot of the basket stanchion, George's lower right leg snapped as he fell to the floor. As a result, the forward missed all but six games of the 2014-2015 NBA season.
When Boston's Gordon Hayward fractured his ankle on Tuesday, many players — including Kyrie Irving and George, himself — had flashbacks to George's gruesome injury. Stevens decided to seek out some advice from a man who has been in his shoes.
He said he asked Vogel: "'What are some of the things that Paul did in his year off that you would really encourage? What are some of the things that we really should be looking at?'"
Stevens didn't elaborate on what he learned, but he did mention that he visited Hayward following his successful stabilization surgery late Wednesday night. The procedure was performed at the New England Baptist Hospital in Mission Hill.
"Yeah, I was over there yesterday for a while," he said. "I try to maintain consistent contact."
The coach added that although Hayward is suffering from some of the common post-surgery challenges, like pain, the forward's spirits were "pretty positive yesterday" after "the surgery went great." Hayward's wife, Robyn, also shared on Instagram that the procedure went well, as did his father on Twitter.
Stevens and Hayward, who were also together at Butler, also started discussing the recovery process.
"We talked a little bit about how to approach the next five months, you know, with maintaining that positivity in different ways to stay engaged, different ways to approach this and attack this," Stevens said. "He's ready to get started on his rehab the minute he got out of surgery."
Stevens emphasized that it's going to be important, albeit difficult, for Hayward to stay engaged from both a basketball and non-basketball standpoint. But Stevens is confident that they will devise a plan of attack to make the forward's time off meaningful and effective.
"I think this is one of those things where it's easy to kind of hole up, when you're going to be out," he explained "You're going to be out a long time. You're excited because you anticipate a full recovery, but I think it's really important just to be active and to be as active as you can."
"He's going to be the best guy shooting out of a chair with his left hand, with his right hand, you know," Stevens added. "He's going to perfect his form. Let's have fun. Let's come up with creative ways to attack this."