Celtics
Morning sports update: Brad Stevens says the Celtics have 'a long way to go'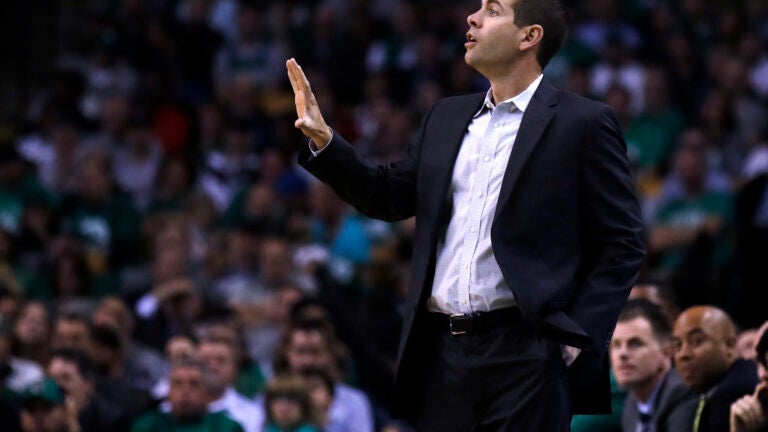 The Celtics play the 76ers on Friday, the Bruins play the Sabres on Saturday, and the Patriots play the Falcons on Sunday.
Brad Stevens says the Celtics have 'a long way to go': Following the Celtics' loss to the Milkwaukee Bucks on Wednesday, Boston's head coach Brad Stevens acknowledged that his group has "a long way to go."
Stevens said in his postgame press conference that he thought the night "could have been worse" on account of the Bucks' missed open shots, praising opposing players Giannis Antetokounmpo and Khris Middleton for their impressive performances.
"I thought that we got outplayed," he said. "So, whatever that's attributable to, we've got to fix it. We've got to be better at it, regardless of when it is."
The head coach noted that it's going to take some time for the team to find the right rotation, given Gordon Hayward's likely season-ending injury, but he's hopeful that the right combination will come.
"We've got a lot of young guys," he said. "We obviously didn't anticipate going maybe this far into the bench this early. But I thought some of those guys did a pretty good job."
Patrice Bergeron leads Bruins over Canucks 6-3 with goal, 3 assists: "I was ready to go," said Bergeron, who missed the first five games of the season while still recovering from surgery on a sports hernia. "You don't know what to expect obviously. You're trying to hope for the best, but, you know, I don't want to say I was surprised because you want to be at your best every time you step on the ice." (Boston.com, via AP)
Tuukka Rask out indefinitely with a concussion: The Bruins announced that the team's starting goalie, Rask, has been diagnosed with a concussion after he collided with rookie forward Anders Bjork during Wednesday's practice. Anton Khudobin got the start for Boston's game against the Canucks on Thursday, while Zane McIntyre has been brought up from Providence to serve as a backup.
Nike has created one last reminder of Super Bowl LI ahead of the Patriots-Falcons rematch: Nike announced on Wednesday that the company has produced a special edition sneaker that was manufactured using footballs from Super Bowl LI. According to the press release, the one-of-a-kind model was created "to honor the New England Patriots' victory" and the "greatest comeback" on that stage in league history. (Boston.com)
Nike makes an Air Force 1 using game-used footballs to commemorate Patriots Super Bowl LI comeback, only pair to be auctioned by Pats pic.twitter.com/And94qgjue

— Darren Rovell (@darrenrovell) October 19, 2017
The Celtics provided an injury update on Gordon Hayward: "Last night Celtics forward Gordon Hayward underwent successful bony and ligamentous stabilization surgery for the fracture dislocation of his left ankle sustained on Opening Night. The surgery was performed by Drs. Mark Slovenkai and Brian McKeon at New England Baptist Hospital, assisted by Dr. Anthony Schena, following consultations with Dr. David Porter of Methodist Sports Medicine in Indianapolis. No timetable has been set for Hayward's return, but he is expected to make a full recovery." (Boston.com)
Gordon Hayward's wife shares she hasn't slept for 41 hours: Robyn elaborated on what the past two days have been like for their family. She revealed in her Instagram story that she has been awake for "41 hours straight." Despite the sleepless nights, however, she wrote that she is extremely happy that "all is well." (Boston.com)