Celtics
5 things we learned about Kyrie Irving from his conversation with Geno Auriemma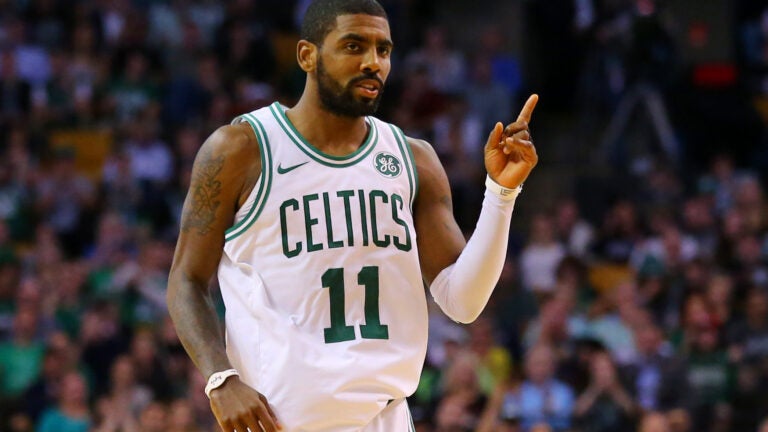 Kyrie Irving and Gordon Hayward aren't the only ones who share the same birthday. Head coach of the UConn women's basketball team Geno Auriemma was also born on March 23, albeit a few years earlier than his fellow Aries.
For the premiere episode of his new podcast, "Holding Court," Auriemma hosted one of his birthday triplets, Irving, as well as one of his former players, Sue Bird, to discuss a subject that they are all far too familiar with: basketball. Auriemma — who's led UConn to 11 NCAA championships — asked Irving about a number of experiences, including his time playing for Team USA in the Olympics, his college recruiting process, his first NBA title, and his decision to come to Boston.
Here's what we learned about the 25-year-old through their discussion:
Coach Krzyzewski was a huge selling point for him to commit to Duke.
When Irving was determining where he wanted to play college basketball, his decision ultimately came down to three schools: Texas A&M, Kentucky, and Duke. But it was game over for the two former institutions after the five-star recruit made his way down to Cameron Indoor Stadium in North Carolina.
"Once I went on my official visit at Duke, I pretty much knew I was going to commit there," he told Auriemma and Bird. "I went to a game, I got to stay with some of the guys, and I got to play with the guys as well. When I got to experience that campus, everything felt like would be great for me to elevate my game."
Irving called Duke an opportunity "to be prime time every single night" and credited much of that special atmosphere to the team's head coach: Mike Krzyzewski. "Having the NBA scouts there and having the connections that Coach [Krzyzewski] has with everyone in the league" were both major upsides for the point guard.
Most importantly, however, Irving appreciated the fact that Krzyzewski welcomed him with open arms: "Coach allowed me to be me." And when translating his game to the NBA, he thought there was no better teacher than Coach K.
"I felt like [Duke] was the best place to do it because I was going to be taught in a way unlike any other coach could possibly do," he explained. "Coach gave me the freedom. As a freshman, he was like, 'Come on in. We want you to push the basketball. We want you to take over. We want you to be you.' … I had the opportunity to come in and make and impact right away until I got hurt."
Interestingly enough, the group Irving visited in 2010 won the a hard-nosed battle in NCAA championship against Brad Stevens' Butler Bulldogs later that year. The player that missed the potentially game-winning half-court shot was none other than a current teammate: Hayward. Although Duke's tournament bid the following season ended in the Sweet Sixteen — and Irving's court time was limited to just 11 games due to a severe ligament injury in his right big toe — the point guard is still thankful for the platform that the university provided.
Nothing can really prepare you for the feeling of winning a championship.
In 2016, Irving won his first ring with the Cleveland Cavaliers in a seven-game series against the Golden State Warriors. Despite accomplishing a goal he's always dreamed of — and logging plenty of practice hours along the way — Irving says no amount of preparation will adequately ready you for that moment.
"It's hard to explain it, or even put yourself back in that moment again because it was so fresh. It was so new," he said. "It was something that you knew the amount of sacrifice and time and amount of commitment… Thinking about those hours of staying up late and figuring out how you can best fit with the team that you're with… Thinking about what's the next step in order for us to continue to get better."
Although they eventually raised the Larry O'Brien trophy, the Cavs' chances of winning seemed rather unlikely when the Warriors held a 3-1 series advantage. No team in in league history had ever overcome such a deficit. Cleveland's comeback made the championship all the more sweet, especially for Irving who hit the game-winning three-pointer in the final minute of Game 7.
"Being down, you hit some hard steps," he said. "You just gotta be extremely resilient, and when you ultimately accomplish it, it's almost like a 'Wow, wow, wow" moment, almost like when you see a comic book and they highlight around it. It's just unbelievable. That moment you can't even explain it."
He credits watching the movie Whiplash as a turning point in his career.
On Irving's shoes, you'll find the word 'Whiplash' penned in cursive along the side of the sole. Why? The 25-year-old credits the 2014 film for providing a necessary boost in his career.
"I first saw it in Kobe's 'Muse' documentary that he released," Irving said. "He was talking about 'Whiplash,' and I was like, 'Man, I got to catch that movie.' I had no idea what it was going into it. I ended up ordering it and watching it, and watched it over and over, and watched it probably about six times."
Irving watched the drama for the first time in 2015, when he was suffering from a knee injury that sidelined him for his first NBA Finals and the start of the following season. He calls the movie "a turning point" in helping him take things to the next level.
"I just, I was amazed," he said. "It was just that twitch. It was just that extra level that I knew I had to push through despite what I was going through. The perfection of the craft in anything that people are doing in life, it takes a sh– ton of sacrifice and being away from things that normal people would want to do."
"You have to sacrifice relationships, you have to sacrifice a ton of your focus. You have to develop your mental aptitude, and I started figuring out that the little things matter in the grand scheme of things and in putting on a huge performance," Irving explained. "No one gets to see the things you do behind closed doors. The sleepless nights and staying up late and bleeding, basically bleeding for your craft because you want to be that great. I took all that from that movie, and I started loving it more and more."
He has a knack for questioning things.
Workouts: While playing for Team USA at the 2016 Olympics, Bird recalled a friendly argument between Irving and forward Carmelo Anthony.
"Melo kind of comes from a standpoint that I think a lot of basketball players do," she said. "You go out on the court and traditionally you shoot 'Make 10 at five spots.' And the spots are the corners, wings, and top of the key. But Kyrie got into it with him — obviously this is friendly fight, it was nothing serious — and was just like, 'Why? Why?'"
Bird expressed her admiration for Irving's inclination to fight the traditional mindset.
"It's true," she said. "Like in basketball, why do we do that? That was one of my favorite conversations I got to eavesdrop on."
The two-time WNBA champion and Irving also bonded over their mutual distaste for pre-game shootarounds.
"I'm sick of them already," Irving said. "I'd rather just show up to the game at 7 o'clock. I feel like it should be an individual thing. If you want to get shots in the morning, then go get shots. I wanna figure out my routine that works for me. The forceful going over the plays at 9 or 10 in the morning… No one is awake. As much as the coaches want to get something out of us, no one is awake."
Flat Earth: Though he recently revealed that his flat Earth theories were simply a way to troll the media, it appears that Irving isn't entirely convinced that the Earth is round. He explained the reasoning behind his thoughts to Auriemma:
"The whole intent behind it, Coach, it wasn't to bash science," he said. "It wasn't to like have the intent of starting a rage and be seen as this insane individual. When I started seeing comments and things about universal truths that I had known, like I had questions."
"When I started actually doing research on my own and figuring out that there is no real picture of Earth, not one real picture of Earth — and we haven't been back to the moon since 1961 or 1969 — it becomes like conspiracy, too."
But what drove Irving crazy was the fact that people classified him differently as an intellectual on account of his desire to have an open discussion about the topic.
"The separation that I can't stand is because I think one particular way … then there's a tirade of comments of who I am character-wise," he said. "The only intent was for people to open up and do their own research. It wasn't to, 'OK, let me figure out and go against science. Let me go against what I've been told is right, and all this stuff.' The only intent was just to wake up and do your our research."
"Instead of just assuming something that's been told to you — because I've been told a lot in terms of my history, and facts and particular facts, and it's been completely false," he continued. "I just wanna open up and have that conversation. I wanted to just ask other individuals, like do you really think this actually happened? I just wanna know. Because I don't know either."
Coming to Boston was "kind of pre-ordained."
In a blockbuster deal with the Celtics, the Cavaliers sent Irving to Boston following his request to be traded out of Cleveland this past summer. While many speculated that LeBron James was a major factor in his decision to leave, Irving has focused much of the conversation on his future rather than the past.
When Auriemma asked why he decided to come to Boston, the four-time All-Star responded: "That was kind of pre-ordained."
Irving explained why the move just seemed to make sense for him. His parents met in Boston. Both his mother, Elizabeth, and father, Drederick, were student athletes at Boston University. As a result, Irving spent a lot of time in the city when he was growing up. He even went to his first basketball camp at his parents' alma mater. Over the years, he said he cultivated a "deep-rooted connection" to the city — one that he still feels today.
"I don't even question it," he told Auriemma. "It just ended up really, really working out."
As an added bonus, Irving's two younger "brothers," Bryce Aiken and Jayson Tatum, are both close by. Aiken — who played basketball at Irving's high school, St. Patrick — is now a sophomore guard at Harvard, while Tatum — who was also drafted out of Duke — is of course a rookie forward on the Celtics.
Outside of his established link with the city, Irving also lauded Stevens as a tremendous selling factor. He spoke very highly of the head coach, praising not only "his knowledge of the game for how old he is" but also his overall demeanor.
"He's starting to gain notoriety, but he always, always downplays it because he understands that the importance is not in himself. It's not in gaining any acceptance from anyone else in terms of what he can do as a basketball head coach. It's just literally about the job and his family," he said.
"When you have a guy like that — that's just putting it out there in terms of what he's about — it kind of draws you. You want to be drawn to people like that. It was something I was unbelievably craving in terms of what I wanted for my career," he continued. "Brad fits perfectly in terms of that because he has an intellectual mind and is an intellectual human being."
For more about what Irving has to say about the Celtics, the night of the NBA Draft, his relationship with Hayward, and other topics, listen to the first episode of "Holding Court."