Celtics
Steve Kerr calls Brad Stevens 'one of the best coaches in the league'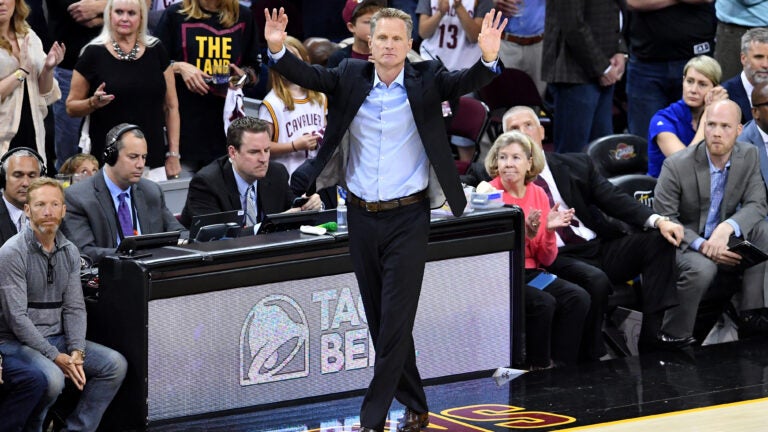 When Golden State Warriors coach Steve Kerr first met Brad Stevens, he already had a good feeling about the Celtics' coach.
"You could just tell he got it," Kerr told Boston.com.
The pair's initial meeting was actually before either coach was in the NBA. Kerr, who worked as a broadcaster prior to becoming head coach of the Warriors, had lunch with Stevens during the 2010 NCAA men's basketball tournament in Indianapolis. Stevens was head coach of the Butler Bulldogs at the time.
"I liked him immediately because of his demeanor," Kerr said. "Not only could you tell he was very intelligent, but he also had a high EQ [emotional intelligence]."
Kerr said Stevens had asked him a few questions about the NBA because the 33-year-old had begun thinking about possibly transitioning to the pros. Stevens couldn't have asked for a better brain to pick. Kerr boasted extensive NBA experience even before joining the Warriors, having played 16 seasons — with five rings to boot — and worked as the general manager of the Phoenix Suns.
The Celtics ended up hiring Stevens in 2013, just a year before Kerr began coaching Golden State. Although their teams are in different conferences, Kerr tapped Stevens as "one of the best coaches in the league."
"I'm amazed at how good he is," Kerr said. "Not just because he has impressive plays, but because of the way he handles his team, the league, and the media."
The two will meet again on Nov. 16, when Boston hosts Golden State for an 8 p.m. contest at the TD Garden. The game matches the defending NBA champions against the revamped Celtics and their new point guard Kyrie Irving, who battled the Warriors in the three most recent NBA Finals.
Before tip-off, Kerr spoke to Boston.com about his experience coaching in the NBA, as he enters his fourth season. Here's what he had to say:
The first basketball coach Kerr remembers is the late John Wooden — who he says was "dominating college basketball" during the late 60's and early 70's. Having attended high school in Los Angeles and grown up a UCLA fan, Kerr said he went to Wooden's camps three years in a row and those summers helped him really fall in love with the sport of basketball. He called the 10-time NCAA champ a "stickler for fundamentals."
Kerr said the Warriors like to be "organized but loose" and "fun but disciplined" during practice, while they try to be "fast, loose, and disciplined" during games. Nine games into this season, however, he said he feels they have been "fast, loose, and undisciplined."
He said he believes his job is primarily focused on what happens in practice: "Once the game starts, we might call a timeout or draw up a play, but for the most part, the work is already done."
The most important thing a coach ever told him was to just be himself because every individual is unique: "We can emulate people, but we can't be them."
In terms of what's changed in the NBA since he was a player, Kerr said the league has become more of a "player's league." He explained the old school method was centered on the understanding that the "coach knows everything" and that the "coach dominates," but the modern era favors the players much more. Kerr doesn't mind the difference; in fact, he said he enjoys it.
When asked how he identifies if a player will ascend from good to great, Kerr said, "It's easy to see a guy's skill level . . . It only takes a couple of weeks to see if guys feel the game." Of course, "some do, [and] some don't," but Kerr said it, at the end of the day, all boils down to "an innate awareness."
Other coaches Kerr is close to around the league include Gregg Popovich of the San Antonio Spurs, Luke Walton of the Los Angeles Lakers, and Alvin Gentry of the New Orleans Pelicans. He called Popovich his mentor, whom he "learned everything from."