Celtics
What we know about the Celtics so far, and what we don't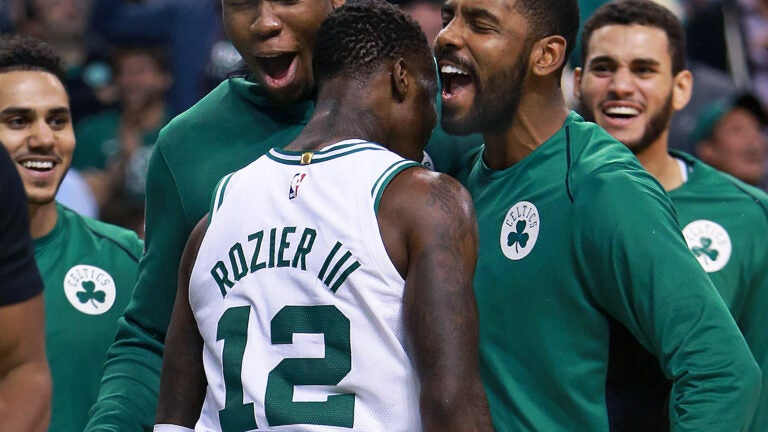 COMMENTARY
The Celtics are off to a hot start. After losing Gordon Hayward to his gruesome, likely season-ending injury, that is likely a surprise to some. But the team is currently riding a six-game winning streak, which is already tied for the second-longest win streak in the Brad Stevens Era. Now that we're into the season's second month, I thought it would be a good time to take a look at some of the early roster trends — what we know, what we think we know, and what we still don't know.
What we know
While the season is only eight games old, there are a few things that we can say we know about how Brad Stevens is going to manage the roster. Let's first look at a breakdown of how the minutes have shaken out over the first eight games.
There are a number of interesting takeaways here. The first thing we can say we know is that Jaylen Brown, Al Horford, Kyrie Irving and Jayson Tatum are definitely starters. That was the case on Opening Night, and has been the case in all eight games thus far. This has been a minor surprise, as the buzz all summer was that the Celtics would mix and match the starting lineup, but that has not really been the case. Furthermore, nothing in their play would lead you to question that. All four rank in the top 50 so far in the advanced statistic Win Shares (Irving 10th, Horford 17th, Tatum 20th & Brown 42nd).
We also know that Marcus Smart and Terry Rozier are the team's other main players, and in most situations will be the first two players to enter the game. Both are already making a strong case for the Sixth Man of the Year Award, especially Rozier, who has become such a great defender that he is currently leading the league in Defensive Rating
We can also say that at this juncture, the two rookies who figure to see the least amount of playing time are Guerschon Yabusele and Jabari Bird. Yabusele has only suited up in four games, and Bird just two. Together, the two have played a total of 32 minutes thus far.
Overall, one thing that I know after watching these eight games is that every player on this roster is likeable and fills a need for the team. It's common for teams to have at least one or two players who just don't fit or who make you cringe whenever they enter the game, but this Celtics team doesn't have that. That's an exciting development.
What we think we know
The fifth spot in the starting lineup has not been as clear cut, but it appears that Aron Baynes has locked it down for now. As you can see in the table above, Baynes has started five of the past six games, and has acquitted himself well. Thus far, he is an improved, more athletic version of what the team got out of Amir Johnson, and that is just what this roster needs. The only threat to Baynes' time as a starter would seem to be from Marcus Morris. Coach Stevens has talked about Morris sliding into the starting lineup when he returns, but we haven't seen him play yet.
Behind Baynes, it appears that the team has found another effective big man in Daniel Theis. In fact, on a rate basis, it's hard to see what it is that Theis doesn't do well. He shoots two-point shots well, and for his size, he shoots three-point shots well. He rebounds well, runs well and defends well. Per 36 minutes, he's averaging 12.4 rebounds, best on the team. Of course, Theis isn't logging a lot of minutes yet, and it's easy to look like a paper champion when you're only playing 15-18 minutes per night. But Theis has quickly gained the coaching staff's trust – he's even started a game – and all indicators are positive thus far for the German native.
Working our way down the bench, it also looks like Semi Ojeleye and Abdel Nader are capable of being solid bench options. Both have impressed in their playing time thus far, and Ojeleye is cracking the lineup in meaningful situations. Nader has impressed with a good handle that allows him to get to the rim, something every team always needs, but thus far he's done it mostly when the game is no longer in question. Minutes in meaningful situations may be hard to come by for him, but he's shown enough that I'd like to see how he does should such a situation arise for him.
What we don't know
One player we haven't yet talked about is Marcus Morris. When he was acquired, it was assumed that the 6-foot-9 forward would be a big part of this Celtics team, but so far the team has done just fine without him. Of course, playing eight games pretty evenly spaced out at the beginning of the season is a far cry from the grind that the season will be come March, April and into the postseason (the Celtics have only played on back-to-back nights once in this young season, on Opening Night when Hayward got hurt and the night after, and given the quite literal shock of Hayward's injury, it's hard to even count those games).
Morris could be a pivotal starter at the power forward spot when the team wants to play Al Horford at center, but Horford has been vocal in the past about preferring to play power forward, and so far, having Baynes or Theis at the center spot has worked out just fine. Whether Morris starts or not, it'll be interesting to see whose minutes he's taking. One guess would be Ojeleye and Theis, but again, both of them have played well, and need time on the floor to continue to develop.
Overall, another thing we don't know is how the team will respond to playing the best teams in the game. The team passed a big test the other night in defeating San Antonio, but the other teams Boston has played during this win streak range from average to atrocious. How will the team stack up against the best out West like Golden State and Houston, or against old nemesis' like Toronto and Washington? Only time will tell, and it's going to be exciting to find out.