Celtics
Mike Gorman recalls Tommy Heinsohn's frank advice before their first Celtics game together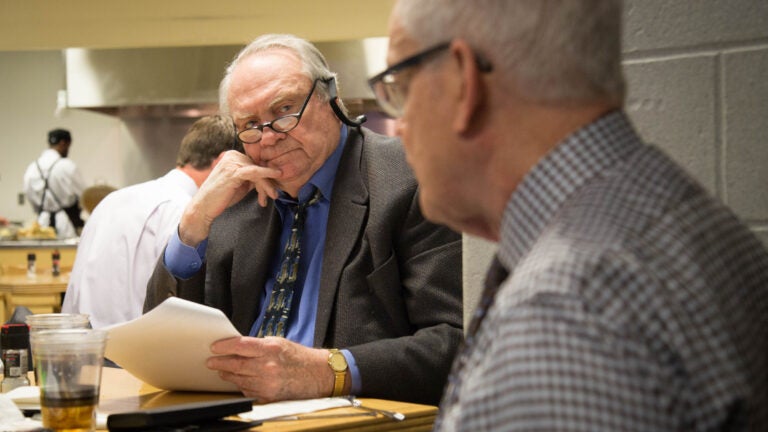 The Celtics' otherwise mundane weeknight matchup against the Atlanta Hawks carried additional meaning off the court Monday — though not too far off it.
It marked exactly 36 years since Mike Gorman and Tommy Heinsohn called their first Celtics game together on the network then known as PRISM New England. In honor of the anniversary, NBC Sports Boston aired a video tribute to the longtime broadcasting duo, which was appropriately equal parts humorous and touchingly sentimental.
On November 6, 1981 we broadcasted our first #Celtics game, @celticsvoice and Tommy have been with us since the beginning. pic.twitter.com/KzX437GpEp

— Celtics on NBCSB (@NBCSCeltics) November 6, 2017
The clip featured footage ranging from the old Boston Garden to Gorman and Heinsohn interviewing Paul Pierce after the Celtics' 2008 NBA Finals championship.
"How many different ways can a guy comb his hair?" Gorman self-deprecatingly joked in a pregame interview Monday.
More seriously, the play-by-play announcer said that "running into Tommy Heinsohn was the best thing that ever happened to me professionally" and shared a story from the first game he called with the former Celtics player and coach.
.@celticsvoice tells the story of first time doing a game with Tommy pic.twitter.com/OpB2Z0fQIG

— Celtics on NBCSB (@NBCSCeltics) November 7, 2017
Gorman said he had prepared a complex, multi-colored sheet of player stats and background before that first game in 1981.
"Tommy came walking into the booth and he looked down at my sheet and he said, 'What's that blank?' and I said, 'Uh, that's what we're going to use during the game to talk about,'" Gorman said.
According to Gorman, Heinsohn responded by promptly crumpling up the sheet and tossing it off the balcony where the broadcasters sat in the old Garden.
"He looked at me and he said, 'We'll talk about what happens in front of us," Gorman said, adding, "That's kind of what we've done for the last 36 years."
Gorman said he hasn't made another sheet since.
"[Heinsohn] cut down on my pre-work, that's for sure," he said.
Speaking for himself and his 83-year-old broadcast partner, Gorman also thanked Celtics fans for their support in a tweet Monday.
https://twitter.com/celticsvoice/status/927681575436931072