Celtics
Jayson Tatum to have MRI on right ankle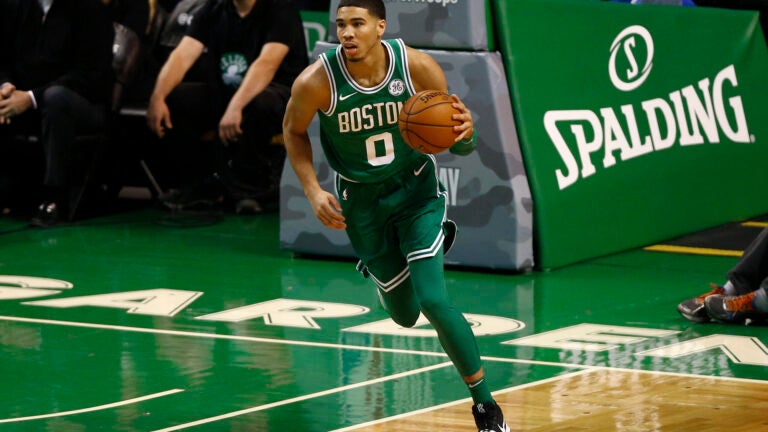 The Celtics are riding a 10-game win streak, but the team is also struggling with a number of injuries.
With Gordon Hayward already out for the remainder of the season, Boston announced on Wednesday that Al Horford entered the league's concussion protocol after being struck in the head against Atlanta on Monday. Horford did not play in the team's win against the Lakers.
"You feel for every guy in their specific injuries," head coach Brad Stevens said in his postgame press conference.
Against Los Angeles, forward Jayson Tatum exited with a sore right ankle. He was treated on the bench by the Celtics' medical staff before having an x-ray after the game. According to the team, Tatum is suffering from a sore right ankle. The rookie wore a walking boot as a precautionary measure and will undergo more tests, including an MRI, on Thursday.
#NEBHInjuryReport Jayson Tatum left tonight's game with a sore right ankle. He's in a walking boot to be safe tonight, will have tests tomorrow.

— Boston Celtics (@celtics) November 9, 2017
Danny Ainge said the x-rays taken on Jayson Tatum's ankle after last night's game showed no fractures or breaks. Will have MRI today.

— A. Sherrod Blakely (@ASherrodblakely) November 9, 2017
"He had imaging here. He has a sore right ankle and he's going to have more imaging tomorrow, at which point they'll let us know what they find," Stevens said.
He added that Tatum had requested to be taken out of the game, and the training staff took him to the locker room where they ruled him out for the rest of the game.
As for the Celtics' approach following the slew of injuries, Stevens said the team will take the necessary steps to ensure healthy returns and continue to "focus forward."
"Until we have only four left, I guess we're just going to keep playing," he said.