Celtics
5 things we learned from Jaylen Brown and Jayson Tatum's interview with each other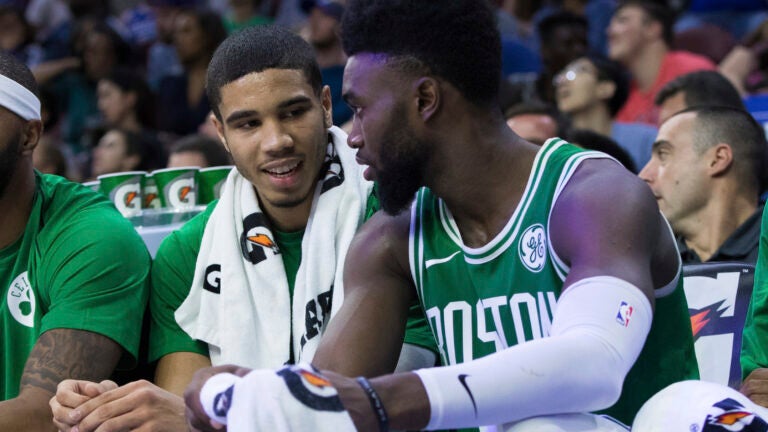 Jaywatch. 7/11. Kid N Play. Whatever you want to call them, Jaylen Brown and Jayson Tatum are becoming quite the duo.
While the two youngsters are certainly jiving on the parquet, Brown and Tatum are cultivating quite the relationship off the court as well. In the winter sports issue of the Improper Bostonian, the pair sat down to interview each other about everything from their draft night experience to their favorite college course.
Here's what we learned from the conversation:
Their friendship has a very relatable problem.
When asked about the last person he texted, Tatum claimed that it was none other than Brown — much to his teammate's disbelief. Whether it was a truthful statement or just a comical appeasement is still to be determined; nonetheless, Tatum revealed that something has seemingly plagued the pair's conversations via text.
"You never text me back," he griped to Brown. "That's the problem in our relationship. You text me back about two-and-a-half hours later."
Brown defended himself, however, saying "That's not true. I texted you like 30 minutes ago."
They are both huge Kobe Bryant fans.
Tatum and Brown had another little squabble over the NBA player they admired the most growing up. When Brown shared that his answer was Kobe Bryant, Tatum responded, "That's my answer. You can't choose it."
The 19-year-old out of Missouri has previously said that he used to always watch and look up to Bryant as a kid.
"All I used to want to do was shoot fadeaways like Kobe because he was my favorite player," he told Paul Pierce on ESPN's "NBA Rookies: The Introduction."
While Brown has also gone on record about his admiration for Bryant — having voiced that he tries to emulate the retired Lakers guard's work ethic — Tatum pointed out that his answer might have changed over time:
Tatum: But I've heard you say Tracy McGrady before.

Brown: Kobe and T-Mac are my two.

Tatum: I always stay the same. I always say Kobe.

Brown. For me, it was both of them. I can't have two players I admire?

Tatum: It's player. Singular.
Draft prospect Jaylen Brown: "A lot of people want to get to the level of a Kobe Bryant, but nobody wants to put in the work that he did."

— Los Angeles Lakers (@Lakers) June 10, 2016
A sampling of their taste in movies and books is intriguing.
Tatum said his favorite movie is Life. The 1999 R-rated flick spotlights an elderly man documenting the story of his two friends, who were wrongly convicted of murder and sentenced to life in prison. Headlined by Eddie Murphy and Martin Lawrence, the comedic cast also includes actor Bernie Mac, who Tatum says Brown resembles (looks-wise, that is).
Although Brown didn't discuss his movie preferences, he did give Tatum's choice a stamp of approval. He also gave a shoutout to the last book he read: Pound the Stone by Joshua Medcalf. The motivational self-help read covers seven lessons that help "develop grip on the path to mastery," and Brown thought the material might be worth passing along.
"Good book," he told Tatum. "Hit the stone 99 times and nothing happens. Hit it the 100th time and it finally splits in half. Perseverance. Something you should try."
The 2017 NBA Draft was 'the best night' of Tatum's life. But things have been going pretty well since.
The Celtics selected Tatum with the third overall pick in the league's most recent draft. The 6-foot-8 forward out of Duke says it was "the day all his dreams came true." And although he likely has plenty of fruitful times ahead of him, Tatum dubbed the experience "the best night" of his life. To which Brown responded: "That's cute. Really cute."
Through 14 games in Boston, the rookie is shooting 48.9 percent from the field and 47.6 percent from behind the arc. He's also averaging 13.6 points and 5.8 rebounds per game. Tatum's adjustment to the NBA appears to be going smoothly, largely in part to his own aptitude and demeanor, but he also credits the veteran mentorship as a significant factor.
"We've got a great group of guys. Kyrie, Al Horford. Even Marcus Morris. I'd say those three are the top three veterans on the team," he told Brown.
Should circumstances change for whatever reason and Tatum stopped playing basketball, he said that he would probably be a coach or trainer to stay involved with the sport. Specifically Brown's trainer.
Brown: You'd be my trainer? My trainer?

Tatum: Yeah, your trainer.

Brown: I'd have to pay you?

Tatum: Or I'd have to live with you, like board and room is free.

Brown: In my house?

Tatum: Yeah, you got like six bedrooms.
Headband twins. pic.twitter.com/znwix57t7G

— Chris Forsberg (@ESPNForsberg) October 9, 2017
The next place Brown wants to visit is Egypt.
The 20-year-old was quite the globetrotter this past summer — having visited London, the site for the Celtics-76ers on Jan. 11, and South Africa, the site for the 2017 NBA Africa game. Following his trip to Johannesburg, Brown spoke effusively about the impact of the visit had in shaping his outlook on life. Fittingly, his favorite course in college was Global Poverty in Practice.
"Seeing things here kind of changes your perspective as you look back at home and see what's going on there," he said. "People are a lot more deprived and are a lot more poor here than they are in America, yet they don't seem to be bothered by or complain about it. It actually kind of seems like they were happy in a sense, which they should be."
So where does he want to go next?
Egypt.
Tatum: Why?

Brown: I just want to go. I'm curious.

Tatum: Curious about what?

Brown: Everything.

Tatum: What's everything?

Brown: I want to see the pyramids.