Celtics
Kyrie Irving wanted nothing to do with his mask against the Nets
"It's almost like having somewhat foggy blinders on."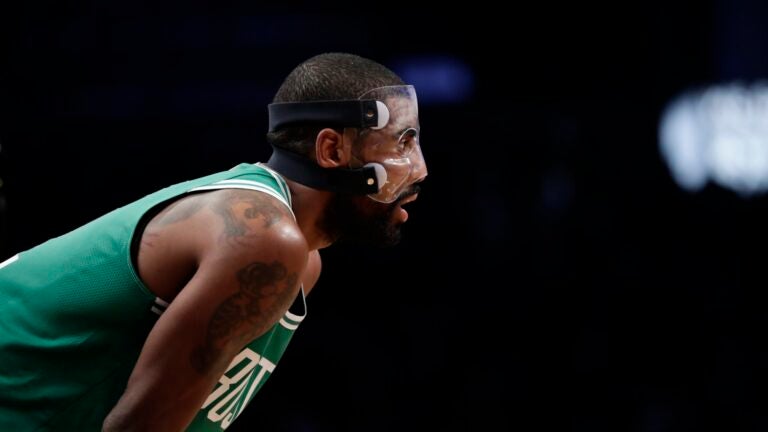 While fans may have been looking forward to the resurgence of masked Kyrie Irving on Tuesday night against the Brookyln Nets, the Celtics point guard felt a little differently about the return of his protective plastic.
"I hate wearing it, but somehow it's caused a craze," he told reporters before tip-off.
Throughout the game at the Barclays Center, Irving was spotted mask-free at nearly every possible opportunity. He kept it off during pregame warmups, took it off in between plays, and kept it off again during warmups following halftime. Playing with a minor facial fracture, Irving was wearing the mask as a precautionary measure but that didn't stop him from constantly ripping it off.
Top of the key 3 from Kyrie forces a Nets timeout four minutes into the game, and he can't wait to get that freaking mask off. pic.twitter.com/AMnMMAMhh4

— Dan Devine (@YourManDevine) November 15, 2017
Here is Kyrie Irving checking out of the game for the first time and (temporarily) giving his mask to @Scalabrine pic.twitter.com/LkSZ2i30Nc

— Marc D'Amico (@Marc_DAmico) November 15, 2017
Hey Kyrie how do you feel about the mask? pic.twitter.com/LFrvvr7E6d

— John #TeamTito Karalis ?? (@RedsArmy_John) November 15, 2017
"It's almost like having somewhat foggy blinders on," he told reporters after the game. "When I take off the mask, I can see everything, but when I have the mask on, I'm really dialed into what's in front of me. My peripheral's a little cut off. "
Irving had previously worn a black mask with the Cavaliers, which he says only exacerbated his obscured vision. On account of wanting to be able to pass more to his teammates, he opted for a clear version this time around.
"The difference with the black mask is that they're not getting the ball, because I couldn't see," he said. "I could only see what's in front of me. That black mask, it just takes away the vision. So I was like, 'Oh, basket.'"
As he had during both his previous masked stints, Irving still put up an impressive scoring performance. Playing 29 minutes, he recorded a team-high 25 points.