Celtics
Kyrie Irving says going vegan has improved his play
And he's not the only Celtic who doesn't eat meat.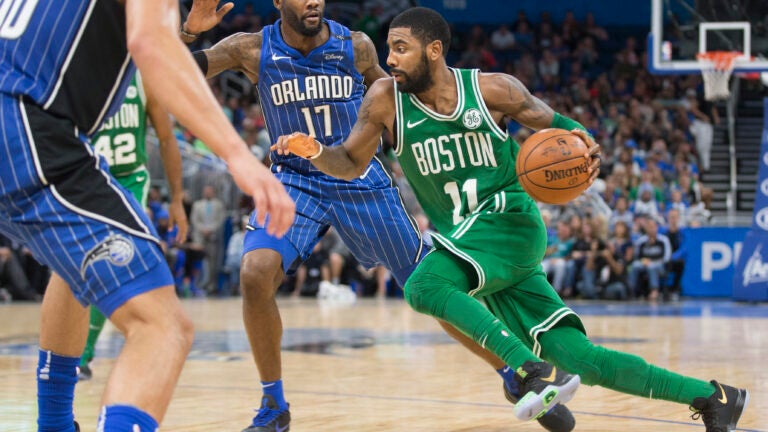 Tom Brady and Zdeno Chara aren't the only Boston athletes maintaining a strict nutrition regimen.
It appears that clean eating has also infiltrated the Celtics locker room.
According to Bleacher Report's Tom Haberstroh, Boston's point guard Kyrie Irving has recently adopted a vegan lifestyle. After a preseason game in October, Irving told NBA Countdown's broadcast crew that he had been following "more of a plant-based diet, getting away from the animals and all that."
"I had to get away from that," he told the basketball analysts. "So my energy is up. My body feels amazing."
Fifteen games into the regular season, the four-time NBA All-Star has continued to benefit from the origins of that boost. When Haberstroh followed up with Irving after the Celtics' 110-107 win over the Atlanta Hawks, the 25-year-old reported that he had been sticking with his veganism and has no intentions of abandoning it any time soon.
"I don't plan on changing anything in my diet," he said. "It's working out great so far."
Head coach Brad Stevens is well aware of the impact Irving's diet is having on the court, too.
"He's had great energy all year," Stevens said. "The nutrition side is huge."
In terms of its advantages, Irving says he's detected a noticeable improvement in his ability to perform in back-to-back contests — something that he struggled with playing for the Cavaliers. His shooting percentage last season was down 10 percent in games with no days rest, compared to games with more than one night of rest. Irving is confident more benefits will come with time, and until then, he plans to keep up his current habits.
As he did with his flat Earth theories, the 25-year-old says he got into veganism through his own research. A number of other NBA players cite Netflix's pro-vegan documentary, What the Health, as their inspiration, but Irving claims his change in diet was self-motivated.
"I started becoming more in touch with myself," he said. "I did my own research."
But he's not the only Celtic who stays away from meat.
Jaylen Brown — who has avoided red meat and pork his entire life — says he became a full-on vegetarian while playing basketball at the University of California, Berkeley. Upon moving away from the west coast, Brown noted that it has become a bit harder to sustain his stringent practices. Nevertheless, he still has plans to go vegan before turning 25.
"That's my goal," Brown told Haberstroh. "I just want to do it. I just think it's a healthier lifestyle. Maybe it can give me a competitive edge on the basketball floor. I think that's the next step."
Al Horford, however, appears to have plans to convert his diet. The 6-foot-10, 245-pound center shouted, "An-i-mal protein! An-i-mal protein!" at Brown, while he discussed his no-meat eating habits.
"No, gracias," his teammate politely declined.
Irving echoed Brown's sentiment: "Steak? Nah, I don't eat that. It doesn't come from anything natural, so why would I eat it?"
As for where he does like to dine, Irving says Sweetgreen is one of his favorite vegan spots in Boston.