Celtics
Jaylen Brown mourns sudden death of his best friend: 'I felt like he was with me here tonight'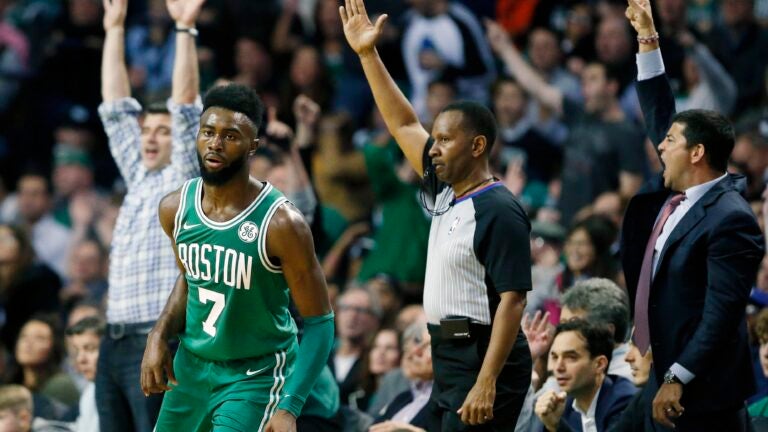 On the eve of the Celtics game against the Golden State Warriors, forward Jaylen Brown received tragic news: His best friend, Trevin Steede, had passed away in his hometown of Atlanta.
The pair met in high school, when Brown transferred to play basketball at Wheeler High. Brown said his arrival probably derailed his late friend's chances of snagging a spot on the varsity team, but those circumstances didn't impede their friendship. The 21-year-old recounted the first time he had met Steede to reporters after Thursday's game:
"I remember I didn't have any friends sitting at the lunch table," Brown said. "The first few days, I sat by myself, acted like I'm too cool, I didn't need anybody. You know, I mean, like I'm an introvert. I'll be alright."
"He walked up to me on the third or fourth day, and asked me who I was sitting with, even though I wasn't sitting with anybody," Brown continued, holding back tears. "He told me to come over and sit with him, and ever since then, we've been like best friends. For him to do that, even with the circumstances, ever since then that's been my brother."
Celtics head coach Brad Stevens said in his postgame conference that it's been "a tough 24 hours" for the forward, who almost elected not to play Thursday night.
"Probably two, three hours before the game, I was like, 'I don't think I can do it,'" Brown said. "Brad was perfectly OK with it. He was like, 'Basketball in these types of situations…' he said, 'Take as long as you need.' And then I called him back, and I said, 'I want to get this win. I want to be there for my teammates.' And he was like, 'I'm OK with that, too.'"
As he grappled with the sudden tragedy, Brown said it was "tough to kind of accept it." But he ultimately decided to take the court following a talk with Steede's mother and family.
"It was hard kind of getting my thoughts together, but after talking to his mom and his family, they inspired me to come out and play," he told reporters. "I wasn't in shape to come out. I didn't want to leave my room. But they inspired me to come out and play, and I came out and played in his spirit today. My teammates helped me up, and we pulled it out."
"I knew coming into today that he would have wanted me to play," he said. "My teammates helped me out, picking me up. They knew that I was down. They knew that basketball was my escape."
Brown scored 22 points and grabbed seven rebounds en route to a 92-88 Celtics win. He also had two steals, including one that resulted in an invigorating first-quarter slam. Brown attributed his ability to stay controlled and poised during the game to both his conversation with Steede's mother as well as his faith.
Brown steals, Brown slams! #SunLifeDunk4Diabetes pic.twitter.com/wvzDggz4RZ

— Boston Celtics (@celtics) November 17, 2017
While there was considerable hype surrounding the game, Brown said he "didn't know who was out there."
"To be honest, it just felt like nothing," he said, when asked about what it felt like to be on court. "Like I just felt I was out there playing, like I didn't know who was out there. I just felt like it was me and him. I was just out there playing, and I wasn't thinking. I was just getting up and down the floor."
After the game, Kyrie Irving gave his teammate the game ball for his outstanding performance. Brown said the gesture "meant a lot" to him.
"To be able to go there and perform the way he did, I knew exactly who the game ball was going to," Irving said. "He's playing not only for the Boston Celtics but he's playing for his best friend. You got to commend him for doing that. I'm nothing short of proud of him."
According to Brown, Steede's family has not released more details on his death.
"All we can do is pray for his family and the memories of him and the light that he spread while he was here," he said. "I felt like he was with me here tonight."