Celtics
Brad Stevens explained the crux of his coaching style
"I think that you can really coach people, and be even more constructively critical, if you've shown that you're invested in them as a person."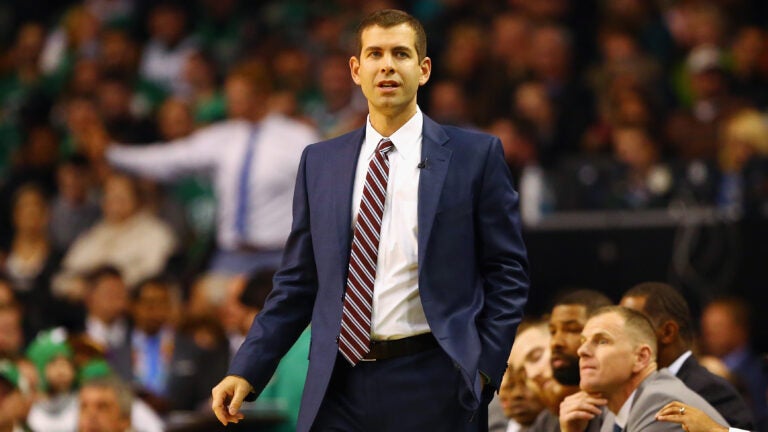 The 15-2 Celtics sit atop the NBA with their best start through 17 games in franchise history.
Their head coach, Brad Stevens, has undoubtedly been an important part of the success.
Prior to Thursday night's game against the Golden State Warriors, Stevens discussed his approach to coaching at length. A member of the Positive Coaching Alliance's national advisory board, he underlined the power of positivity as well as the importance of being yourself.
"I think the biggest thing is everybody has to coach to their personality," Stevens said. "They have to coach to who they want to be."
Stevens noted he has realized he's "not very effective when [he's] angry," prompting him to develop a more encouraging coaching style. Stevens said he feels better about the direction the team is moving when the coaching staff comes from a perspective of positivity. However, he is still not afraid to lay down the law, as long as doing so is productive.
"Being positive doesn't mean there's not going to be criticism. That doesn't mean there's not going to be the need to be demanding and making sure we're still on the right path," he said. "But I think you can do that in a constructive way, and I think you also learn how to go about that within your personality and within your preparation."
Stevens also emphasized the benefits of caring about his players beyond who they are on the court.
"I think that you can really coach people, and be even more constructively critical, if you've shown that you're invested in them as a person," he said.
Prior to joining the pros, Stevens was the head coach of the Butler Bulldogs for six seasons. While there, the Bulldogs nearly pulled off a buzzer-beater upset against Duke in the 2010 NCAA championship game. The half-court heave was hurled by none other than a young Gordon Hayward, who now plays for Stevens in Boston.
Their relationship is unique compared to those with the rest of the team.
"One of the things I think you see with all these guys, and a lot of the players in the NBA, is that the best coaching relationship they have is with their college coach," Stevens said. "Because ultimately it's different. You chose to play at a school, and you're usually choosing the coach that you're playing for."
When Hayward reached out to Stevens prior to his decision during free agency, Stevens said he knew his former recruit wanted to talk to him as "someone other than the head coach of the Boston Celtics." So, Stevens gave him that opportunity as best he could.
"When we talked in that moment, it was more about, 'OK, I need to take my Celtics hat off and look at it as unbiased as I can.' But I still was pretty biased," he said, with a smile. "I understood that he was in a very good situation with a positive coach in Quinn Snyder, so I tried to just be a listener at that point."
Hayward ended up reuniting with Stevens by signing with the Celtics as a free agent in July. During his introductory press conference, the forward said of his coach: "Any time I needed him, he was there for me."
Although the waves of nostalgia may be heartwarming, both know it's time to focus on the now.
"For us, every day is about growing and getting better," Stevens said. "Our jobs are taking the 15 guys on the team, focusing on what they do best, and helping them soar with what they do best."
In order to maximize his team's potential, Stevens said that he'll watch other games across the league to study their plays and approach.
"I think any time I turn on an NBA game, I learn a lot. I mean, it's like going to class every day for me," he said. "I watch the film, and I try to pick apart what they're doing. And I try to steal stuff that we can use with our team. So right then and there, without even knowing people personally, you're gaining a great deal from people you're competing against, just by learning what they do."
With the additions of Kyrie Irving and Jayson Tatum along with the returns of Jaylen Brown and Al Horford, the Celtics look poised as ever to compete for the NBA title. Although the goal of winning a championship is constant, Stevens emphasized he's primarily focused on the fundamentals at the end of the day.
"I think that you just have to stay true to who you are, put your best foot forward, and work the right way," he said. "Let the chips fall where they may. If they aren't in your favor, I think you can still be comfortable with the result if you go about it that way."