How Jaylen Brown's defense is making up for the loss of Avery Bradley
COMMENTARY
There was a common opinion of the Boston Celtics coming into this season.
Danny Ainge's overhaul of the team seemed to set the Celtics up for some potential long-term success if certain moves panned out, but trading away two of their best defenders, Jae Crowder and Avery Bradley, cut them too deep to be successful right away. Losing Bradley was especially damaging, the thought was, because he is a perennial first-team All Defense candidate who is routinely be called upon to harass one of the many great guards in the NBA.
I myself was afraid of what losing Bradley would mean to Boston. He still is, in my opinion, the kind of player and person every team would love to have. Ainge himself admitted that the plan didn't include moving Bradley in this overhaul until an unexpected drop in the salary cap forced his hand.
But now, with about 20 percent of the season gone, we're starting to get a clearer picture of what Ainge has seen all along. Despite the moves, the Celtics boast the league's best defense thanks to an athletic set of wings who can switch, recover, contest, and rebound largely without fouling. They are not only surviving without their past defensive stalwarts, they are thriving, and one of the places to look at where they're thriving is with Bradley's own replacement in the lineup, Jaylen Brown.
Let's get a couple of things out of the way here before we move on. Firstly, Avery Bradley is an amazing defender, and none of this is meant to besmirch what has been a stellar career on that end. Secondly, individual defense is hard to measure statistically. Brown is on a different team than Bradley was last year, and things like Kyrie Irving trying on defense will have an influence on Brown's overall numbers where Bradley playing next to Isaiah Thomas, who also tried but… you know… influenced Bradley's numbers a bit.
All that said, Boston has not suffered any of the ill effects anyone expected. Brown is picking assignments Bradley would have drawn and he is excelling. Diving into the available information, it seems the construction of this Celtics team is a success defensively, especially with Jaylen Brown on the floor.
After the Hawks game and the Celtics' 15th straight win, Boston's defensive rating with Brown on the court is 94.7. With him off the floor, it jumps to 98.5. Last season, the Celtics' defensive rating with Bradley on the court was 107.5, and it dropped to 103.8 when he sat down. Again, the overall Celtics defense is much better than it was last year, but the defense gets worse when Brown sits while it got better when Bradley was on the bench.
Players are shooting 36.5 percent from the field and 32.4 percent from three when being defended by Jaylen Brown. Last year, players shot 45.3% percent from the field and 33.6 percent from three when defended by Avery Bradley.
His steal percentage (1.8 percent) is equal to Bradley's and his block percentage (.8) is a little higher, as are his rebounding percentages.
And then there's this from the biggest win of the season:
Jaylen Brown's D on Durant was great. According to Second Spectrum, the Warriors averaged just 62.1 pts/100 poss on the 29 times Brown was matched up on Durant in the halfcourt with Durant scoring just 7 pts on them.

— Micah Adams (@MicahAdams13) November 17, 2017
No matter how you slice this pie, the result is almost always going to be the same. Jaylen Brown has turned in such a sterling defensive performance this season that no one is lamenting the loss of Bradley beyond purely sentimental reasons. Brown has matched or exceeded Bradley's defensive impact by almost every measure.
Here are some in-game examples of what the numbers show:
The stuff you see
Both of these plays end with blocks. First, this from the Charlotte game. Brown fights through the first pick, sidesteps a second, slides his feet beautifully, and then gets his hand on Jeremy Lamb's shot, which Lamb then pulls back and flings wildly towards the rim: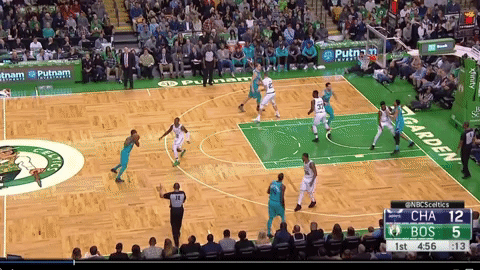 So he's strong enough to get through one screen, quick enough to avoid a second, sound enough to prevent his man from driving past him, and long and athletic enough to still block the shot after switching directions and sliding laterally.
Here, catches up to Durant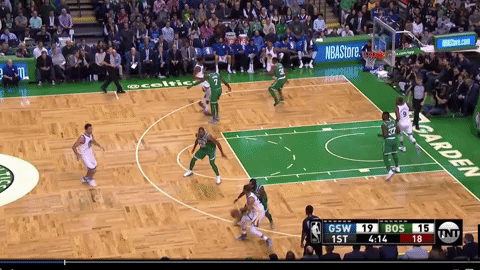 Nick Young catches Brown with his hip, which throws him off balance. He then slips, but recovers quickly enough to get up and block what Durant thought was a clean look.
This has everything do with being a 6'7" super-athlete. The length and athleticism helps Brown make some plays other people just can't.
The stuff you don't see
We talk about switching a lot with the Celtics defense. If there's one word that stands out in bold all caps in this season's word cloud, it's "switching." The entire Celtics defense is built on the concept of being able to switch on basically everything without suffering serious consequences.
Watch how many guys Brown checks in this play.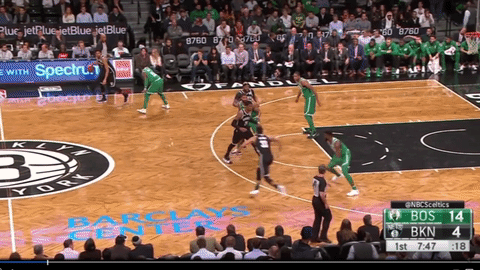 He starts on a wing and then switches after a pick with Al Horford to prevent the Alan Crabbe 3. From there, he and Marcus Morris quick switch to get better matchups (the stronger morris on Trevor Booker and the quicker Brown on Rondae Hollis-Jefferson). Jefferson then sets a pick on Kyrie Irving, so Brown switches that to pick up the ball hander Spencer Dinwiddie.
So Jaylen guarded a wing, a power forward, another wing, and a point guard within 15 seconds of a play which prevented any sustained mismatches. The Nets spent so much time probing for any kind of real opening that they were forced into a highly contested shot (which missed), by Brown, with the shot clock running down.
This next play was notable for Aron Baynes forcing Dwight Howard to step out of bounds, but watch Jaylen.
His man clears out along the baseline. Brown follows him along but keeps himself in good position in the lane knowing Howard isn't going to turn around and whip a cross-court pass into the corner. The play, as designed, expects Brown to be outside of the paint, because Michael Kidd Gilchrest cuts backdoor behind Marcus Smart. There's even a miscommunication between Smart and Marcus Morris that allows MKG a wide open lane to the basket. However, Brown recognizes what's happening and blows it up. He immediately picks up the cutter, and the remaining Celtics recover through switches, leaving Dwight Howard on an island trying to create.
This play, against Toronto, is part simply textbook defense, and part difference between DeMar DeRozan facing Brown instead of Bradley.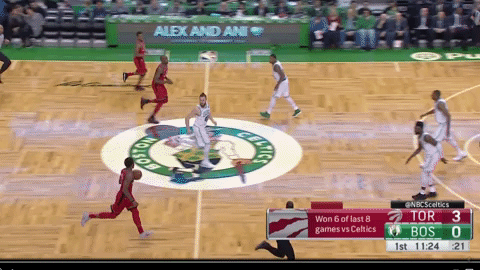 In basketball parlance, this is called "icing" the pick and roll. DeRozan wants to run a pick and roll with Jonas Valanciunas, but Brown "ices" it by quickly positioning himself between the two, forcing DeRozan baseline. Baynes drops low as part of this defense, and Brown rides DeRozan all the way under the basket and forces him to give it up.
In the flow of the game, it's largely unremarkable. It's executed perfectly, and it will get noted as such in film session, but unless you're really looking for that kind of stuff, it goes mostly unnoticed.
However, DeRozan has, in the past, been able to rise up and shoot over the top of Avery Bradley. While he can certainly catch Brown off balance and also get a shot off over him, it's much less likely that he'll try it with a defender his own height versus a defender who is five inches shorter.
The scariest thing for opposing teams is that Brown is still very much a work in progress. DeRozan did flummox him with a bunch of up-fakes late in that game. This play stood out as the best, and worst, of Jaylen Brown at the moment:
You hear Smart begging Jaylen to stay down, young pup still hasn't mastered the DDR pump fake game. pic.twitter.com/AlYlvpQHAC

— A.K ⚖️ (@Kungu_NBA) November 13, 2017
He plays seven seconds of amazing defense on DeRozan. The defense is so good that DeRozan is stuck and has to try a series of fakes to get Brown off his feet. In the background, Marcus Smart is repeating "stay down! stay down!" but Brown got too antsy to punctuate his defense with a block.
This is something that will change with experience. Brown's athleticism can sometimes get the best of him because he thinks he can block and contest everything. He'll learn the nuances as his career progresses. He is, after all, just a second-year player. Including playoffs, he's played 112 games for the Celtics. Kevin Durant has played in 824.
Yet there Brown was, defending Durant in an amazing comeback against the champs and making his life pretty miserable. When you factor in the recent offensive explosions, it's obvious that Brown is already one of the better two-way players in the league.
Oh, and he only just turned 21.
The Boston Celtics have the NBA's best defense for a lot of different reasons, but there's no doubt Jaylen Brown is one of the biggest, and he's only just getting started.