Celtics
A deep look at Jayson Tatum's impressive early numbers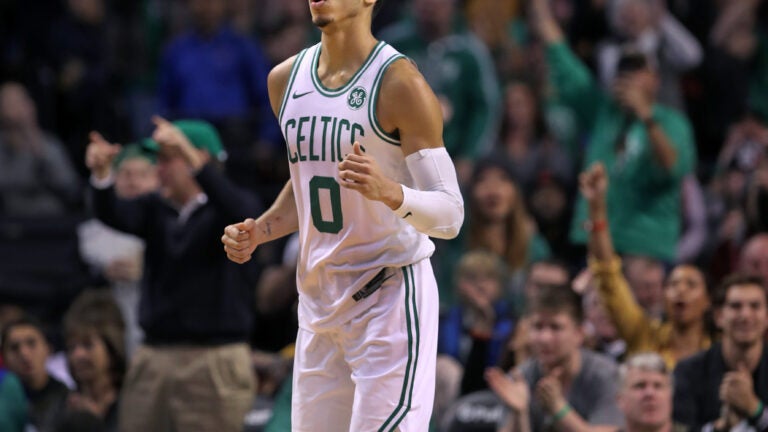 COMMENTARY
"Well, he'd better be right."
That was what I and many others said when we'd heard Danny Ainge was trading the No. 1 overall pick — and almost unanimous selection — Markelle Fultz, to the Philadelphia 76'ers. The Celtics had finally gotten a shot at the top pick and there was a strong consensus that Fultz was a franchise-changing player, yet here was Ainge passing on Billy King's greatest gift from "the trade."
Even when he said he'd have selected Jayson Tatum with the first pick if there was no trade, I took it with enough salt to push my blood pressure up a few ticks. But Ainge is Ainge, and if he's earned anything to this point it's the benefit of the doubt when he shocks us with a player personnel decision.
Of course, it turns out Ainge was right. Even if Fultz does return and fulfil his promise, Tatum has already shown a game more mature than his years. The 19-year-old is already exceeding expectations and, if he progresses at a reasonably expected rate, will be a key player on this team for a long time.
Tatum has been impressive after about a quarter of a season. He has current averages of 13.9 points, 5.5 rebounds, and 1.3 assists per game on 49.2 percent shooting from the field, 47.6 percent from three, and 84.1 percent from the line. He's currently sixth among rookies in scoring, but unlike most high draft picks, he's not expected to carry as much of the team's burden. Top-scoring rookie Ben Simmons is averaging 18.5 points per game, but if you look at the per-100 averages, things even out quite nicely:
| | | | | | |
| --- | --- | --- | --- | --- | --- |
| Per 100 possessions | Points per game | Assists per game | Rebounds per game | Shooting percentage | True shooting percentage |
| Simmons | 24.7 | 10.3 | 12.1 | .513 | .529 |
| Tatum | 22.7 | 2.2 | 9.1 | .492 | .630 |
Simmons is running the Sixers offense (and having a monster season doing so), so his assist numbers are going to far out-class Tatum's. However, Simmons is nowhere near the shooter Tatum is, which you can see reflected in the true shooting percentage (which takes threes into account).
Simmons is the consensus leader for Rookie of the Year at this point, but Tatum's overall numbers are right there when you even things out for usage. The shooting numbers are especially impressive considering the questions about Tatum's range coming out of Duke.
Tatum is currently seventh in the NBA in three point field goal percentage (47.6 percent) ahead of notorious dead-eyes like Klay Thompson, Kyle Korver, and Steph Curry. That number jumps to an eye-popping 63.6 percent in the fourth quarter (best among rookies). In fact, Tatum's 78.7 fourth quarter true shooting percentage is only one percent behind Korver for the best in the entire league.
Tatum has been a key fourth quarter contributor. In fact, his per game averages go up every quarter, culminating in a 4.1 points per fourth quarter. He's not only found a good groove from deep, he's doing it in clutch situations, like this dagger in Atlanta: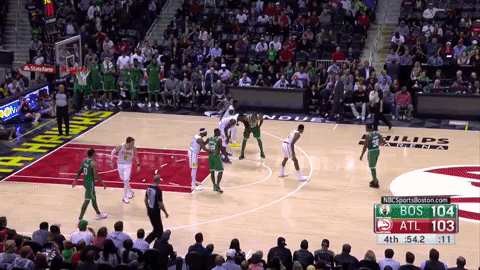 This is an amazing development for a couple of reasons. First, he wants the ball in that situation. You see him calling for it. He's not afraid of a moment like that where he can give his team a two possession lead with 46 seconds left. Secondly, he's proven that he needs to be guarded in those situations. The "prove it" portion of his season is over. Defenders need to respect his shot or else they'll give up key threes.
This leads to driving lanes for other players, like Kyrie Irving, to get to the rim. It also allows him to take advantage of overly aggressive defense himself.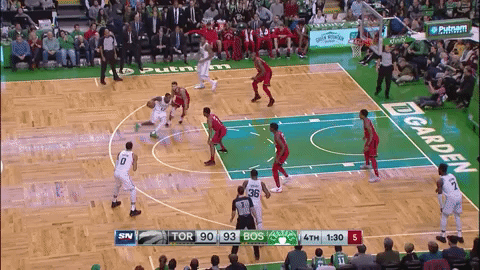 The drive-left-but-finish-right has almost become a signature move for Tatum. He's gotten great at using his length to reach past defenders and lay the ball in before they can react. He can do it from the other side too.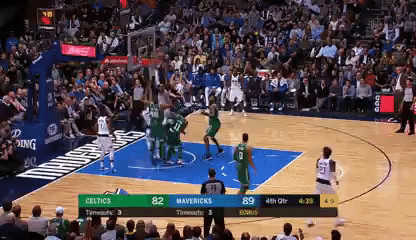 In this, he euro-steps his way past a defender on the break. That was part of a late surge to come back to beat Dallas, a fourth quarter in which he was a perfect three-for-three for six points, an assist, and a +10 in the box score.
The ability to use his length and footwork has translated to both ends of the floor. Tatum's defense has been as surprising as his varied offense this young season. He currently boasts the best defensive rating among rookies and third overall net rating. The Celtics' defensive rating goes from 96.1 to 98.8 when he's off the floor, showing a level of defense few people expected coming into his rookie season.
That level of defensive ability is what really allows the Celtics to keep Tatum on the floor as much as they do. Tatum is part of the top three most-used Celtics lineups and is on the best overall lineup (+38 this season) with Marcus Smart, Kyrie Irving, Jaylen Brown, and Al Horford.
That lineup has a 95 defensive rating and is holding opponents to 38.2 percent shooting from the field and 20 percent from three over 76 combined minutes. It's also the lineup Brad Stevens often uses to close out games.
Perhaps the best way I can sum up Tatum's season so far is with his biggest criticism: He's not aggressive enough.
Brad Stevens often starts second quarters with Tatum-led bench lineups which have mostly struggled to find any consistency. The only negative thing I've heard about Tatum is that he doesn't assert himself in these stretches, and is too willing to just work the ball around rather than take shots when he's clearly the best offensive option.
And that's where we are with this kid that so few were expecting to be a Celtic a year ago. After 21 games, fans want more Tatum. They want an untethered offensive beast to rise from this mild-mannered teenager who is so grounded that he moved his mother out to Boston.
We'll need patience, though, as he navigates his way through his early career. Tatum is very willing to wait his turn as Celtics veterans do what they do on the floor. He's not going to take shots from anyone (even though I'm sure a few of you would like to see him take a few threes away from Marcus Smart). He's going to be a patient rookie who will do whatever job the team needs.
The numbers so far show the team only needs him to keep doing what he's doing. He's emerged as the best player in this draft class and, if Ben Simmons slips at all, a contender for Rookie of the Year.
This is the point of the season where flukes have corrected themselves and the numbers go from "small sample size" to trending in a certain direction. There is no fluke with Tatum's ability on the court. With 25 percent of the season reporting, we can project Danny Ainge as a winner in the 2017 NBA draft.
So yes, Ainge was right.