Celtics
Aron Baynes shares how he stays sharp off the court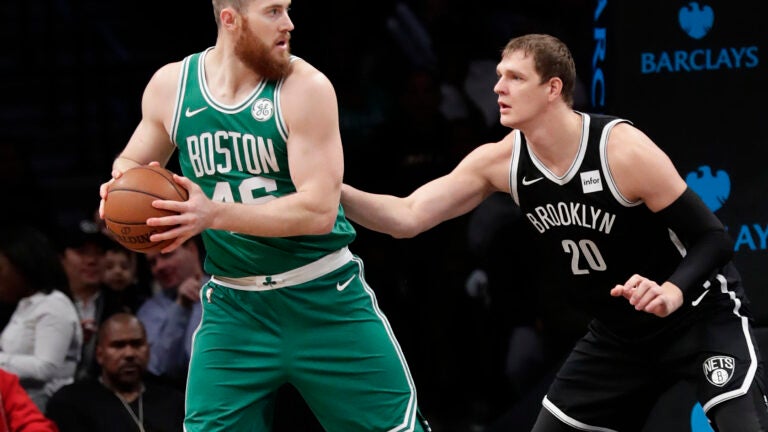 Aron Baynes is averaging career highs in both minutes and rebounds through 22 games with the Celtics this season. But the 6-foot-10, 260-pound center is not only focused on contributing on the court, he is also staying sharp outside of basketball.
On Tuesday, Baynes visited a local middle school for the unveiling of a first-of-its-kind mobile STEM laboratory by General Electric and the Boston Celtics. According to GE's press release, the state-of-the-art lab will provide students with "access to the tools they need to become familiar with cutting-edge technologies that may inspire them to pursue rewarding STEM careers." Its first stop is Lilla G. Frederick Pilot Middle School in Dorchester, before traveling to eight other public schools in Massachusetts.
"It's very cool," Baynes said of the new equipment at the launch. "They got the laser cutters and the 3-D printers. They can print houses now, so it's definitely something for the future."
After pumping up students at a pep rally, Baynes spoke briefly with Boston.com about his academic interests and how he continues to stay educated as a professional athlete. The Australian big man — who attended college at Washington State University — said that pursuing, and completing, a Bachelor's degree was critical milestone in his career prior to going pro.
"You always need a backup plan," he said. "For the most part, sports is not a long-term option for people. There's always the lucky exceptions, but that's why I have a college degree. That's something that was important to me. I knew that I wanted to get that background so that I always have a fallback plan if something doesn't work out in sports."
As for what that fallback plan might be? Baynes said it changes all the time, though he focused primarily on physical therapy while in school. At one point, he also thought he was going to become a dentist.
"I'm happy where I'm at, but I'm always trying to stay sharp," Baynes said.
One of his favorite ways to keep is mind keen is by reading. In fact, the 30-year-old believes reading is one of, if not, the most important activities anyone can practice.
"No matter your age, reading keeps you sharp," Baynes said. "I have a two-year-old son, so I asked my brother, who's a teacher, 'What's the best thing I can do for him?' He said, 'Just read to him,' because of the number of kids he's taught that don't read at the level that they're meant to."
"That's the most important thing, so that's what I do," he continued. "There's never not enough time for me to read my son one more book. That's something I love doing, and it's always a pleasure to do that."
Growing up, Baynes said his two favorite school subjects were history and math. Although he found math a little more difficult, he said he enjoyed the challenge and finds that its fundamentals are often the keys to solving almost any question. While he hopes to continue his education one day and "keep learning stuff" after basketball, Baynes' intellectual curiosities infiltrate the locker room as well.
"I'm always down to talk about theology and understand where other people come from, what their background is," he said. "We have a very diverse culture and spectrum in the locker room. We have guys from other five different countries, so I enjoy learning about everyone's different cultures."
"I like understanding what makes a person who they are, and what's their background, first and foremost," Baynes continued. "Jaylen [Brown] and I sit next to each other on the plane, so we've talked about a few things. They're wide-ranging — whatever tickles your fancy during the day."