Celtics
During a break in the action, let's take stock of the Celtics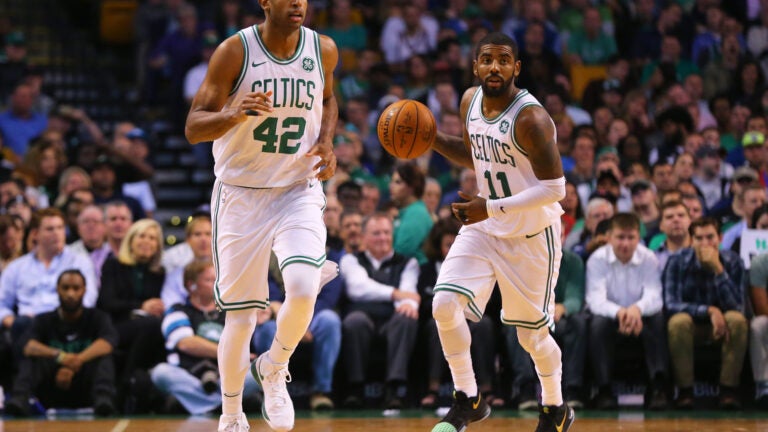 Subscribe to Season Ticket on Apple podcasts.
With the Celtics on their first two-day break since they were off for three days (Oct. 21-23) between their third and fourth games of the season, it seems like an appropriate time to take stock of the individual players who have meshed well enough as a team to win 18 of their first 22 games despite the grind. In no particular order . . .
Kyrie Irving: Maybe we should have known he was this good. He certainly left a few clues through the years in advance of his arrival in Boston. In 17 career regular-season games against the Celtics, he averaged 23 points and 4.8 assists
and shot 50.4 percent from the field and 39.2 percent on 3-pointers. And that doesn't include his playoff brilliance, such as his 42-point performance in Game 4 of the Eastern Conference finals last spring, which included a stick-a-dagger-in-'em 21-point third quarter with someone named Avery Bradley draped all over him. But it's a whole different thing to be able to watch it every game. I thought we'd dread Irving falling into Hero Ball mode. Now I look forward to it. At his best, he seems to be able to score at will, and he's a far more creative passer than his reputation suggests. This is what a superstar looks like. Even LeBron James's shadow should not have obscured that.
Al Horford: On offense, he's the fulcrum. On defense, the anchor. He's not the player Kevin Garnett was, but he does many of the same things, including playing utterly selfless and winning basketball. If you're among those who still call him Average Al without irony, cool, it helps those of us who recognize his value to identify the clueless among us. But if you're really into alliteration and don't mind that the adjective begins with a different letter, might I recommend calling him Excellent Al, Exemplary Al, or Extraordinary Al? You'll sound a lot less foolish.
Jayson Tatum: Any regrets that Danny Ainge traded the first pick down to No. 3 and still nabbed Tatum, who looks like he'll be a perennial All-Star? Didn't think so. He is the Celtics' most enticing rookie since the early days of Joe Johnson, if not all the way back to Paul Pierce. Some flaws have been revealed lately — he doesn't protect the ball very well on his Plastic Man drives to the hoop — but those are correctable. I'd like to see him get more touches. He's fifth on the Celtics in minutes (30.6 per game) but just 10th in field goal attempts per 36 minutes (10.8). Given how he always waves his hand when he's open, I suspect he'd like more shots, too.
Jaylen Brown: His leap forward in Year 2 exceeds even what his most optimistic supporters expected. He's averaging 15.6 points and 6.3 rebounds and shooting 41.3 percent on threes. And he's shown a knack for delivering in the biggest moments, notably his 22-point performance in the comeback against the Warriors Nov. 16. I'm not sure what his ceiling is, but it's higher than where he is now. He still tends to lead the break with blinders on, and his free-throw shooting (59 percent) must improve.
Marcus Smart: The most polarizing Celtic since . . . man, I don't know. Rajon Rondo maybe, but that was on a different scale. Smart sets the tone and temperament of the Celtics with his relentless effort on defense. He is a pit bull, and his value is supported by his plus/minus numbers. He's had a negative plus/minus just five times this season, three times in the first four games. He's been a double-digit plus eight times. Yet that can be mystifying given his offensive deficiencies, which include poor shot selection and a correspondingly poor shooting percentage (he's up to 31.2 percent after hitting 15 of 21 shots over the past two games). He's an exasperating, enigmatic, winning player. He drives me nuts, and I hope he's a Celtic for years to come.
Aron Baynes: I can't think of another way to say it, so I'll stick with my standard line. He's the conventional sturdy big man Celtics fans have coveted since Kendrick Perkins was traded away. The anti-Olynyk, really.
Marcus Morris: Considering the Celtics had little choice but to move Avery Bradley in a hurry when they were clearing space to sign Gordon Hayward, the versatile veteran forward has proven a valuable return. He takes some bad shots, but he makes some bad shots.
Terry Rozier: Probably the most improved Celtic after Brown. His obvious confidence is manifesting itself in results in his third season. He's averaging 9.5 points and shooting 36 percent from 3-point range, including 46 percent (12 of 26) over his last six games. Anyone still think R.J. Hunter will have the better career?
Semi Ojeleye: Semi is short for Jesusemilore. I'd like to hear Tommy Heinsohn say that. He's a definite second-round find, a quick and aggressive defender who looks like he'll eventually be a decent 3-point shooter (though he's knocking down just 29.5 percent so far). But let's cool it with any Draymond Green comparisons. Draymond is a unique basketball creature. Ojeleye might have Jae Crowder's career, which is nothing to be ashamed of.
Daniel Theis: His stats aren't spectacular (4.3 points, 4 rebounds, 0.7 blocks per game), but watch him play for any length of time and you can't help but think he would have been a late lottery pick under different circumstances. He's a rangy defender who protects the rim and wins his share of rebound battles on offense and defense. Another nice under-the-radar find.
Shane Larkin: On his worst night, he's Phil Pressey on his best night. Quality depth and a good teammate who gets the big picture.
Jabari Bird: No idea what to make of him now. He's played 16 NBA minutes. But he's ripping it up in the G-League, averaging 23.8 points, 6.5 rebounds, and 3.5 assists for the Red Claws. And he has a suitable basketball name for Boston.
Guerschon Yabusele: He's so raw it's hard to imagine him being anything more than a Garbage Time All-Star this season, if not quite a folk hero of Scalabrinian proportions. But it was encouraging that coach Brad Stevens made a conscious decision to get him some fairly meaningful playing time against the Magic. A project, but a fun one, he's headed to the Red Claws for now.
Abdel Nader: A few years ago while watching a former Jazz first-round pick named Mo Almond light it up for the Red Claws, I lamented on Twitter that it was mystifying why he hadn't received a real second chance in the NBA. My friend Paul Flannery, the excellent NBA writer for SB Nation, responded with a great point. When NBA teams call up players from the G-League, it's very rarely because of their scoring ability. Even the worst NBA rosters have scorers. You have to be able to do something else to contribute to an NBA roster, because a G-League scorer is not getting a high volume of touches with the varsity. Nader can score. He needs to do more than that to have an eventual impact.
Gordon Hayward: I'm not rushing through this year. It's too enjoyable to wish it hurried along. But with 60 games plus the playoffs to go, I cannot help but look forward to what will happen next year, when Hayward is added to this cast.