Celtics
For Marcus Smart, it's all about playing like a 'junkyard dog'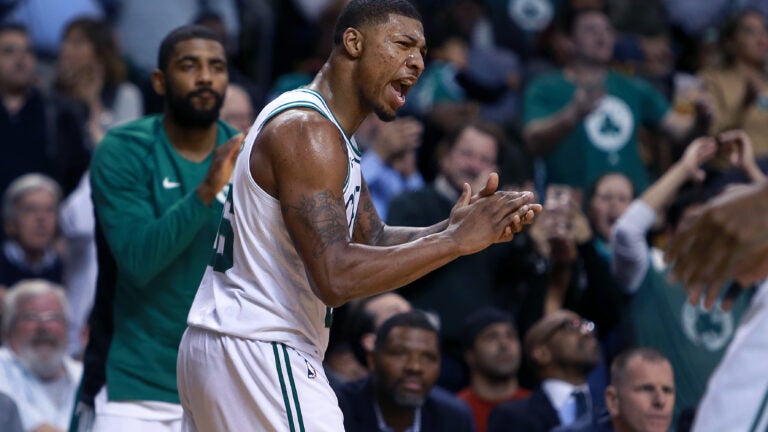 When asked last season to describe his game to someone who has never seen him play before, Marcus Smart offered an unusual comparison: "a junkyard dog."
"A junkyard dog is someone who does all the little things, who you don't really want to mess with," the 23-year-old told Boston.com. "That's kind of me. I do all the little things for this team. I'm not the only one, but I'm one of the guys that do it."
Smart — whose play is defined by scrappy efforts and unwavering intensity — is shooting a mere 31.2 percent from the field this season, but the Celtics guard is still an integral part to the team's offense. When he's on the floor, Boston's offensive rating stands at 107.1. When he's on the bench, the stat drops to 100.7.
The box score has seen Smart have nights where he's 0-of-7 or 3-of-15, as well as ones where he's 7-of-8 or 8-of-13. Yet in the face of his inconsistent shooting, Smart is averaging over 30 minutes off the bench — and he's making the most of it.
"I don't mind getting myself dirty, bloodied up a little bit, putting my body on the line for this team," he said.
His tenacity isn't just exciting to watch. It's paying off, too. The Celtics' net rating when Smart is on the court is plus-11.2 points per 100 possessions. But when he's off, it falls to minus-0.8. And Smart's personal plus-minus has been a double-digit plus eight times this season. As head coach Brad Stevens pointed out, "there's a reason he's in the game when the game is on the line."
Smart's doggedness is nothing new for the former sixth overall draft pick. When he was growing up, some of his teammates and their parents would call him "hound dog" because of his on-court presence.
"I was moving the ball well," he said. "Every play with the ball, I was always there. So they kind of gave me that nickname when I was little."
The Texas native also credits his upbringing with shaping his style of play.
"I'm the youngest of four boys, so you have to be tough," he said. "You have to be willing to get in and sacrifice your body. Being able to do that with my older brothers helped me grow into the physical player I am."
Smart's favorite thing to do on the basketball court reflects his pugnacious nature. It's not driving to the hoop, it's not chucking up three-pointers, and it's not poking for steals… It's diving for balls.
"I just think it's fun," he said. "That's a play most guys don't make. It's not on the stat sheet, but it's a big play for your team if you can recover it. It's a big momentum changer."
The inclination to do whatever he can to benefit the larger group — even if it means getting "bloodied" — reverts back to Smart's "junkyard dog" persona.
"I'm willing to sacrifice my body for my team," he told reporters during last season's playoffs. "Most of the times, wins aren't going to be pretty. You can't be out there looking pretty. It's going to get ugly. You got to be willing to stick your nose in there and get bloody a little bit. And that's me."
But there's something deeper than a desire to win, and deeper than an affinity for physicality, that has been driving Smart's play. In 2004, he lost one of his brothers, Todd Westbrook, to a nearly two-decade long battle with cancer. The tragic death provided a cornerstone that has fueled his untethered approach to the game.
"I've always played hard," Smart told Baxter Holmes as a rookie. "That's how I was raised. But now I'm playing more with a purpose. Now I'm playing not just for myself, I'm playing for my brother, for my family. I'm going to go out there and give it all I have, because he gave it all he had for 18 years, and he lost his battle. I don't want to lose my battle."