Celtics
What we know about Gordon Hayward's injury recovery, and his eventual return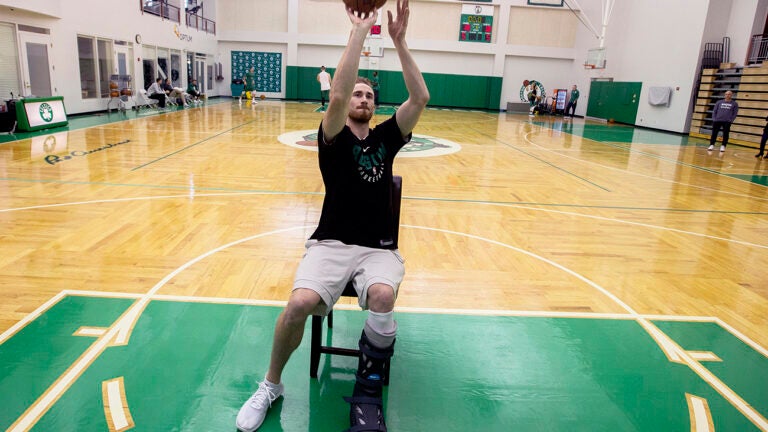 Celtics president of basketball operations Danny Ainge reiterated Thursday morning there is no timetable for forward Gordon Hayward's return to the court.
While Hayward — who fractured his left ankle during the team's season opener — is certainly working towards a swift recovery, Ainge shared on 98.5 The Sports Hub that establishing a timeline is difficult because it "changes week to week."
In spite of the uncertainty, however, Ainge relayed that Hayward is "progressing great" and that "his spirits are up."
"He's doing really well," the Celtics executive said of the forward. "It's gonna be a long process, but he likes being around the team and the guys."
The positivity and optimism are likely critical to Hayward's mental health, but they may inject a false sense of hope for fans wanting to see him back on the parquet. Should Boston advance through the playoffs as projected, its season could last through the end of June — a timeframe that some believe to be ample time for Hayward to recover and log minutes off the bench.
The Celtics are maintaining that the injury is season-ending, but other onlookers haven't given up hope that the All-Star won't be back this season. Here's what you need to know about what Hayward is doing to return to the court and when that might be:
The prognosis
Despite its gruesome visual, Hayward's fractured ankle was deemed to be a clean break — lending itself to a straightforward medical procedure. Following his successful bony and ligamentous stabilization surgery on Oct. 18, Hayward said doctors emphasized to him that "if you're going to have a horrific injury, this is the one to have."
Hayward's agent, Mark Bartelstein, told ESPN's Adrian Wojnarowski that it's "unlikely" the 27-year-old will return to the court this season; however, his camp expects him to make a full recovery and "return to his All-Star form."
After surgery tonight, Boston's Gordon Hayward is unlikely to return this season, agent Mark Bartelstein told ESPN.

— Adrian Wojnarowski (@wojespn) October 19, 2017
Although the Celtics have not publicly entertained the idea of an earlier return, a number of sports doctors have voiced on Twitter that that scenario is not completely out of the picture.
According to orthopedic surgeon and medical consultant Dr. David Chao, Hayward could return late this season but will not "be himself until next season." The former head team physician of the Los Angeles Chargers added that the accelerated outcome is "going to be hard, but not impossible."
Another orthopedic surgeon, Dr. Fred Cushner, shared on Sirius XM NBA Radio, that he also believes an expedited return is possible. Cushner explained that his stance is contingent upon whether Hayward will be in suitable "game shape," as he does not think "the issue will be the bone."
The rehabilitation
Less than 48 hours after his surgery, Hayward returned home from the hospital on Oct. 20 to start his recovery process.
"There's an every-day plan," Celtics head coach Brad Stevens told reporters the following day. "It starts yesterday."
Stevens said he consulted former Indiana Pacers head coach Frank Vogel for advice on how to best tackle the recovery process, as Vogel underwent a similar experience when forward Paul George suffered an equally grisly leg injury during 2014 USA basketball play.
According to Stevens, some of the questions the pair discussed included: "What are some of the things that Paul did in his year off that you would really encourage? What are some of the things that we really should be looking at?"
One of the activities Vogel suggested was shooting from a chair — something that Hayward has been actively practicing. Just to be able to start the process of playing basketball again, albeit minimally, "was an incredible feeling" for the forward.
"Because, for so long, for two weeks or whatever, I was in a bed with my foot up the longest time," Hayward told reporters in a press conference. "Those hours seem like they last forever because you're just sitting there and bored and can't do much."
Hayward's wife, Robyn, has also been documenting snippets of her husband's rehab process via Instagram stories. From precious moments with their daughters to "weird exercises," Robyn has offered a behind-the-scenes look into some of Hayward's day-to-day life.
The couple also attended the Celtics game against the Warriors at the TD Garden on Nov. 16. The event was significant for a multitude of reasons: It was Hayward's first visit back to the Celtics bench since his injury, as well as his first time getting out of the house, "like for real for real." The game also importantly signified that Hayward was able to effectively move using his crutches and walking boot, whereas he previously needed a mobile knee scooter to get around.
Although he hasn't returned to a game since Boston's win over Golden State, the Celtics have kept Hayward involved with the team. Stevens has given him various assignments to assist with the coaching staff, and according to Ainge, a member from the organization is "in contact with him every day."
"Either someone is at his home or he's coming over for some therapy," Ainge said on Toucher & Rich.
Ainge shared on 98.5 The Sports Hub that Hayward is currently participating in rehab twice daily. Some of his activities, in addition to chair shooting, include working in a pool, riding a bike, and minor weightlifting. In a recent interview with former Celtics forward Paul Pierce on ESPN's NBA Countdown, Hayward noted he's still "not allowed to put any weight on the foot."
As of now, Ainge said the next steps include getting him off crutches and into a new walking boot before moving into a brace. But regardless of any progress, Ainge has emphasized that the forward is still a "long way from getting on the court."
Stevens raised some eyebrows, however, when he included a time frame in his initial comments following Hayward's surgery. He had said the two of them "talked a little bit about how to approach the next five months" after the procedure, which led many to believe Hayward could return as early as April — seeing that the remarks were made at the end of October. Stevens later clarified that there are no expectations Hayward will return this season.
Brad Stevens clarifies "5 months" comment, says no timeline with Gordon Hayward + stresses that expectation is he will not return this year.

— Chris Forsberg (@ESPNForsberg) October 21, 2017
What Hayward has said
In early November, the forward penned a detailed blog post to speak out for the first time since his injury. The first-hand account detailed the trials and tribulations of the subsequent two weeks, including his thoughts pre- and post-surgery. In regards to transitioning back to basketball, Hayward seems to have accepted that he won't be on the court this season.
"I've started by watching the games," he wrote. "At first, it was just grueling to try and watch. I was overwhelmed with frustration, knowing that I can't be a part of it right now. I'm not even with the team. It's hard mentally to watch the games because I'm sitting here thinking, 'I'm not going to be able to help the team on the court this year.'"
In his first Celtics press conference since the injury, Hayward shared that he is putting "zero expectations" on himself as far as a timetable. But rather, the forward will focus on improving day in and day out. As he works through the rehab process, Hayward plans to stay as involved with the team as he can.
"It's going to be really important for me and my mental health to stay involved and still be a part of the team as much as I can," he told the media. "Be out there on the court with them, be with them in the locker room, and I can see different things watching the film that maybe they can't see out on the court. I can try to help them. That will help me as well."