Celtics
Gordon Hayward explains how he's tackling the recovery process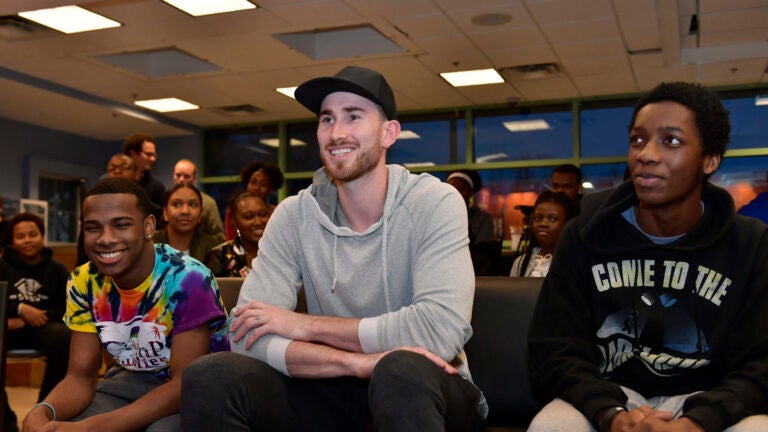 With a smile on his face, Gordon Hayward was able to walk without an aid at the Boys & Girls Club of Boston in Roxbury Wednesday afternoon.
Gordon Hayward is out of his walking boot. pic.twitter.com/P9wCeJcldZ

— Celtics News (@BDCCeltics) December 13, 2017
About to play the video game Destiny 2 with a group of teenagers, the Celtics forward had a doctor's appointment earlier that day to hopefully bid adieu to his walking boot "for good." Recovering from a fractured left ankle during the team's season opener, Hayward's spirits appeared to be high after struggling with his emotions in the immediate aftermath of the injury.
"I don't think you'd be human if you didn't have negative thoughts about it," he said. "But I think it's how you respond to that."
The Celtics staff has certainly been instrumental in facilitating a swift and successful rehabilitation, but Hayward has also received tremendous support from a bit of an unlikely source: retired Lakers guard Kobe Bryant.
"Kobe Bryant told me in a text message: 'You have to get up and attack it each day,'" he said. "One of the things he said that really stuck was you gotta 'embrace it.' Embrace the struggle. Embrace the challenge until you get to a point where you look back and you can just laugh at that. Laugh at what happened and know that it made you stronger."
That day-by-day approach not only motivates Hayward, but it also reflects his perspective as he continues to inch toward returning to the court. Now that he is without the boot, the 27-year-old is undoubtedly excited about the progress — while also maintaining the understanding that the recovery process is fluid and always subject to change.
He'll be monitoring how his foot responds to wearing only an ankle brace, with full knowledge that he could potentially return to the walking boot depending on how his foot reacts. As he navigates the next stage of his recovery, Hayward said he'll continue to rely on goal-setting — a tactic that has helped him since he was in middle school.
"I truly believe in goal setting," he said. "I think that's really important. Writing them down, too, not just thinking about them. It allows you to track your progress and monitor how you're doing. It's a visual aid of what you're working for every single day."
The concept of "mini goals" originated when Hayward was a kid, working toward his dream of playing in the NBA. But the same fundamental idea has continued to foster success in the pros. By focusing on what he can do better on a short-term basis, on what he can do better today than he did yesterday, Hayward believes he'll be back before he knows it.
"There's things you can do to write down, things you can do each day, that then you can cross off and say I did that today," he said. "Having these smaller goals outlined helped me see the bigger path."
https://twitter.com/BDCCeltics/status/941070947574013953