Celtics
5 things we learned from Brad Stevens' conversation with Mike Krzyzewski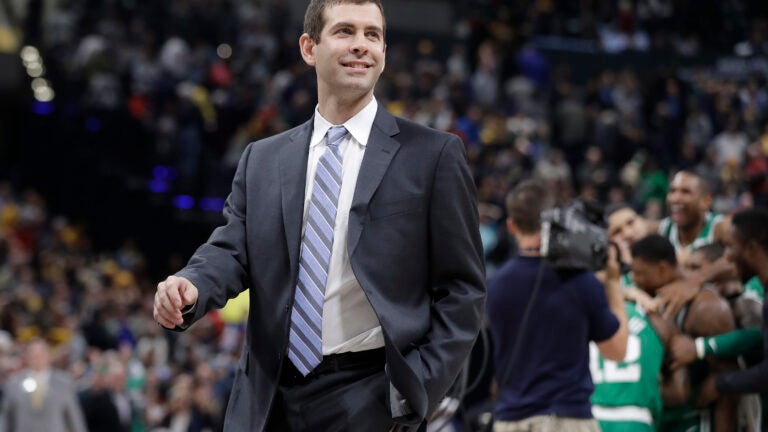 In 2010, Brad Stevens' fifth-seeded Butler Bulldogs were inches away from upsetting Mike Krzyzewski's top-seeded Duke Blue Devils in the NCAA men's basketball championship. Had sophomore Gordon Hayward's three-point attempt banked in as the clock expired, a new national champion would have been crowned.
Instead, Duke raised the gold-plated wooden trophy for the fourth time in program history. Having earned another title in 2015, Krzyzewski is now headed into his 38th season at the helm for the Blue Devils. But a lot has changed for Stevens.
The 41-year-old is in his fifth season as head coach of the Boston Celtics. After starting his career with two finishes under .500, not one player from Stevens' NBA coaching debut remains on the Celtics' roster.
With the help of some key personnel additions, including two of Krzyzewski's former players, Stevens has led this year's team to the best record in the Eastern Conference. The two coaches recently caught up on Krzyzewski's SiriusXM show, "Basketball and Beyond with Coach K," to discuss the Celtics' current season.
Here's what we learned from their conversation:
The biggest thing the Celtics have emphasized since Hayward's injury is: 'Everyone has to do what they do a little bit better.'
Krzyzewski, like many, was expecting the Celtics to implement Kyrie Irving, Hayward, and Al Horford as the team's centerpieces this season. While that idea was quickly uprooted by Hayward's gruesome injury in the NBA tip-off game, Stevens explained how the group was initially planning on utilizing their two major offseason acquisitions in the lineup.
"One of the things we tried to do early in the year during training camp was play Kyrie with the ball, Gordon off in actions, and then vice versa," Stevens said. "So you had a lot of actions where maybe we started with Kyrie, and he goes into action, into off the ball, gets it back. But then we had the similar types of things with Gordon."
"We had a series of late-game actions, which I think is really important in the NBA — the ability to have a couple of go-to's that you can then tweak game-to-game or on the fly," he continued. "We felt really good after our fourth exhibition and our practices leading up to the first regular-season game that we were making the right strides … It was coming together pretty quickly."
Everything of course changed once Hayward went down with a fractured left tibia and dislocated ankle against the Cavaliers. Although Stevens and the Celtics have been working to account for the obvious loss, they aren't trying to fill Hayward's void, per say.
"We can't have Jayson [Tatum] or Jaylen [Brown] try to be Gordon at 19 and 21 years old," Stevens said. "He's a seven-year pro, was an All-Star, and can play the point, play the two, play the three, and play the four."
Instead, Stevens said the team has been focusing on encouraging all players to "do what they do a little bit better." He added that the idea is to keep expectations "within what each guy does best," while also building on those abilities as they players become more comfortable.
Despite the team's impressive start without Hayward, Stevens emphasized that there is still plenty of work to be done.
"I don't want to act like we have the answers because I think we're still searching for the answers to be the best versions of ourselves," he said. "I think we will be for a while. I think everybody's in that mode. The sooner you can get there the better."
For Krzyzewski, the most impressive thing about Irving is that 'he always has a strong face.'
There's not a doubt in Krzyzewski's mind that Irving has become a better basketball player in Boston, citing his leadership as one of the qualities that has drastically improved.
"I love the fact that he's growing like this and wanted to be in that environment," he told Stevens. "Some people would call it pressure. But he wanted the opportunity to expand his abilities, and they're just not shooting and ball-handling, they're leadership-wise."
In spite of Irving's tremendous basketball skills, what Krzyzewski finds most impressive about his former player is his ability to maintain a "strong face" — something that he frequently discusses with his players.
"I tell our guys all the time you don't always speak with words," he explained. "You speak with how you look. I think [Kyrie has] become much more vocal, but he really has a strong leader's face."
Stevens — who spoke with Krzyzewski about Irving following the trade — lauded the point guard for much of what he does on the court, particularly his ability to score the ball, burst off of a cut, and change speeds. But what he's most thankful for is Irving's demeanor off the court.
"He's a really bright basketball player," Stevens said. "But he has really, really tried to be just one of the guys. He treats everybody the same, from our equipment staff to training staff to coaching staff to players to PR staff, all the same. Players whether they're 30 or they're 19, he treats them all the same. He's very consistent in his approach."
Stevens believes the most improved players in the NBA aren't necessarily the ones being considered for the award.
In addition to Most Valuable Player, Rookie of the Year, and other honors, the league gives out an annual Most Improved Player award. As Stevens noted, the distinction is typically given to a sixth man who became a starter or someone who didn't play who became a sixth man. The MVP award, on the other hand, is given to the best-performing player of the regular season.
But Stevens believes there's actually quite a bit of overlap between the candidates for each honor.
"In almost every case, the top three or four people in MVP voting are probably the most improved players," he said. "You think back to Steph Curry when he won it and how much better he was that year than the year before."
It's unlikely the league will start naming players as both the most valuable and most improved, but Stevens has tried to impart the concept behind the notion onto his players. As he put it, "no matter what you've accomplished, there's still so much room to continue to grow and so much more to continue to strive for."
For Kyrie, Stevens said the former Rookie of the Year has a great mindset: "Win, lose, or draw, he comes back the next day to work. He's in here the next day, and he's a pleasure to be around."
Al Horford is deserving of 'as good as a compliment you can get.'
Both Stevens and Krzyzewski spoke effusively about the importance of Horford to the Celtics. Some of the buzzwords they dished out were "consistent," "great anchor," "smart," and "great role model."
Stevens also acknowledged Horford's effectiveness in guarding different types of players with varying skill sets, including Kristaps Porzingis, Joel Embiid, and Giannis Antetokounmpo.
"I don't think you could have a better veteran to lead," he said. "He's consistent in his approach, he doesn't waste his time, and he doesn't mince his words. He doesn't speak a lot, but when he speaks, it's worth listening to."
What Stevens regards most highly, however, is Horford's team-first attitude.
"He always, always is about the team," Stevens said. "He has never been a guy that has said, 'I need the ball more. I need this. I need that.' He's OK just contributing to winning. I think that's as good as a compliment you can get. What's important to him is what matters."
For Stevens, the most surprising thing about Tatum has nothing to do with his play.
Offensively, Tatum, for the most part, is what the Celtics were expecting from their first-round draft pick. Defensively, Tatum is "even a little better" than what Stevens had anticipated — largely due to his length.
But "more than anything," Stevens has been most surprised by Tatum's "emotional maturity."
"I've been around a lot of young players," said the 41-year-old, who previously was the head coach at Butler. "Very, very few people at 19 have his ability to respond to success or failure and just move on. He has a high emotional quotient."
Because of Tatum's temperament, Stevens said he can envision the rookie following in the footsteps of his veteran teammates, like Horford and Irving.
"He has all of those abilities from a leadership perspective and from a setting the tone perspective, as he grows in this experience," he said. "I'm glad he's surrounded by those guys to help lead the way."