Celtics
Isaiah Thomas is ready to play, but it won't be against the Celtics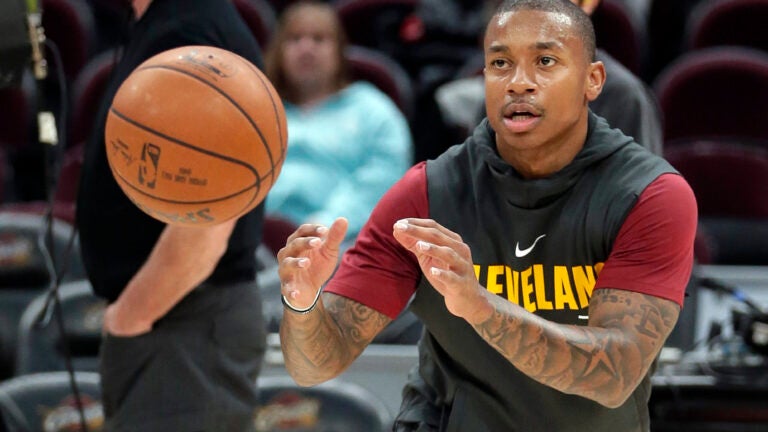 CLEVELAND — Former Celtic Isaiah Thomas will finally make his Cavaliers debut in Tuesday's home game against the Portland Trail Blazers.
The bad news for Celtics fans is that Thomas will not play Wednesday when the Cavaliers come to TD Garden because he has yet to be cleared to play in back-to-back games.
Thomas has missed Cleveland's first 36 games as he recovered from a torn hip labrum suffered in March when he was with the Celtics.
Thomas was traded to Cleveland in August in the Kyrie Irving deal, and Celtics president Danny Ainge said
Thomas's injury was a factor in making the deal. Thomas, though, repeatedly said the hip injury wasn't career-threatening, and he has been working feverishly to return.
Thomas practiced Monday and was given clearance to play his first NBA game since May 19, when he was removed from Game 2 of the Eastern Conference finals after aggravating the injury.
"It's been a long process for me, frustrating and tough process, but at the same time you've got to trust it,'' he said Monday. "Now that day's here. I haven't played in so long. It's going to be a weird feeling. I'm happy it's here.''
The Cavaliers have brought Thomas on their road trips and he warmed up before recent games, hoping to make his debut this past Saturday at Utah. But the club wanted him to make his debut at home.
"It's been a process,'' said coach Tyronn Lue. "Overnight [success] is not going to happen. He's been doing a great job of encouraging guys on the bench, and now he gets to play. Everybody is excited for him. I'm excited for him.''
Thomas will come off the bench Tuesday and will be on a minutes restriction as he works himself into playing shape.
Last season, Thomas averaged 28.9 points per game for the Celtics — second-highest in team history to Larry Bird — along with 5.9 assists per game and 46.3 percent shooting. He helped lift the Celtics to new heights under coach Brad Stevens, and his presence in Cleveland could relieve some scoring pressure off four-time MVP LeBron James.
"I think a guy who can play with pace, get into the paint, when Bron gets tired or not having a great game, you can put the ball in his hands,'' Lue said. "He can create and make plays. We're excited about that.
"Just seeing how he can play with pace and get into the paint with his speed and quickness and ability to shoot the basketball, it really changes our team.''
Thomas said he is healthy but hardly in premium basketball shape because of the long layoff.
"My hip is better, but I have no feel, no rhythm for the game,'' he said. "I've been out for so long, it feels like I lost my powers. When we're out there scrimmaging, I can move around and do what I want, I just don't have my powers yet.
"It might take some time, but I'm excited about the opportunity to get out there and compete.''
[fragment number=0]