Celtics
Why Celtics fans should pay attention to the Memphis Grizzlies
Boston's Brooklyn picks are gone, but the Celtics could still cash in with a draft pick from the Grizzlies.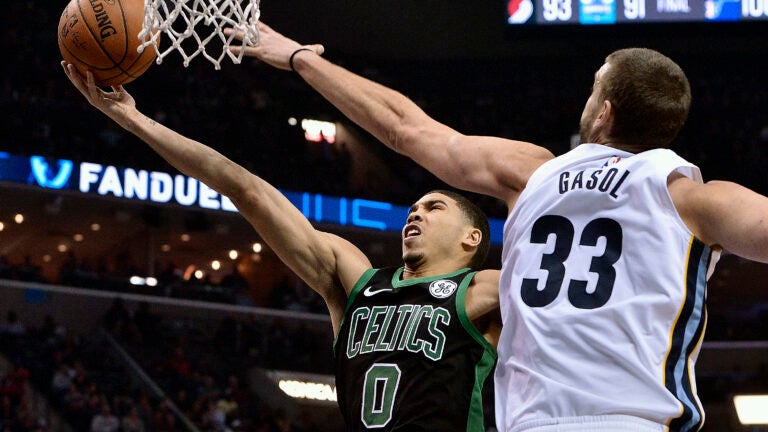 COMMENTARY
For years, Celtics fans had two favorite teams: the Boston Celtics and whichever team was playing the Brooklyn Nets.
Celtics fans have been rooting for Brooklyn to lose since the summer of 2013. But when Danny Ainge included their unprotected 2018 first round pick in the Kyrie Irving trade, that all went away. Suddenly, Celtics fans had become the NBA version of Inigo Montoya at the end of The Princess Bride.
"You know, it's very strange. I've been in the 'rooting against the Nets' business for so long, now that it's over, I don't know what to do with the rest of my life."
Sure, there's the 2018 Lakers pick to watch for, but Celtics fans are always rooting for the Lakers to lose. That also has to fall into a sweet spot of the second-through-fifth spot in the draft, so C's fans are in a weird place of wanting the Lakers to be bad, but not so bad that they get the top pick.
There's the LA Clippers pick to watch for in 2019. That's lottery protected for two years, though, so even if that conveys, the Celtics will get no better than the 15th pick in either 2019 or 2020. They could find a useful player in that spot for sure, but no one is going to stay up late to watch the Clippers be mediocre enough for the Celtics to get a guy who'll spend time in the G-League.
There is, however, a team on the downswing that could fill Brooklyn's shoes. Much like the Nets, this team made a deal with Ainge when they were good, giving up a first round pick way down the line when it didn't seem to matter much. Now, like the Nets, they're looking down the road at that pick and thinking how useful it could be…
If only the Memphis Grizzlies still had it.
Over the course of two months in 2014-15 season, "Trader Danny" launched into a flurry of deals that completely reshaped the Celtics roster. Between Dec. 18 and Feb. 19, Ainge moved Rajon Rondo to Dallas, acquired Isaiah Thomas, Jae Crowder, and Jonas Jerebko, and also got draft picks that ultimately became Guerschon Yabusele and Semi Ojeleye. He also moved Jeff Green to Memphis in a three-team deal that included the Grizzlies' 2019 first-round pick.
Unlike the Nets, the Grizzlies added some protection to that pick. It's top-8 protected in 2019, top-6 protected in 2020, and unprotected in 2021. At some point in those years, the Celtics could get themselves another top-flight player, provided Memphis is bad enough then. Which they just might be if a few things break Boston's way.
The Grizzlies aren't good right now, but the franchise is in a weird place.
They got rid of Zach Randolph and Tony Allen, two key pieces of the "Grit 'N Grind" Grizzlies. They kept Marc Gasol and Mike Conley, though, and with them still working on Beale Street, the Grizzlies were hoping to still be in the playoff mix. With coach David Fizdale coming off a solid first season on the bench, there was reason to believe Memphis could hang with the middle of the pack in the West and keep some of their success rolling.
Then things went south. Fizdale was fired in the midst of an 11-game losing streak after benching Gasol for a fourth quarter. Conley has only played 12 games this season due to a left heel and Achilles injury. The Grizzlies owners are locked in a power struggle that could decide the future of a team that's sunk to the bottom of the NBA standings.
Memphis' minority owners triggered a clause that now forces majority owner Robert Pera's hand. He either has to buy out Steve Kaplan and Daniel Straus, or sell them his shares of the team. Pera, Gasol's biggest ally, could be on his way out, which raises questions about the team's future.  
"I think whether or not Gasol ends up being traded this season will depend largely on how the ownership battle plays out," says Aimee Stiegemeyer, co-founder of All Heart in Hoop City. "If Robert Pera sells his stake in the team, I think there's a fairly good chance that Gasol ends up being traded."
"The whole Marc Gasol situation has been a very strange storyline during an already strange season for the Grizzlies," says Jack Noonan, Associate Editor for SB Nation's Grizzly Bear Blues "When David Fizdale was fired, everyone jumped on Gasol for being a 'coach killer' because it was a known fact that Gasol and Fizdale had their differences. The organization went with their All-Star center over Fizdale. So, this creates the question of, since they stuck with him once, will they hold on to him through the down years of a rebuild?"
For his part, Gasol is channeling Detective Roger Murtaugh when he hears talk of a rebuild. He's too old for this.
"My job is not allowing anyone to throw away the season. Because at 32, 33 next month, I don't have a season to throw away. I don't have those. I don't have that luxury."
This puts Memphis in a tough spot.
Where do they go from here? Even if Pera wins his power struggle, Gasol might still want off the sinking ship. With few options, the Grizzlies might have no choice but to shop their star center. The question here, though, is… for what?
The right answer is to trade Gasol for the biggest haul of young players and draft picks possible. But Memphis, which doesn't have the luxury of large-market stability, may not necessarily interested in a full-on rebuild at the moment.
According to an ESPN report, they took in a league-low $9.4 million from local TV rights. The Grizzlies are also currently 25th in home attendance, which typically suffers during the doldrums of a rebuild.
"There are definitely fears that the fan base will abandon ship," says Stiegemeyer. "I think the bigger fear is they will abandon ticket sales, on the individual level and especially on the season ticket level."
"Above all else," says Noonan, "the fans desperately need a fun, young player to look forward to. Even as many fans have never gone through a full, tear-everything-down rebuild, the reward coming out of this 2018 draft class may be worth the pain of this struggling season."
If the Grizzlies hold on to the hope of making a quick return to the playoffs, they could screw up the golden opportunity they have to restock the cupboard full of the assets necessary to start over. Using a Gasol trade to try to add talent to the bench for when Conley is healthy could simply be kicking the can down the road and delaying the inevitable.
Which, of course, is what Boston is hoping for, and it might come courtesy of an ex-Celtic.
"The head of any decision the Grizzlies make for the future will be ex-Celtics GM, Chris Wallace," says Noonan. "Even with all the blunders Wallace has made, he always finds a way to survive it, and it looks like he may again with the ownership in flux. The Grizzlies have a chance to hit the reset button, but nothing is as easy as it should be with Chris Wallace in charge."
Interesting things start happening for both the Celtics and Grizzlies in 2019. Both Al Horford and Kyrie Irving have player options for that season. Horford will certainly exercise his (he won't get $30 million anywhere else that year) and Irving will certainly not (teams will line up to give him more than the $21 million he's owed). The following season is Jaylen Brown's restricted free agency year and the final year of the Gordon Hayward deal. And the year after that is Tatum's turn for restricted free agency.
| | | | |
| --- | --- | --- | --- |
| | 2019-20 | 2020-21 | 2021-22 |
| Al Horford | $30,123,015 (option) | | |
| Kyrie Irving | $21,329,752 (option) | | |
| Gordon Hayward | $32,700,690 | $34,187,085 (option) | |
| Jaylen Brown | $6,534,829 (team option) | $8,573,696 (RFA) | |
| Jayson Tatum | $7,830,000 (team option) | $9,897,120 (team option) | $12,985,021 (RFA) |
Salary info via basketballinsiders.com
For Memphis, 2019 marks the final year of the awful Chandler Parsons contract. It's also Marc Gasol's final year, assuming he stays in Memphis, if he exercises his player option. The next year is the last for Conley's contract.
By this stretch of time, Memphis may have no choice but to fully embrace its rebuild much like Brooklyn has. They might, through proper moves, be able to make up for the loss of their own pick by acquiring another one somehow. By then, they could just embrace being bad and let the chips fall where they may.
Over that same stretch the Celtics will be finishing what should be a run of title contention, but with an increasingly expensive team. Tough roster decisions will need to be made and cheap talent will be very much welcomed.
A new core for future contention could be built around Irving, Hayward, Brown, and Tatum. They may have a couple of young players courtesy of the Lakers and Clippers helping fuel that next generation, and a top-10 pick from the Grizzlies could be just what Danny Ainge needs to keep this run going for another five years.
For Celtics fans looking for a schadenfreude fix now that the Brooklyn picks are gone should start paying attention to the Memphis Grizzlies. They've got all the ingredients for a prolonged fall from grace… ownership strife, a disgruntled star, immovable bad contracts, and a lack of self awareness. This could be the perfect formula for yet another slow-burn fleecing by Ainge.