Celtics
Mike Gorman: 'I'm kind of tired with Isaiah'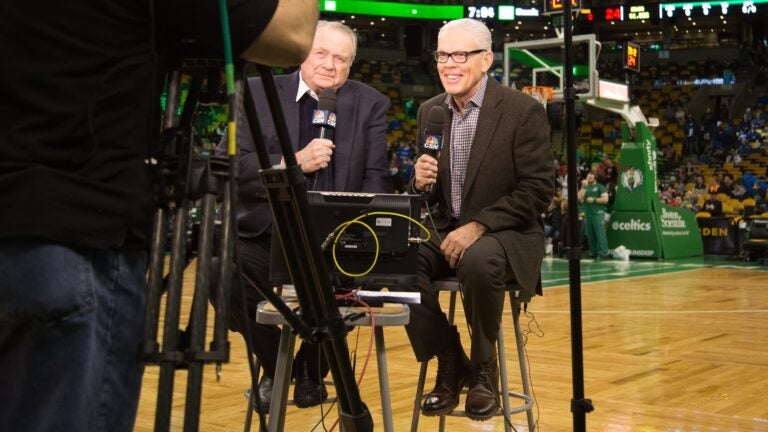 Mike Gorman has had enough of Isaiah Thomas' ongoing off-court drama.
The NBC Sports Boston play-by-play commentator expressed his frustrations with the former Celtics point guard on 98.5 The Sports Hub's Toucher and Rich Wednesday morning.
"I'm kind of tired with Isaiah, to be honest with you," Gorman told hosts Fred Toettcher and Rich Shertenlieb. "He was a great player in the time that he spent with us — certainly had a year that was almost unmatched by anybody last year. But whether or not he ever speaks to Danny Ainge again, I don't care. I really don't care."
Thomas was traded to the Cavaliers at the end of August, but has continued to make headlines in Boston for his ongoing commentary on the stunning offseason deal. While the move caught many by surprise, it appears none were more shocked by the decision than Thomas himself.
"I might not ever talk to Danny again," he told Sports Illustrated's Lee Jenkins in October. "That might not happen. I'll talk to everybody else. But what he did, knowing everything I went through, you don't do that, bro. That's not right. I'm not saying eff you. But every team in this situation comes out a year or two later and says, 'We made a mistake.' That's what they'll say, too."
The 28-year-old shared his raw reaction to the news in a recent chapter of his documentary series, "The Book of Isaiah II." The video shows Thomas visibly upset in the moments shortly after Ainge informed him of the trade via phone call.
More chapters detailing Thomas' unexpected offseason have yet to be released, but Gorman has seen enough of the deal's aftermath. The longtime Celtics broadcaster is no longer interested in monitoring storylines outside of the guard's on-court performance with his new team.
"I just want to see how he performs on the basketball court," he said. "It's almost like People magazine now. 'Is he going talk to him? Is Danny going to respond to him? What will happen here? What will happen there? Will I get a tribute?' Like just go off into the sunset gracefully, and we'll see you in the playoffs."
Gorman emphasized that by no means is he understating Thomas' emotional, albeit short, tenure in Boston. Thanks to his electrifying performances, the 5-foot-9 All-Star became known as the "King in the Fourth" with the Celtics. Averaging 28.9 points per game, the fan favorite was behind only Russell Westbrook and James Harden in the race for last season's scoring leader.
But Gorman is well-aware of Thomas' accomplishments and his lasting imprint.
"It was a great two and a half years," he said. "Take nothing away from the kid's performance. He was unlike almost anybody we had ever seen, especially in the fourth quarter of games last year. He had a remarkable run, but it was one year."
Gorman is among that contingent that, as Shertenlieb put it, is arguing Thomas "overvalues his place in the pantheon of Celtics players." Per that perspective, Thomas' request that the Celtics postpone his homecoming tribute is a prime example of his egoistic tendencies.
"You're talking about probably the most talked about franchise in the history of almost any sport, right there with the Yankees," he said. "I'm just tired of it."
The Cavaliers will be at the TD Garden Wednesday night for the first time since the summer's blockbuster trade, but Thomas asked the team to hold the video honoring his time in Boston for a future date because he wants his family to be present. The next opportunity to show the video is Feb. 11, when Cleveland comes to town for another regular-season matchup.
That Sunday, however, is also the date of Paul Pierce's jersey retirement. When asked whether he thought the Celtics still might air Thomas' video in spite of the team's existing plans, Gorman said he would definitely vote against that idea.
"I don't think they would," he said. "I don't know for a fact, but if I were in the room and had a vote, I would say no. That's Paul Pierce's day. Paul Pierce spent up-teen years here, not two."