Celtics
Kyrie Irving opened up about his father's unwavering influence on his basketball career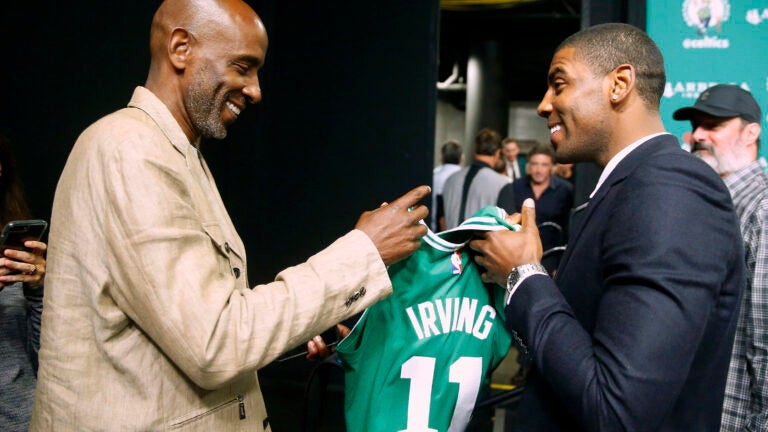 The first time Kyrie Irving beat his dad playing one-on-one, he was 16 years old.
"I beat him 16-0," Irving told Celtics radio broadcasters Sean Grande and Cedric Maxwell. "I had some tears come down my face from leaving that court playing against him."
Irving's father, Drederick, played basketball for Boston University. Averaging 19.9 points per game his senior season, he helped lead the Terriers to the 1988 NCAA tournament and finished his college career as the school's all-time leading scorer. While that record has since been broken, Drederick is still known as "one of most prolific scorers" in B.U. history and was inducted into the Athletic Hall of Fame.
"My dad is my favorite player," Irving said. "When you beat your favorite player, when you beat your idol, then it's like, man, nothing can stop me now."
From Irving's perspective, Drederick is "just a talented guy" who happens to be his father. Defeating him gave the teenager a "fearless attitude" and the confidence that he could take on anyone. Throughout Irving's adolescence, Drederick placed great emphasis on the fight and determination that fueled his son in their matchups — and advised him to channel that same energy in the future.
"He just told me when I beat him, 'Ky, as hard as you go against me, and as bad as you want to be me, just apply that to everyone else, and I'll promise you, you'll always put yourself in a great position to be successful.'"
Halfway through his seventh season in the NBA, Irving has continued to heed that advice. The four-time All-Star told Grande and Maxwell he carried a lot of the lessons he learned from his father and "just went on [his] way." When Maxwell shared his son also celebrated with great joy after beating him in one-on-one, Irving explained how the reaction reflects something larger than a victory on the basketball court.
"It just shows how special you are as a parent," he said. "Because it's really just a sign of respect. When you accomplish something that like — and it's such a small feat in everyone else's eyes, but it's such a big thing in someone's heart — then that means it's a true testament of someone being a role model in someone's life."
Drederick has been a constant in Irving's life, someone who can "learn consistent things" from and "always lean back on," but the 25-year-old also noted their relationship has undoubtedly changed since the point guard first entered the league in 2011. As Irving continued to gain experience in Cleveland, and eventually make the decision to leave, he realized his dad "wasn't the same overzealous, overprotective parent as he once was."
"He gave me my space, he gave me the freedom, he gave me the respect in order to make decisions on my own," Irving said. "I'm a 25-year-old evolving man. I'm consistently evolving and trying to look for the next thing."
At 33-10, the Celtics hold the best record in the Eastern Conference. The quest for the banner no. 18 is in full force — and Drederick has been, and will be, there for every step of the way.
"When you get to that point in your life, and you have your parent not just in the background, but standing beside you and ready to take on whatever's coming forth, then that's a very special bond that's unbreakable and that's what he gave me," Irving said. "He just gave me assurance, he gave me confidence, he gave me everything I needed in those situations."
Their strong connection is by no means one-sided.
"I gave him the same thing, and that's the bond that we have," he said. "It wasn't just him telling me, 'You should do this,' or 'You should do that.' It was me having the understanding that I'm appreciative of what you taught me, I'm appreciative of what you instilled in me, now I'm ready to move forward in my own steps and take my life by my own reins and take responsibility for what I want to accomplish."
With all that he's accomplished over the course of his career, Irving shared "the proudest moment" of his life was when he was able to express these thoughts and feelings to Drederick and "move forward with not just basketball, but with [his] life."
"That's just an important thing that I don't really talk about," he said. "But my dad is everything to me. When you have that type of relationship, it goes way beyond this world."