Celtics
5 things we learned about Jaylen Brown from his eye-opening interview with 'The Guardian'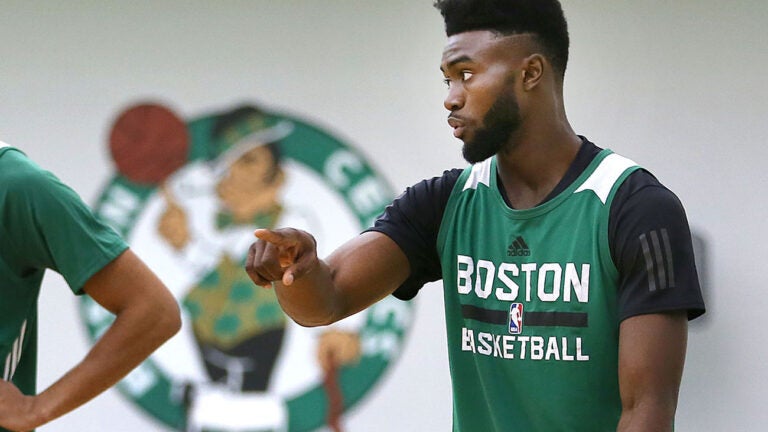 The Guardian's Donald McRae calls Jaylen Brown "one of the most intelligent and interesting young athletes" he's met in years. Once considered to be possibly "too smart for the league" by an anonymous NBA executive, the 21-year-old guard out of Cal-Berkeley is in just his second season as a pro with the Boston Celtics.
"I'm pleased, but not satisfied," he said of his rookie year. "I don't think people have seen my potential yet. I'm just going to keep working to show people what I can do."
His intentions go beyond basketball. The third-overall pick in the 2016 NBA Draft is also invested in multiple pursuits off the court, including learning Arabic and playing the piano. McRae sat down with Brown to discuss those endeavors and much more.
Here's what we learned from their conversation:
He describes himself as an introvert.
As a more reserved individual, Brown acknowledges the difficulties in being "quiet and reflective" amidst such a boisterous day-to-day environment. However, he notes the same challenges persist outside of the locker room as well.
"In life if you stay quiet, you'll get left behind," he told McRae. "So I had to learn to be more vocal and outgoing. I just try to be respectful of everybody."
The guard has discovered the closer he gets with his teammates, the more frequently he talks to them at ease.
"It becomes like a family — especially when you're winning," he said. "Last year I was much quieter, but this year my opinion is valued more. We have a good locker room."
Colin Kaepernick speaks for him when he protests 'police brutality and pure racism.'
Brown is one of several athletes who say they have been touched by the impact of former 49ers quarterback Colin Kaepernick's decision to kneel during the national anthem. Kaepernick ignited a movement — and controversy — across the NFL for his thoughtful defiance against the American flag.
"It was peaceful and successful," Brown told McRae. "It made people think. It made people angry. It made people want to talk. Often everybody is comfortable with their role in life and they forget about the people who are uncomfortable. So for Colin to put his career on the line, and sacrifice himself, was amazing."
Although Brown says Kaepernick speaks for many people across the country, including himself, he's not surprised how the rest of his career has played out. Since becoming a free agent last March, the 30-year-old passer has gone unsigned. He filed a grievance with league seven months later, alleging collusion among owners to prevent him from playing again.
"I wasn't shocked how it turned out," Brown said. "Colin was trying to get back into the NFL and find another team and he's more than capable. But I knew it was over. I knew they weren't going to let him back. Nobody wanted the media attention or to take the risk. They probably just wanted to blackball him out of the league."
He believes President Donald Trump is 'unfit to lead.'
Brown is critical of the President's role in perpetuating not only racism, but also bigotry. While some elements of basic race relations have improved over time, systemic racism is still woven throughout multiple social and political institutions.
"My opportunities are far greater than they would have been 50 years ago, so some people think racism has dissipated or no longer exists," he said. "But it's hidden in more strategic places."
Brown believes Donald Trump has "made it a lot more acceptable for racists to speak their minds," which only exacerbates the racial climate. But the moment he realized he was 'done' with the President was when Trump required a thank you from LiAngelo Ball and two UCLA basketball players for his role in releasing them from China following their shoplifting scandal.
"He demanded a thank you," Brown told McRae. "It's ridiculous. What happened to people doing things out of the generosity of their heart or because it was the right thing to do? There have been multiple situations where it's been ridiculous but that one was like: 'OK I'm done. I'm done listening to anything you have to say.'"
He misses the 'intellectual stimulus' from college.
As he navigates life as a professional athlete, Brown says he tries to stay "well-balanced instead of single-minded." He disagrees with the notion that an athlete cannot also be intelligent, and works to combat the stereotype that basketball players are "feeble-minded and can't engage or articulate ideas."
"Some people think that, in basketball, we have a bunch of masculine adults who don't know how to control themselves," he said. "That's a narrative they keep trying to paint. We're trying to change it because that statement definitely has a racist undertone."
Outside of his physical preparations for his sport, Brown enjoys taking piano lessons, producing YouTube videos, and learning different languages. He became fluent in Spanish while at Berkeley and is now learning Arabic.
He thinks this year's team is a championship contender.
Brown questions why some predict the Celtics' trajectory of success will peak in coming seasons: "Why not this year?" he asks. "People say maybe we'll be good in two years — but I think we're good now."
At 33-10, Boston has the best record in the Eastern Conference halfway through its season. The team has struggled with injuries, including forward Gordon Hayward's fractured left ankle in the season opener, but the young group has proven themselves time and time again.
"I think we could be as good as we want to be," Brown said. "But the more we let people construct our mindset, and start saying two years from now, is the moment we lose."