Celtics
Morning sports update: Rajon Rondo questioned the necessity of Isaiah Thomas's tribute video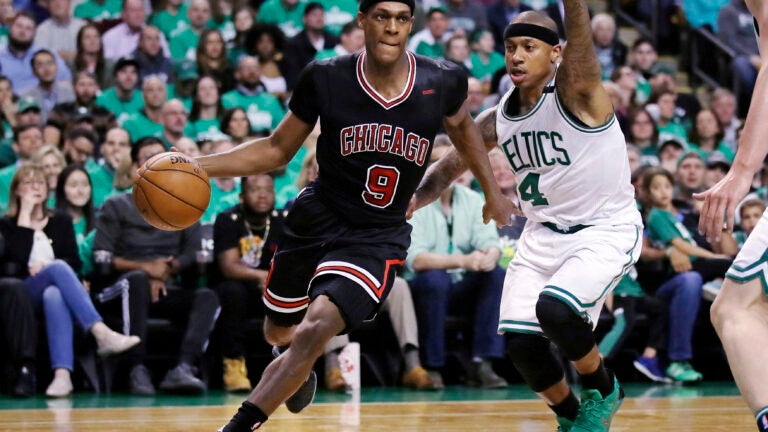 The Celtics fell in overtime to the Pelicans on Tuesday night, 116-113. Anthony Davis led the way for New Orleans, with 45 points and 16 rebounds.
Here's a look at a few other stories from around the world of sports:
Rajon Rondo isn't impressed with Isaiah Thomas' Celtics legacy:
Rajon Rondo was irked to hear that the Celtics would honor Isaiah Thomas on any night. "What has he done?" Rondo asked. Told that he led the Celtics to the conference finals last year, Rondo remarked, "Oh, that's what we celebrate around here?"

— Bill Doyle (@BillDoyle15) January 17, 2018
Colts' Ballard has repaired damage in relationship with Patriots: After the controversy of Deflategate, one of the undeniable ramifications was a break in relations between the Patriots and the team that had initially accused them of deflating footballs. Yet in the last year, a new Colts regime has bridged that which once appeared unbridgeable.
Having completed multiple trades with the Patriots and reportedly being on the verge of hiring New England offensive coordinator Josh McDaniels, Colts general manager Chris Ballard has mended the two franchises' relationship. (ESPN)
Celtics great Jo Jo White dies at 71:
We are terribly saddened by the passing of the great Jo Jo White. He was a champion and a gentleman; supremely talented and brilliant on the court, and endlessly gracious off of it.

Full statement: https://t.co/sYgSvZJu0A pic.twitter.com/1Eu8G2Qr8a

— Boston Celtics (@celtics) January 17, 2018
Isaiah Thomas has agreed to pass on his tribute video during Paul Pierce's jersey retirement:
I'd like to thank the Celtics for their gracious offer to play a video tribute on Feb 11th celebrating my 3yrs in Boston. But since it appears this has caused some controversy w/ Paul Pierce's night I'd ask the Celtics instead to focus all of their attention on #34's career.

— Isaiah Thomas (@isaiahthomas) January 17, 2018
Daily highlight: Despite the loss, Celtics fans can still enjoy Jayson Tatum crossing up Jrue Holliday:
https://www.youtube.com/watch?v=8iDfOMjo1w4&feature=youtu.be&a=