Celtics
Paul Pierce says the Celtics got 'punked' by Isaiah Thomas in the tribute video fiasco because of 'guilt' over trading him
"Danny tried to sell me on it, but I told him, 'He had a shot, Danny, and he punked you on it.'"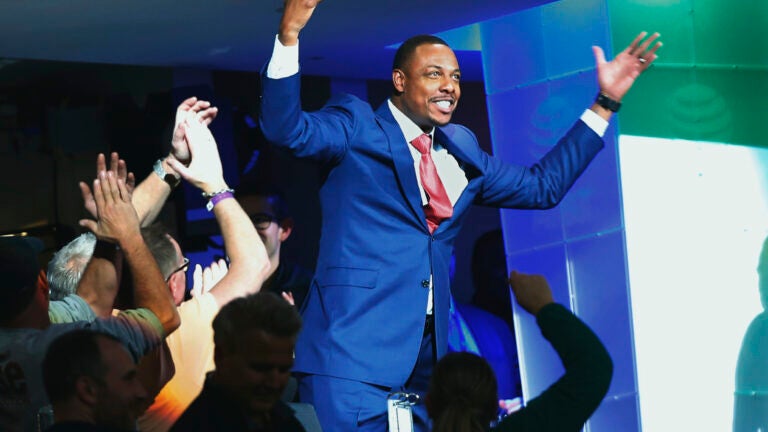 Paul Pierce says Isaiah Thomas had his shot and didn't take it.
In an ESPN article Wednesday morning, the retired Celtics star gave his side of the story in the strange debacle over the team's now-canceled plans to show Thomas a pre-game tribute video on the same night next month they planned to retire Pierce's jersey.
The honorary video was originally scheduled to be shown during Thomas's first visit to the TD Garden earlier this month since being traded to the Cleveland Cavaliers. However, the point guard, who was sidelined for the game, asked the Celtics to reschedule the tribute for a game in which he could actually play and have his family in attendance.
The Celtics subsequently rescheduled Thomas's tribute video to their Feb. 11 game against the Cavaliers at the TD Garden, the only time the two teams play again this regular season. Incidentally, it is also the same game during which the Celtics were already planning to retire Pierce's jersey.
After Pierce voiced his objections to the tribute infringing on his special evening, Thomas tweeted Tuesday night that due to the "controversy" he had asked the Celtics not to show the video and instead "focus all of their attention on #34's career."
But according to ESPN, the Celtics had already told Pierce they would scrap the tribute video for Thomas's brief, though remarkable, Celtics career.
Pierce, who has already had three different tribute videos in his various returns to TD Garden, told ESPN in an interview early Tuesday afternoon that he talked with Danny Ainge, the Celtics president of basketball operations, for 40 minutes about why he preferred to have the day to himself.
"At the end of the conversation, [Ainge] said, 'If you don't want us to do Isaiah, we won't,'" Pierce said. "So I told him, 'I really don't.' So that was it."
Pierce said that Thomas "had a shot to be honored" during the game earlier this month and should have had his tribute then, regardless of whether he was playing. Thomas, who hadn't played since last year's playoffs due to a hip injury, had made his season debut the previous night, but hadn't yet been cleared to play in back-to-back games.
Pierce went on to tell ESPN that the only reason the Celtics allowed Thomas's request to reschedule the tribute video was because the team felt guilty about trading the injured fan favorite to Cleveland.
"I just don't see how, if someone is having a jersey retirement, they're going to be running other tributes for other players," Pierce said. "Danny tried to sell me on it, but I told him, 'He had a shot, Danny, and he punked you on it. He pretty much dictated everything.' They let it happen because they felt sorry how (the trade to Cleveland) went down. It's guilt. That's what it is."
Since the trade last summer, Thomas has been open about how emotionally wound he was by the trade, but told reporters in Boston earlier this month that those feelings have since healed. Since then it has been Pierce's feelings that had the Celtics concerned.
Ainge told ESPN that the team didn't originally realize their plans to honor the two players coincides and wasn't his nor Thomas's intention to "take away from the special day for Paul Pierce."
"No one was ever comparing I.T. to Paul Pierce," he said. "We all owe Paul a lot. Everyone in the organization."
Ainge said it was only going to be a short video during pregame introductions and that the rest of the game was "going to be all Paul Pierce." However, he heard out Pierce and shared the former Celtic's "perspective" with Thomas, who never wanted to push ahead with the video after hearing Pierce's objections.
Ainge had previously said he didn't think having a short pre-game video would take away from a night that would otherwise be devoted to honoring Pierce, even as some have questioned whether Thomas's accomplishments even merited such an honor.
As Pierce told ESPN, even Kevin Garnett was on his side.
"KG was like, 'Isaiah who? Hell no, you're damn right you're not sharing your night with him,'" he said.