Celtics
Kyrie Irving reportedly needs minor knee surgery, which he used to force trade from Cleveland
The procedure is apparently still necessary, if not pressing.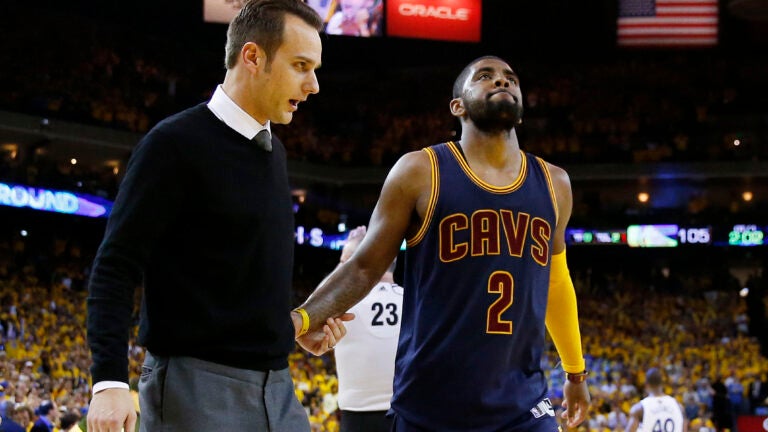 Kyrie Irving reportedly didn't just ask the Cleveland Cavaliers to trade him last summer. He practically pushed his way out the door, according to a report Thursday by Cleveland.com's Joe Vardon.
Vardon reports that after Cavaliers owner Dan Gilbert refused to honor Irving's trade request, the All-Star guard threatened to sit out the season to have surgery on his knee, "convincing Gilbert and Cleveland's front office that the relationship was not salvageable," according to multiple unnamed sources.
The procedure, which Vardon described as "a follow" to the surgery Irving had in 2015 to fix his broken left kneecap, is typically done in the offseason. However, Irving reportedly threatened to not come to training camp and schedule the operation during the regular season.
The report may seem like just another dramatic detail in the aftermath of Irving's departure from the Cavs. But perhaps more significant for Irving's new team is that the surgery is apparently still necessary, if not "pressing," sources told Vardon. It would reportedly "ease some of the swelling and day-to-day pain he feels."
Irving repeatedly complained of soreness in the surgically repaired knee last season.
That said, the knee doesn't seem to be bothering him too much this season. The Celtics point guard has only sat out three games so far this season due to injuries to his face, shoulder, and quadriceps, respectively. Additionally, he's shooting a career-high 47.7 percent from the field.
Irving was reportedly favoring his knee during Tuesday's loss to the Lakers, but it was unclear whether it was due to the 2015 surgery or something that happened during the game.
Irving was asked about the knee after appearing to favor it during Lakers game. "A little sore tonight," he said, "but it's part of being a professional, being able to weather that to give my team a chance to win."

— Jay King (@ByJayKing) January 25, 2018
Irving played without complaint in the second half of the Celtics' back-to-back Wednesday, leading the team in scoring in their win against the Clippers.
According to Vardon, whether or not Irving was bluffing was a point of contention and his then-teammate LeBron James asked Cavaliers management not to trade the point guard. However, the front office eventually relented and sent Irving to Boston in exchange for a package including Isaiah Thomas, who missed the first 36 games of the season due to a hip injury.