Celtics
What Celtics fans need to know about Marcus Smart's hand injury
Smart's injury was reportedly triggered by anger over a social media post.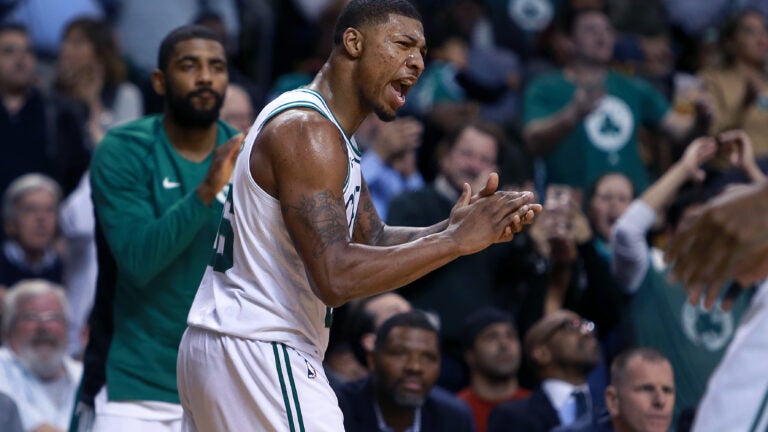 A moment of frustration in a California hotel room has ruled Marcus Smart out of the Celtics' lineup for approximately two weeks.
The 23-year-old guard cut his right hand on a picture frame after he "swiped at and hit a picture frame on the wall," according to a tweet Smart posted on Jan. 26. The incident occurred in his Beverly Hills hotel room during a Celtics trip on the West Coast.
The injury was first reported on Jan. 24, as Smart was ruled out of the Celtics' win over the Clippers later that night.
"He got stitches," Celtics coach Brad Stevens said after the initial report was made. "I don't know the full story. We're learning more about that."
"Obviously, I want to make sure that I'm thorough in telling you how it happened and what happened," Stevens added. "But, again, I think that he cut his hand in the hotel on glass sometime this afternoon."
By Friday, Jan. 26, more information became available about how long Smart would be out, and what originally caused the hand laceration. Smart took to Twitter to offer background and apologize:
I want to take this time to express my sincerest apologies to my teammates, coaches, and most of all the amazing Boston Celtics fans. I'm embarrassed and disappointed in my actions. I swiped at and hit a picture frame on the wall. I feel like I let all y'all down

— marcus smart (@smart_MS3) January 26, 2018
I promise I will learn from this situation and come back better than ever. I love y'all and I truly appreciate all the support

— marcus smart (@smart_MS3) January 26, 2018
Stevens, in an interview the same day, said he was "disappointed" with Smart's actions.
"Disappointed, as you can imagine," Stevens explained. "That's probably the right word for it. But I think It is what it is. Our other guys will be looking forward to the challenge tomorrow."
Stevens was also asked about a prior incident – which coincidentally occurred exactly a year before – where Smart punched a hole in the visitor's locker room after a 2017 game against the Washington Wizards. The punch happened after an apparent argument with Celtics coaches.
"I would say that the two times that you've referred to are the times that it's popped up in addition to this," said Stevens about Smart's past. "So it's not like something that's a once a month thing, or a once every three months thing. It's only happened a couple of times. Obviously he's a very passionate person, and didn't handle his emotions correctly. But it's something that we'll talk about more with him and go from there."
So Marcus Smart cut his hand on a picture frame in Beverly Hills Wednesday — exactly a year to the day after he argued with coaches and punched a hole in the locker room wall in Washington.

On January 24, 2019, Marcus needs to call in sick.

— Steve Bulpett (@SteveBHoop) January 26, 2018
On Sunday, Jan. 28, Steve Bulpett of the Boston Herald reported that while the Celtics believe Smart's story about how the injury occurred, he might still face disciplinary action. The two options would be a fine, or a even a potential suspension.
Bulpett also noted that Smart's alleged reason for punching the picture frame involved now-deleted pictures posted on social media by a "female acquaintance."