Celtics
Kyrie Irving scores 27 points as Celtics edge Nuggets 111-110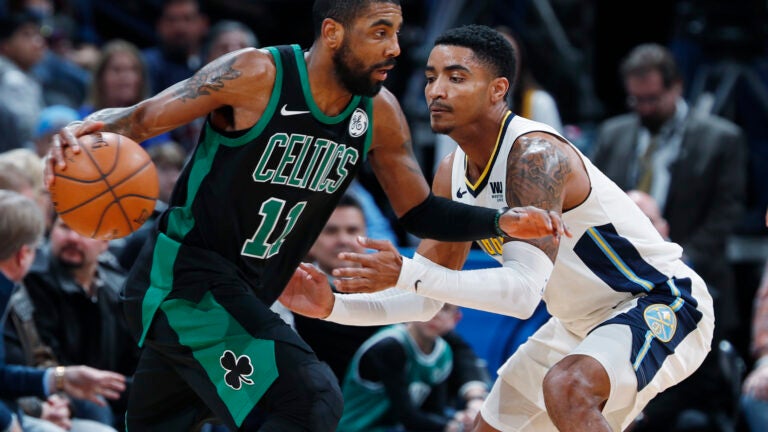 DENVER (AP) — Kyrie Irving scored 10 of his 27 points in the fourth quarter, Jaylen Brown hit a go-ahead 3-pointer with 34 seconds remaining and the struggling Boston Celtics edged the Denver Nuggets 111-110 on Monday night.
Denver had a chance to win in dramatic fashion at the end but Torrey Craig's tip-in of Will Barton's long attempt from 3-point range was too late.
The @celtics and @nuggets went down to the wire in a Fantastic Finish in Denver! pic.twitter.com/yZPt14M1Mb

— NBA (@NBA) January 30, 2018
Irving finished 11 of 17 from the field to lead the Celtics to just their second win in seven games. Jayson Tatum added 20 points and Marcus Morris had 14 off the bench.
Boston blew a 20-point lead and trailed heading into the final period. Then the Celtics couldn't hold onto a six-point advantage in the final two minutes as the Nuggets tied the game at 108 with 43 seconds to go.
Nikola Jokic had a double-double by the first minute of the second half for Denver, finishing with 24 points and 11 rebounds. Barton scored 19, Gary Harris 15 and Jamal Murray 14.
Mason Plumlee had 16 points and eight rebounds before he left with a leg injury in the fourth.
The Celtics beat Denver for the second time this season, also prevailing 124-118 on Dec. 13.
Boston made 10 of its first 16 shots from beyond the perimeter to go up 51-31 in the second quarter and led 56-45 at halftime. Irving led the way with 15 points on 6-of-7 shooting.
The Nuggets climbed back on the strength of a 14-5 run to end the half and outscored Boston 37-24 in the third to go up 82-80.
TIP-INS
Celtics: G Terry Rozier played despite spraining his right ankle at Golden State on Saturday and scored eight points off the bench. The backup guard has played in every game this season. … Daniel Theis had 11 points and Al Horford scored 10.
Nuggets: Jokic has recorded a double-double in 20 of his past 40 games. … F Wilson Chandler sat out with an illness. He'd been dealing with symptoms of a migraine since he left in the first half of Saturday's win over Dallas. . F Kenneth Faried played for the first time in four games and had zero points and five rebounds in five minutes.
UP NEXT
Celtics: Host the New York Knicks on Wednesday to open a three-game homestand.
Nuggets: At the San Antonio Spurs on Tuesday, looking to end a 10-game losing streak at AT&T Center.