Celtics
Terry Rozier's triple-double helps Celtics rout Knicks 103-73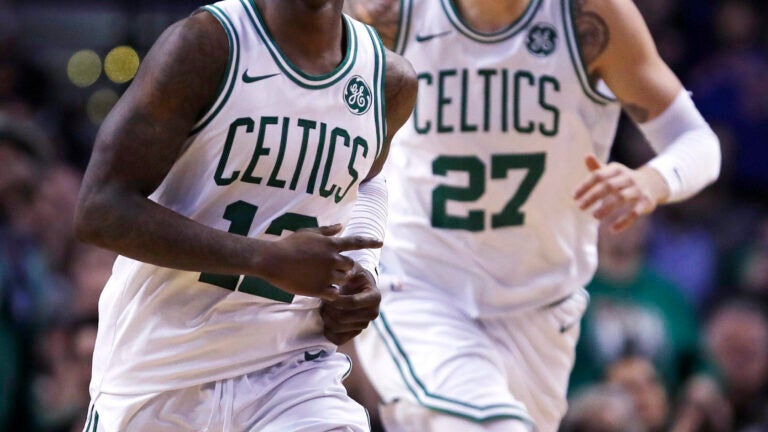 BOSTON (AP) — Terry Rozier put together a pretty nice impression of Kyrie Irving on Wednesday night.
With Irving sidelined by a quad injury, Rozier logged his first career triple-double in his first NBA start to help the Boston Celtics to a 103-73 victory over the New York Knicks.
Rozier collected 17 points, 11 rebounds and 10 assists to become just the second player in NBA history with a triple-double in his first start, joining Tony Wroten for Philadelphia on Nov. 13, 2013, according to Elias Sports Bureau.
''It just worked out perfect for me,'' Rozier said. ''I got to knock down some shots in the beginning of the game, hit the open man, I'm always going to get in there and rebound. Just a great night.''
Irving got hurt during Monday's win in Denver, which gave the Celtics a split of a four-game road trip that included a 109-105 loss to Golden State.
''I thought we got ourselves a little bit more re-centered. We played a lot better out west,'' Celtics coach Brad Stevens said. ''So, I was really interested to see how tonight would go without Kyrie.''
Marcus Morris scored 20 points for Boston, and Jayson Tatum had 15. Al Horford and Jaylen Brown scored 14 points apiece.
New York was trying for a third straight win. Enes Kanter had 17 points and 17 rebounds for the Knicks, and Kristaps Porzingis scored 16 points.
The Knicks shot just 32.2 percent (28 of 87). They were outscored 53-28 in the second half, including 22-8 in the fourth quarter.
''There's going to be nights that you're not going to (be) good offensively, but I think for us to get to the next level, for us to be an elite team, just go out there and play defense,'' Kanter said. ''We cannot just say 'Oh, we're not shooting the ball well' and just give up on defense.''
Morris left in the final minute of the third quarter when he landed hard on his backside after a dunk. He was officially diagnosed with a bruised left hip.
''It was my (butt), it wasn't really my hip,'' Morris said. ''(I'm) sore, but I'm going to go home and ice (it) and see how I feel tomorrow.''
Kanter also exited the game in the third after re-aggravating a lip laceration he suffered during practice. He returned shortly after his lip was re-stitched.
Boston carried a 50-45 lead into halftime and grabbed control by outscoring New York 31-20 in the third quarter. The Knicks trailed by as many as 33 in the closing period.
Knicked up
Boston's 30-point win represented its largest margin of victory this season, and the Knicks' 73 points were the fewest allowed by the Celtics since Dec. 8, 2013, also against New York.
''I have no explanation for it,'' New York coach Jeff Hornacek said. ''They played better and played harder and they're a little bigger than us.''
Posterizing Porzingis
Brown threw down a one-handed slam over Porzingis with 7:22 to play in the second quarter, sending fans into a frenzy.
''(On a scale of) one to 10? On my scale? That's about a five,'' a laughing Brown said about his dunk.
Tips-ins
Knicks: Porzingis recorded a block for the 20th straight game. … G Ron Baker (right shoulder) is out indefinitely after an MRI exam revealed a shoulder dislocation and torn labrum. Baker injured his shoulder on Tuesday against Brooklyn and did not travel to Boston. … C Joakim Noah remains away from the team for personal reasons.
Celtics: Morris scored in double figures for the ninth straight game, one shy of his career high. … Irving will be re-evaluated Thursday. ''It's not for sure that he'll practice (Thursday) or play Friday,'' Stevens said. … G Marcus Smart missed his fourth straight game with a right hand laceration.
Up next
Knicks: Visit Milwaukee on Friday for first of two games versus Bucks in five days.
Celtics: Continue their three-game homestand Friday against Atlanta.