Celtics
Paul Pierce opened up about the importance of winning a championship in Boston
Pierce and the Celtics brought home the Larry O'Brien trophy in 2008.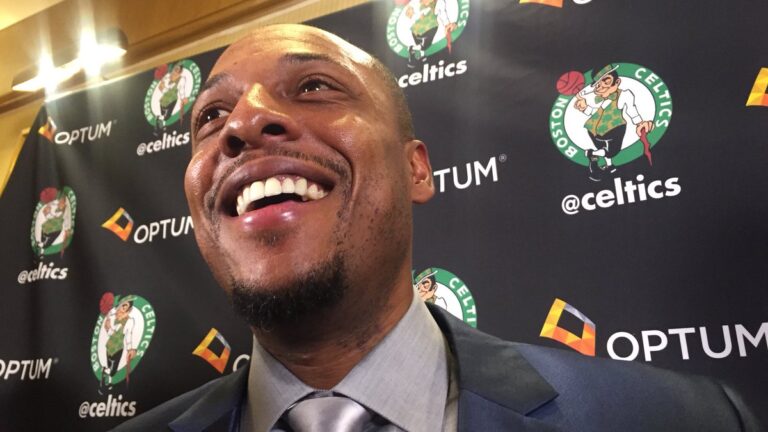 Paul Pierce's No. 34 will be headed to the rafters at TD Garden Sunday evening, but the former Celtics forward still remembers when the team raised a different kind of banner nearly a decade ago.
"The last time I was in the Garden to pull on some strings to put something up, I know I cried," he told reporters at the Four Seasons Hotel Saturday night. "I'm not really a big crier."
Pierce was a part of the 2007-2008 Celtics team that won the franchise's first NBA title in over 20 years. Defeating the Los Angeles Lakers in an epic six-game series, Boston's starting five of Ray Allen, Kevin Garnett, Kendrick Perkins, Pierce, and Rajon Rondo reinvigorated the city — and the L.A. rivalry — after seasons of dormancy. The team reached the Finals again in 2010, but ultimately fell to the Lakers in a dramatic Game 7. The 2008 championship would prove to be the lone Larry O'Brien trophy of Pierce's career.
It's been nine years since that title — and five since Pierce last competed in a Celtics uniform — but its significance still holds.
"It's very important because you sacrifice so much of your time in this game," he explained. "I went home every summer, you know, and you have people who you lose to death, you have people who age, you miss birthdays, you miss so much —  all because of the dedication I put to this sport. All for me, myself to be a winner. You miss out on so many things."
"I think that's the reason I cried so much," he continued. "Because of the sacrifices I was able to make, and you know, give to the game of basketball. People don't understand you lose out to so many different aspects of life: missing my kids first time ever walking or the first time saying their first word. You miss so much about life in general. But that's what I put to the game. That's what I was able to sacrifice."
Pierce and his wife, Julie, have three children together, Prianna, 9, Adrian, 6, and Prince, 4. Their oldest was born just a month before Game 1 of the 2008 NBA Finals.
"It's tough, man, it's tough," he said. "People don't know you just miss out on life, just for one thing. It's incredible. Just for one thing. Just to be one of the best. You don't realize it until right now when I look back on it and it's like, man, you did all this for one thing because you care so much. That's just who I was. I cared so much and wanted to be a winner and wanted to raise a banner and wanted to be a champion."
Was it all worth it? Pierce said he doesn't know for certain, but it sure feels like it was. When he returns to the Garden Sunday to raise No. 34 into the rafters — joining the likes of Larry Bird, Robert Parish, and Bill Russell — the Inglewood native unsurprisingly expects to be emotional, and possibly, tearful.
"So many people that meant so much in this journey are going to be here," he said. "People don't understand. People see the finished product. People see what I was able to put out there on the court, but people don't actually see the behind-the-scenes journey and the people who that influence that."
Pierce's wife and children, Celtics ownership, former teammate Antoine Walker, Perkins — who was recently called up to the Cavaliers from Cleveland's G-League team — and coach Doc Rivers are expected to be in attendance for the jersey retirement ceremony. Allen, Garnett, and Rondo reportedly do not plan on coming, though there is some hope Garnett will show. A "special guest" of Pierce is scheduled to address the media prior to tip-off.