Celtics
'When you mention Paul Pierce's name to me, it makes me smile'
Roy Williams shares how 'late bloomer' Paul Pierce became a star on and off the court.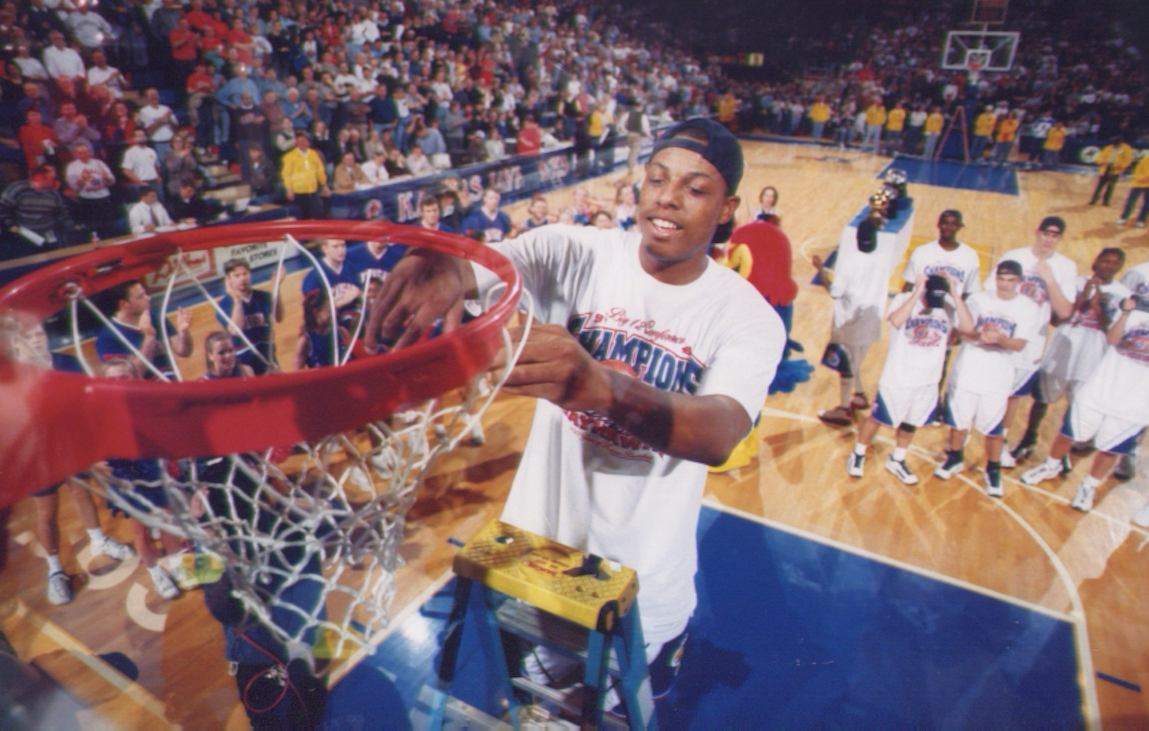 Before Paul Pierce was a Celtic, he was a Jayhawk.
"When we were recruiting Paul, we had a pretty good team we knew would be coming back," Roy Williams, head coach of Kansas at the time, told Boston.com. "We had two big guys and we had two guards, but we had no small forward — small forward, big guard — and I just thought he was the best in the country."
Pierce was a McDonald's All-American coming out of Inglewood High School in 1995, but that esteemed status wasn't always the case. According to his high school basketball coach, Patrick Roy, 14-year-old Pierce was "a real chunky kid" who left a lot to be desired on the court. Williams said much of the same.
"He was, in my mind, a little bit of a late bloomer," Williams said. "His freshman and sophomore year of high school, people kidded him. I didn't see him at that point, but they kid him about being a little fat kid."
"I didn't think he was a basketball player," Roy noted. "Actually, I believe his sophomore year, I had cut him from varsity."
That setback proved to be a turning point in Pierce's career. Following his sophomore season, he and Roy had a conversation about the importance of hard work and focus. It may seem cliché, but those values — along with a growth spurt — helped fuel successful campaigns his junior and senior seasons.
As Roy puts it, "the potential was always there."
"By the time he was a junior and senior, he was just fantastic," Williams said. "To us, he was the missing piece to the puzzle. We thought if he came, we'd have a great team. And we did have a great run while he was there."
Unlike high school, Pierce hit the ground running once he arrived at Kansas. The accolades started rolling in as early as his freshman year. Averaging 25.4 minutes and 11.9 points per game, the 6-foot-7, 220-pound swingman was named Big Eight Co-Freshman of the Year — an honor he shared with Chauncey Billups.
Williams said he already knew at that time Pierce was going to "be able to leave early for the NBA and be an extremely good NBA player once he got there" — a prediction he became more and more confident about as time went on.
Pierce's stats only improved over the course of his next two seasons. His final year as a Jayhawk, he averaged 30.4 minutes, 20.4 points, and 6.7 rebounds per game. Despite not advancing past the Elite Eight in the NCAA tournament, Kansas went 98-11 during Pierce's tenure.
"He just had an incredible freshman year for us," Williams said. "It was something to me that he was Freshman of the Year in the Big Eight. By the time he was a junior, he was MVP of the conference tournament. He just got better and better and better."
"The one thing that Paul did was he could really score," he continued. "But he also had a tremendous, tremendous love for the game. A lot of kids have it, but I don't know if anybody had it more than Paul. He really wanted to play. He wanted to get better."
When he thinks of Pierce, however, Williams remembers more than what he accomplished on the basketball court. He remembers Pierce's almost one-of-a-kind demeanor off the court, too. His genuineness, his passion for the sport, and his sense of humor all come to mind, but it was the unique combination of those qualities that stood out to Williams.
"This is about as a good of a legacy I can give somebody," he said. "When you mention Paul Pierce's name to me, it makes me smile. That's a pretty good legacy for anybody to have."
"He's just a fun-loving guy," he explained. "He enjoyed people, but he enjoyed giving the needle. He didn't mind taking it either, if somebody needled him. He was great with his teammates. He was great with little kids that came around the program. He was honestly just a little kid in a pretty doggone good-sized body for the game."
After the Celtics selected Pierce 10th overall in the 1998 NBA Draft, Williams kept up with his former player as a pro. One of his favorite moments from Pierce's 15 years in Boston came during a 2008 postseason game against Cleveland.
"There was a key jump ball," Williams recalled. "I'm sitting there watching. I'm nervous and I say, 'Paul's going to steal this jump.' And sure enough, they tapped it to where Paul guessed where it was going and he was able to sneak in there and get it before LeBron James got it."
"I was just really yelling in my house, and Wanda, my wife, was saying, 'He can't hear you and he can't take your coaching from this far away.' But that was a great moment. I've had so many of them, though, with Paul — when he played for us and since he left."
https://www.youtube.com/watch?v=d5NoJvW3_Fs