Celtics
Danny Ainge responds to Janos, the cult hero of Celtics Twitter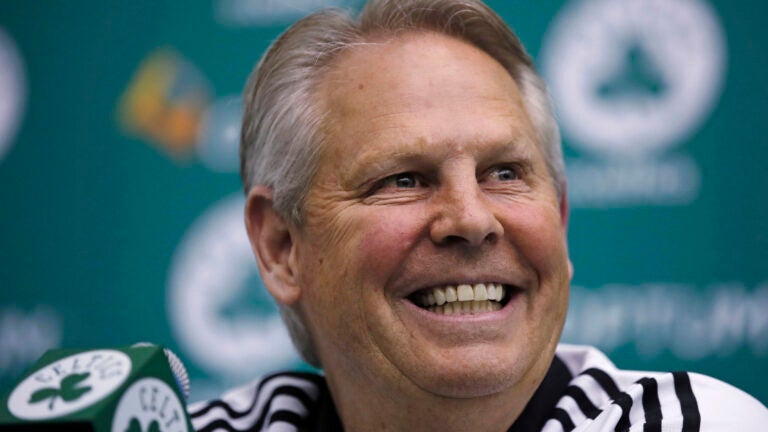 Danny Ainge responded to a dyed-in-green-wool Celtics fan on Twitter Wednesday, agreeing with the fan's assessment of the time Ray Allen and Doc Rivers spent in Boston.
"Well said," Boston's general manager wrote.
And well said it was. Janos, the fan Ainge responded to, is something of a cult hero on Celtics Twitter. Janos tweets advice to the Boston players, abuse to the opposing team, and heartbreaking laments about Rajon Rondo to everyone else.
He doesn't use perfect grammar or spelling, but Janos's English isn't broken. It's beautiful.
Is not good people anger at Ray allen and Doc . I am not understand . These guy win title with rondos garnet pierce . Is important remember on the special time 2008 .

— Janos (@isjanosnba) February 14, 2018
Well said guyJanos https://t.co/C0Q2mpPdFg

— Danny Ainge (@danielrainge) February 14, 2018
It's unclear whether the account is authentic person or an authentically dedicated parody, but either way Janos has accumulated a large following. He joined Twitter in December and has already surpassed 5,000 followers with his musings on Al Horford's defense, Gordon Hayward's injury, and a son that just can't seem to hold down a job.
I just want say thank you NBA #celtics @celtics have best fan world online ; welcome me talk NBA here . I am not the English best speak guy but everyone treat me on respect; help me learn NBA. Happy newyear all fan #celtics ,other fan to. Is janos

— Janos (@isjanosnba) January 1, 2018
Son is unemploy janitor but not like matt damin janitor in movie . son is not do maths

— Janos (@isjanosnba) January 30, 2018
There was speculation on Twitter that the person behind Janos might be Tanner Ainge, or even Danny himself, but the general manager's son denied the rumors.
"I wish I had his twitter skills," Tanner Ainge wrote. "Not me. Not any of my relatives. But I am an avid follower."
Whoever he is, Janos has strict instructions for making soup that the Celtics would do well to follow after the All-Star break:
https://twitter.com/isjanosnba/status/949093053276434432