Celtics
Kevin McHale's conversation with Larry Bird is a worthwhile trip down memory lane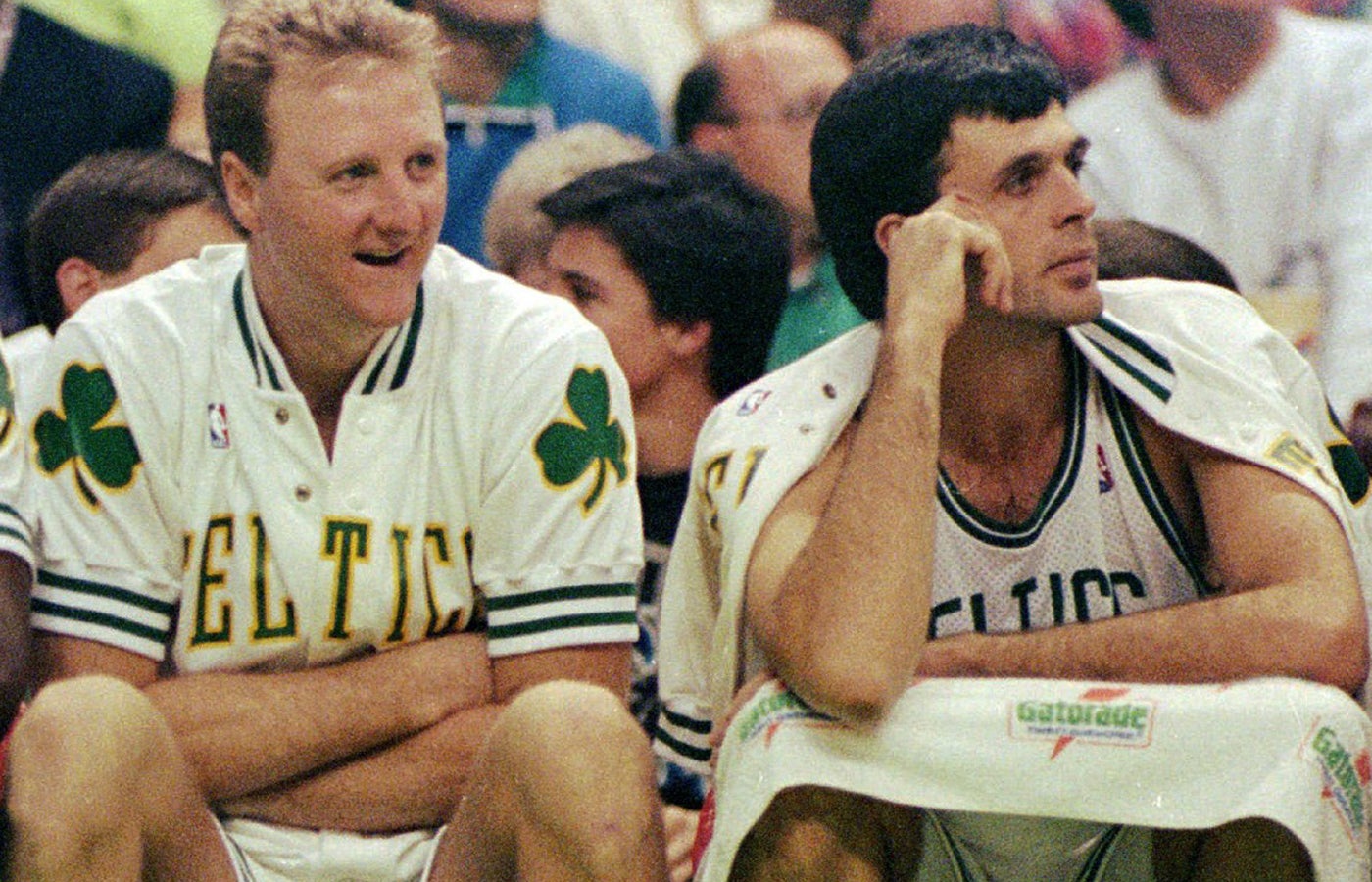 Remember when …
Wait. Before we get into reminiscences, let me acknowledge this: There's so much to love about NBA TV's Players Only conversation between Kevin McHale and Larry Bird that airs Monday night (9 p.m.), especially if you're a Celtics fan of a certain age. You may want to watch it again immediately after the first viewing.
McHale and Bird are at such ease in the conversation – to call it an interview would be too formal a designation – that the viewer feels privy to a private conversation between two people who appreciate their time together and still love NBA basketball as much as they did when they were winning championships as players in the '80s.
Some of the topics they touch on in the wide-ranging conversation, which was recorded in Naples, Fla in early January: Which Celtics team they played on was the best (they agree) and which team that didn't win it all should have (they disagree); unsung teammates who they both appreciated (M.L. Carr is practically revered); how it felt when they first entered the league (McHale: "I called my friends and said, 'I'm playing with Pete Maravich! Pete Maravich!''); and some fascinating inside-basketball details on how they attacked an opponent. (Bird: "I never worried about the defender at all when I had the ball. My thing was to make a move or make a pass or make a cut to always try to keep him off balance.''
But the most fun comes when one or the other starts a sentence with "Remember when?'' "Remember that time'' or some other variation. Sometimes it's a flashback to a specific opponent. "You remember Andrew Toney?,'' asks Bird, regarding the early '80s Sixers guard who tormented the Celtics so often he was knowns as the Boston Strangler. "That was one of the best guys I ever played against, and you never hear about him. That kid was unbelievable against us.''
More often, the "remember when'' comes before Bird or McHale launches into a story that often leaves both laughing at a shared memory neither Celtic legend ever forgot. The best of these is when they're discussing an early '80s surprise practice called by coach Bill Fitch immediately after the team's flight had landed in a road city. Many players had been drinking on the flight and were in no condition for practice. Backup center Eric Fernsten did not imbibe on the flight, and his dominating performance was such in practice that Bird looked at him at one point and said, "Damn, Fernie, you're me.''
During an interview with McHale Friday, I asked him if this is what it's always like that when he and Bird get together, 37 years after they first became teammates.
"Always,'' he said. " It's because of how Larry is. When you're just hanging around him, he's a great guy to talk to and reminisce with. In the setting we were in when we were players, after the game at the podium, that's a different Larry. He had pretty much been buttoned down and didn't necessarily enjoy the media unless you were someone he knew for a long time. I don't think it bothered him, but he liked having his play do his talking for him and didn't want to explain a bunch of things.
"The Larry that I knew and know way better is a funny guy, really loose. When he played, I was drawn to the level of joy and comfort he had on the court. I always felt really comfortable on the floor, like it was where I belonged, and Larry was the same way. There was never anxiety. There was calmness, like, 'let's going out and play and get this done.' It was just fun.''
McHale said the most enjoyable thing about the interview was hanging out and talking off camera, then playing golf for a few days and having a couple of beverages. He noted that their mutual appreciation for what they accomplished together isn't something that developed after retirement. They knew what they had with the Celtics was special even in the moment, he said.
"I remember after a game in Atlanta once, Larry looks at me, we're having a beer, and he looks at me and says, 'Can you believe they pay us to do this?','' said McHale. "I started laughing and said, 'They pay us. Plus we get free beer, which is a good deal.' That's how I felt about my entire career. I rode my bike to the gym every single day as a kid to play, and now they're paying me to do something I went out of the way to do every single day of my life. I was always like, 'That's unbelievable.'''
The footage is fresh too, with highlights any Celtics fan knows by heart and a few you may not have seen since his heyday. My only beef with the film is that, at an hour, it's too short. I want the outtakes, all of them. But that's not to suggest there was any lack of revelatory detail in what we do get to see and hear. For instance, Bird notes that he learned his step-back move from watching a little-used backup in practice as a rookie.
"I got the step-back from Terry Duerod ,'' said Bird. "Remember in practice when he used to do double step-backs.? I thought, 'Man, that works.'''
McHale says that's one of the joys of basketball – that you can learn a new trick or gain insight from so many different people.
"That stuff is with you all the time,'' he told me. "Terry Duerod, you say that name and maybe it means nothing to some people. To Larry and I, Doo is one of those guys you played with along the way who is always in your mind, a great teammate and guy who we learned something from. He'd play one on one with you all the time. He'd be hilarious. If he ever beat you, the next few days were miserable. He couldn't remind you enough. It was just one of those things, one of those shared experiences that may not mean anything to other people, but to us, those are the people and experiences that made us the players and people we were.''
McHale and Bird weren't always closest of friends as teammates. McHale says with a laugh during their conversation that he once told Bird, "When we retire, I hope I never see you guys again. I lived with you for 12 years.'' Now, while both love the current NBA, they both lament that teammates don't spend enough time together nowadays, like they did. "We achieved something bigger than I ever dreamed.'' McHale tells him later in the conversation.
"Look, when you play with a guy for 12 years and you're in an age and a setting like that, there were times when we butted heads,'' McHale told me. "But it never, ever got in the way of us competing. And it never was any big deal. You butt heads with everybody at some point or another.
"It's an unbelievably competitive environment you're in. There were days where you played like crap, you're mad, little things. But overriding any of that was 99.9 percent of the time, it's incredible.
"Everybody I played with, I was really lucky and blessed – M.L. and Chris Ford and Robert [Parish] and Cedric [Maxwell] and DJ [Dennis Johnson] and Danny [Ainge], on down the line. We had good guys. And it was fun. Of all the things that you remember, that's what you remember best.