Celtics
How Greg Monroe can unlock the Celtics' second-unit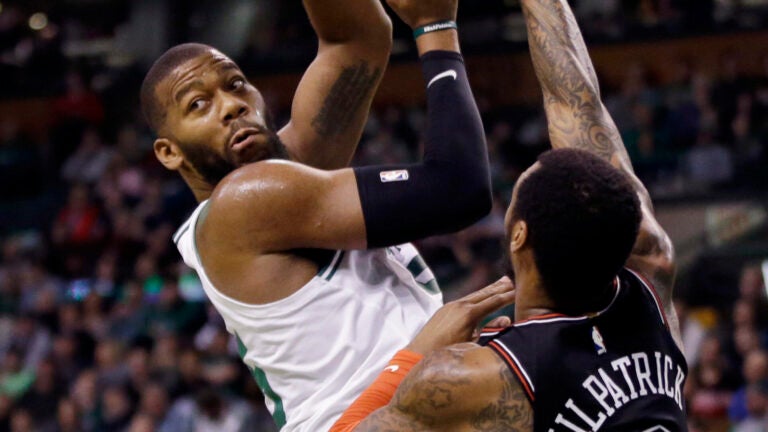 COMMENTARY
The Celtics needed the All-Star break as much as any team in the league. They lost four of five games and got lit up by the Toronto Raptors, Cleveland Cavaliers, and Los Angeles Clippers. Everyone involved acknowledged a break and a change were both necessary.
They've fallen to second in the East and have 23 games to figure out how to pull this thing back together. One thing they'll have to figure out quickly is how to use Greg Monroe. As Brad Stevens said after Wednesday's first post-break practice, it's part of an overall re-thinking of how to rotate guys into the game.
"Definitely rotate a little bit differently. I don't know if that means changes in the starting lineup. We'll definitely have some rotations that will. Certainly it'll be night to night, with tweaks from when guys enter the game, etc."
A fully healthy team presents Stevens with a lot of options, but the recently acquired Monroe is probably the biggest question at the moment. He's only played four games, and those coincided with a slide that probably would have happened regardless. These next couple of weeks present a fresh start for Monroe and the Celtics, and a chance for Stevens to pull the best of his talents out of him.
One underrated aspect of Monroe's game, and the one that could benefit the Celtics the most, is his passing. With Boston's second unit often struggling to score, an attention-grabbing facilitator could be the piece that really helps unlock the games of second-unit players. Monroe has shown a willingness and ability to pass in a few different situations, which means he doesn't have to be a one-dimensional player.
According to NBA.com, Monroe has a 17.1% assist percentage this season. That would put him tenth among guys above 6'10".
Assist percentage among players 6'10" and taller

Ben Simmons

32.9%

Nikola Jokic

28.4%

Blake Griffin

27.4%

DeMarcus Cousins

24.1%

Al Horford

24.0%

Giannis Antetokounmpo

23.9%

Marc Gasol

21.1%

Pau Gasol

21.0%

Joel Embiid

17.7%

Greg Monroe

17.1%
For the season, Monroe would rank fourth on the Celtics in assist percentage, behind Kyrie Irving, Horford, and Marcus Smart. He's only averaging a couple of assists per game for his career, but under Stevens and with these Celtics, there exists a possibility of Monroe noticeably out-pacing that average.
There are three ways the Celtics can take advantage of Monroe's passing:
In the low post
Monroe is a good enough scorer in the post to draw double teams. His calmness, height, and vision in these situations helps him pass out of those double teams pretty well.
Here he is against the Celtics earlier this season. He got Abdel Nader on a switch so Al Horford came down to help with a double team.
He takes a dribble as if he's going to make a post move, which draws Horford further in. The bounce pass out of the double team goes right into Matthew Dellavedova's shooting motion for the three.
This play in Phoenix shows his patience: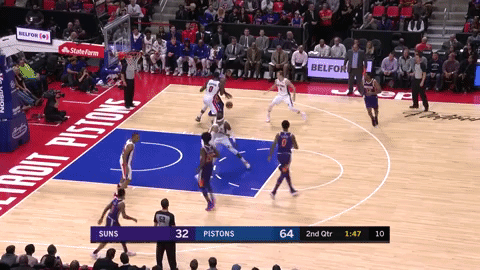 Monroe waits a full three seconds, lets the Pistons defense scramble, and then finds a high opposite shooter open for a three.
In this next play, Monroe again gets a double team, but watch him escape with a dribble and let the defense make a mistake.
The Celtics can take advantage of Monroe in the post much like they use Horford there. Horford is a better overall player, but Monroe has the passing skills to command attention down low and find teammates when the focus is on him.
Paint touches, or getting the ball into the lane, are very important for opening up the Celtics offense. The goal is to get threes and layups, and getting the ball into the paint and forcing the defense to collapse on that player is a great way to open up the rest of the offense… IF… that player can make plays in that spot. Monroe can.
In the high post
The Celtics run a lot of sets that require the big to get the ball in the high post. This is an area where Monroe is also comfortable as a passer. He generally shoots in the high-40% range from 15-18 feet, so he's a threat to make those shots. If a defender steps out to pay attention to him there, he can find teammates.
Here he is burning the Celtics again: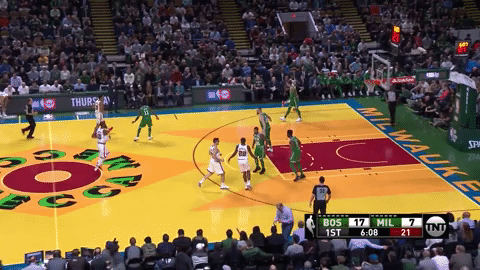 Malcolm Brogdon looks like he's going down to set a screen for his man in the corner, but because Monroe's shooting ability draws Aron Baynes up far enough to allow Brogdon to read an opening and cut to the basket. Monroe reads it too and drops a perfect bounce pass that leads Brogdon in stride to the rim for a layup.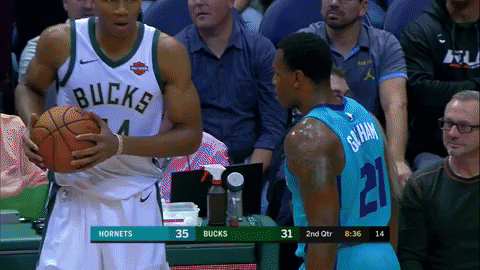 This is a simple inbounds play. Monroe gets it, Giannis gets a back pick, and Monroe finds him. The beauty of this pass is Monroe reads Malik Monk (number 1) not paying attention to the ball. Not only is he out of position, but by not looking at the ball, Monroe can whip the pass right by his right ear. Because it's Antetokounmpo, he can put the ball up high and lead him right to the basket. If Monroe had passed it earlier, the advantage would have been lost. This was great awareness of the defense and where his teammate needed the ball.
In this play, Monroe uses the threat of a backdoor play to find a shooter:
Monroe is high, there's a back pick for Giannis, and Charlotte overreacts. Monroe plays it like a quarterback, reading the defense and checking down to the open guy, who happens to be in the corner for an open three.
The ability to find guys from the high post is critical for his integration with the Celtics because it won't require the team to cater to him quite as much. They can use a lot of what they do with Horford just modified a little because Monroe doesn't have the same range. Still, if the Celtics can read mismatches and defensive lapses, Monroe has shown he can find guys for easy shots.
On the roll
Monroe will get plenty of pick and roll opportunities. Here, again, he burns the Celtics with a quick decision.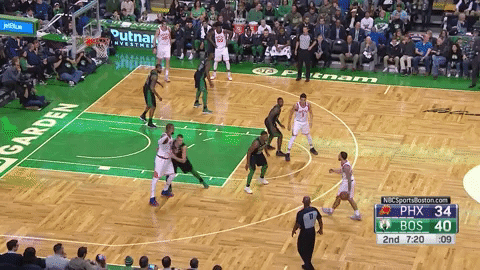 This is notable because of how quickly he recognizes Marcus Morris as the corner man's defender. As he begins, he knows he's got two defenders engaged in the pick and roll plus a third at the top of the key. Once he turns and sees Morris, he turns and whips the pass. No dribble, no fake, no nothing… just instant recognition and finding a shooter for the most desired shot in the game.
This next play is just beautiful to me.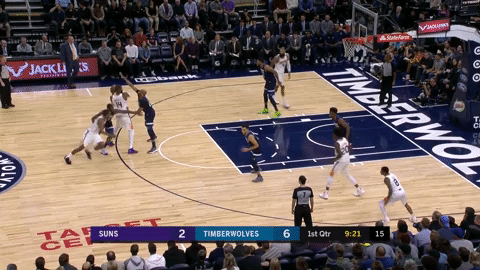 He sets the high pick and rolls down a seam on the left side of the lane. Again, there's immediate recognition of where the defenders are as he turns.
Taj Gibson (number 67) is the key guy here. He reads Gibson like Tom Brady would read a safety. Once he sees Gibson move over to stop the ball handler, he knows there are two defenders between him and Tyson Chandler.
Once he gets the pass, both those defenders come over to stop him, he knows Chandler is all alone and he drops a gorgeous no-look bounce pass to him for the dunk.
The ability to quickly read what the defense is doing and know your options is critical for making passes. When players react to what they see rather than having to think through situations, they can make snap decisions that lead to good things.
A willing passer like this can work wonders on the Celtics second unit because it means players don't have to work as hard to find open shots. Having a big like Monroe who can make those reads could lead to some more offensive continuity if he and Horford are constantly subbing in and out for each other.
We know Monroe can be a nice scoring option off the bench, but under Brad Stevens, sharing the ball could be the way he helps the Celtics get back on track.