Celtics
Short-handed Celtics fall at home against Pacers
The Celtics led by 10 at halftime, but they struggled down the stretch without Kyrie Irving.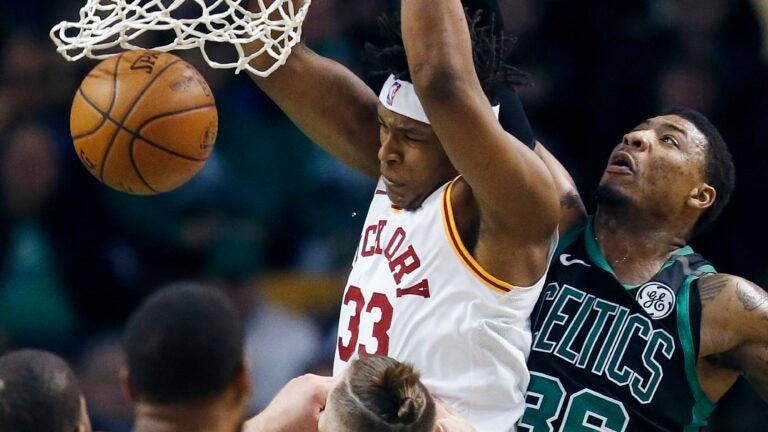 BOSTON (AP) — Victor Oladipo scored 27 points, then committed a dead-ball offensive foul with 1.5 seconds left that gave Boston a shot to win the game at the buzzer, but the Indiana Pacers held on to beat the depleted Celtics 99-97 on Sunday night.
Myles Turner scored 19 points, including the game-winning basket with 21 seconds to play, and added 10 rebounds for Indiana, who survived the crazy ending to win for the fifth time in six games.
Boston led by 10 at halftime before point guard Kyrie Irving left the game with a sore left knee, joining absent big man Al Horford, who was home sick, and Jaylen Brown, who is in the concussion protocol. Indiana went ahead by as many as nine, and had a 93-86 lead with 2:13 to play before Boston rallied to tie 95-all with 37 seconds left.
Kyrie said he is "not concerned" about his knee. Said it's sore. Said he may need some rest. #Celtics are basically locked into the No. 2 seed barring a collapse.

— gary washburn (@GwashburnGlobe) March 12, 2018
Turner gave the Pacers the lead again and, after Terry Rozier's miss, Indiana hit a pair of foul shots to take a four-point lead. With fans heading for the exits, Tatum hit a seemingly meaningless layup to cut the deficit to two points with only 1.5 seconds left.
But before the ball could be inbounded, Oladipo was whistled when his elbow caught Marcus Morris in the face. A review confirmed the call.
Boston inbounded the ball to Rozier, who took a long 2-pointer that bounced off the near side of the rim. As the buzzer sounded, Cory Joseph got tangled up with Morris and Marcus Smart, bringing all three to the floor; players milled around and officials kept them separated but tensions were quickly soothed.
Smart scored 20 with eight assists and Tatum scored 19 for the Celtics, who had won six of their last seven.
Tatum hits 'em with the crossover and buries the jumper! pic.twitter.com/ghwPAxqAvY

— Boston Celtics (@celtics) March 11, 2018
With Horford and Brown sidelined along with Gordon Hayward, who hasn't played since breaking his leg in the first quarter of the season opener, the Celtics were already without three members of their opening night starting five when Irving joined them.
Indiana quickly erased a 10-point halftime deficit, scoring 11 straight points: back-to-back 3-pointers from Bojan Bogdanovich and Joseph, and then five points in a row from Oladipo, to take a 60-57 lead. Greg Monroe and Terry Rozier scored to put Boston back in the lead before Indiana scored another seven in a row to make it 67-61.
TIP-INS
Pacers: Made just 13 of 34 2-pointers in the first half. … Wore their Hickory High uniforms from the movie Hoosiers.
Celtics: Irving finished with seven points in 16 minutes. … Rozier scored 16 off the bench.
UP NEXT
Pacers: Visit Philadelphia on Tuesday night.
Celtics: Host Washington on Wednesday night.