Celtics
Here's the full list of injured Celtics players and when they're expected to return
Everything you need to know about Boston's perplexing injury woes.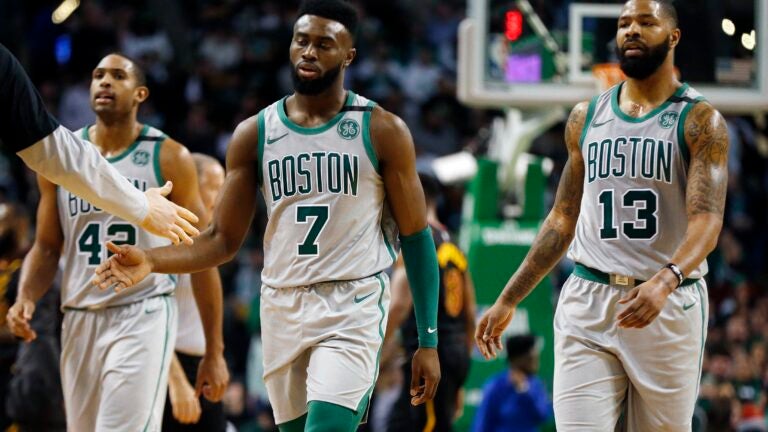 The injury bug has not been kind to the Celtics this year.
In a season that virtually began with one devastating break, injuries have again caught up with Boston, sidelining starters and key bench players as the team fights for a top playoff seed in the Eastern Conference.
"I've never been in a season like this," Celtics coach Brad Stevens said Monday of his injury-riddled roster.
Here's a look at each Celtics player who has been recently affected by injuries and when they're expected to return to the floor.
Kyrie Irving
The Celtics star point guard sat out the second half of Sunday's loss to the Indiana Pacers with what he said was a sore left knee.
Irving had surgery on the knee in 2015 to fix a broken left kneecap, which reportedly still requires a minor follow-up procedure and resulted in nagging soreness last year as well. According to The Boston Globe, Irving began to experience pain in the knee again during the Celtics' March 3 game against the Houston Rockets. The 25-year-old subsequently sat out the following game due to knee soreness. After returning last Thursday against the Minnesota Timberwolves and playing the first half of Sunday's game, Irving suggested he may need to take some time off.
"It's just been aching for a little bit," he told reporters after Sunday's game. "I just think I need to take some time."
What's the status of Kyrie Irving's knee?

Kyrie Irving on his knee: "Sore. That's about it. It started in Houston. Just aching. After a few days it usually just subsides but it's been aching for a little bit."Read more at Boston.com: https://www.boston.com/sports/boston-celtics/2018/03/11/short-handed-celtics-fall-pacers

Posted by Boston.com on Monday, March 12, 2018
Irving said Sunday he wasn't too concerned, but said he thought it would be better to rest the knee more than the usual two or three days. ESPN's Adrian Wojnarowski reported Monday that the Celtics are confident his knee soreness is "no more than tendonitis" and that he is considered "day-to-day."
There's confidence that Boston Celtics guard Kyrie Irving's left knee soreness is no more than tendonitis and that he will not need to miss significant time, league sources tell ESPN. Irving is considered day-to-day.

— Adrian Wojnarowski (@wojespn) March 12, 2018
Stevens said Monday that he expects the team to "tread slowly" when it comes to Irving's return, and USA Today reports that the timing of the point guard's media availability indicates he may be out for at least the team's upcoming two games, Wednesday and Friday.
Marcus Smart
It seems Smart's right hand can't catch a break.
Smart appeared to jam his thumb during Sunday's game against the Pacers diving for a loose ball and reportedly complained it was hurting after the game.
Marcus Smart was in a lot of pain after taking this fall. Very fortunate to still be playing in this game. I'm sure he'll get that right thumb checked out after the game. pic.twitter.com/0s0vwIUGor

— Taylor Snow (@taylorcsnow) March 12, 2018
Smart also had the sprained thumb in a protective cast after the game, according to the Boston Herald.
Yahoo's Shams Charania reported Monday that Smart had torn a tendon in the thumb and would be out indefinitely, but Celtics general manager Danny Ainge disputed that report, telling the Herald that the 24-year-old had instead suffered ligament damage near the thumb. Ainge said the team wouldn't know the exact extent of the injury for a couple of days.
Smart is reportedly seeking a second opinion on the thumb and is in the process of setting up a visit with a hand specialist in New York, according to TNT's David Aldridge. Wojnarowski reports that it's still unclear whether Smart could play through the injury or if he will need to miss time.
Right thumb injury to Celtics guard Marcus Smart — for now, called a sprain — is under scrutiny with medical staff, league sources tell ESPN. Still unclear if Smart can play through it — or will need to miss time.

— Adrian Wojnarowski (@wojespn) March 12, 2018
Daniel Theis
Theis appeared to bump knees with Pacers guard Victor Oladipo in the final minute of Sunday's game. After reportedly limping out of the locker room Sunday night, the Celtics announced Monday that Theis' season is "likely" over.
Victor Oladipo totals in 3 games vs the Celtics this season:
100 points
18 rebounds
7 steals
1 uncalled offensive foul that cost Daniel Theis the rest of the season…? pic.twitter.com/k9in58iZhj

— Max Lederman (@Max_Lederman) March 12, 2018
According to Charania, the German rookie tore his left meniscus and will need to have surgery. Stevens told reporters Monday that the team expects the 25-year-old to "have a full recovery."
Stevens on Theis: "You really feel for him….we're gonna miss him on the court but he'll have a full recovery."

— Adam Himmelsbach (@AdamHimmelsbach) March 12, 2018
Jaylen Brown
Brown missed Sunday's game after a frightening fall on his back and neck during Thursday's game against the Timberwolves, which had players around the league concerned.
The 21-year-old (perhaps fortunately) only suffered a concussion, but is not expected to return this week. Stevens told reporters Sunday that Brown is still sore and "hasn't even started a progression back," according to the Globe.
"His head feels better, is the way he phrased it to me," Stevens said. "And his body is starting to feel a little bit better. So he's making progress but still I don't anticipate him being on the court this week. But hopefully as we enter next week, we'll see where he is in the protocol."
Al Horford
Horford also missed Sunday's game, but it was with an illness, rather than any injury. After trying to come in for Sunday's game, the All-Star forward was told to stay home by the team, according to Stevens.
"He's in bed, hurting," the Celtics coach said Sunday of Horford's fever.
USA Today reports that Horford was absent during Monday's practice. His status is reportedly uncertain for Wednesday's game against the Washington Wizards.
(Hits keep on coming) Al Horford still home sick today for #Celtics – not sure about his availability on Wednesday. Shane Larkin still limited to 15-17 minutes per game with knee.

— Scott Souza (@Scott_Souza) March 12, 2018
Shane Larkin
Larkin missed 10 straight games in late-January into February due to persistent knee soreness. And while evaluations reportedly found no structural damage, his playing time has been limited since his return last month. According to Gatehouse Media's Scott Souza, the backup point guard continues to be on a minutes restriction, even with the team pressed for healthy bodies.
Gordon Hayward
The highly-sought offseason addition saw his first Celtics season come to an end roughly five minutes after it started, when he suffered a grisly fractured ankle in the team's season opener. Following the injury, Hayward was effectively ruled out for the rest of the season, though the exact timeline of his recovery has been the subject of much speculation.
Earlier this month, Stevens made it clear as he could, after once again being asked about Hayward potentially returning this season.
"He's not playing this year," he said. "I don't know what else to say."