Celtics
12 of the greatest Celtics players of all time
Looking at the Celtics included in #GOATMadness.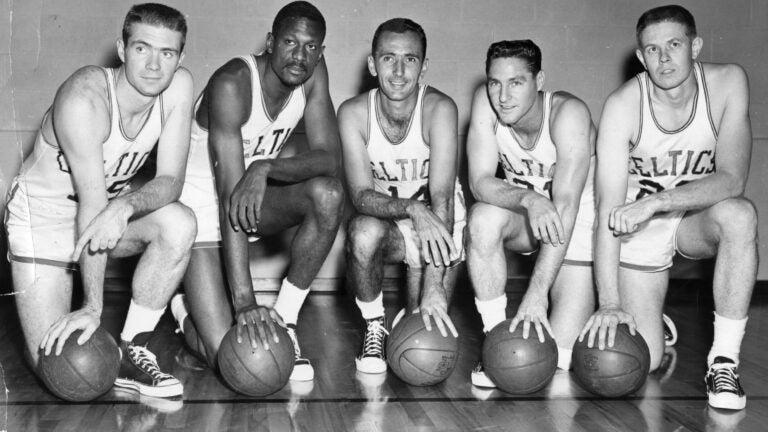 In the spirit of March brackets, Boston.com launched its own: Voting to decide who is Boston's greatest-ever athlete. The #GOATMadness bracket carries a full 64-person field, so go vote.
Few teams in sports have a tradition quite like the Boston Celtics. With 17 NBA championship banners hanging in the TD Garden rafters, Boston is the most successful team in league history.
Given their past, it's no surprise that in a discussion of Boston's greatest-ever athlete, the Celtics are well represented. Here's look back at some of the greatest Celtics of all time:
Larry Bird
One of the best players of his era, Bird won the league MVP award three years in a row between 1984-1986. And in his 13 seasons with the Celtics, Bird was a central piece in three Celtics championships. He was a creative force on offense, finding teammates with a creative assortment of passes. As a shooter, Bird won the NBA 3-point shooting contest three years consecutively (1986-1988). Inducted into the Naismith Basketball Hall of Fame in 1998, Bird's No. 33 was retired by the Celtics.
Bob Cousy
Despite initially being rebuffed by Red Auerbach as a "local yokel," Cousy quickly won over his coach, having already won over local fans as a two-time National Champion at Holy Cross. The point guard quickly became Auerbach's floor leader, leading the league in assists per game eight years in a row. Winning league MVP in 1957, Cousy helped the Celtics win their first championship, launching a dynasty.
Kevin Garnett
The Celtics landed "the Big Ticket" in a blockbuster trade in the summer of 2007. Immediately, Garnett helped to revitalize the franchise. A versatile forward, Garnett made 15 NBA All-Star teams, and was named Defensive Player of the Year in his first season in Boston. The inaugural year with the Celtics also marked the 17th championship in team history, with Garnett playing a central role. His forceful personality and dynamic ability helped to transform Boston back into an elite team.
John Havlicek
In his first four NBA seasons with the Celtics, Havlicek won a championship each year. He chose the Celtics despite also being drafted by the Cleveland Browns. Havlicek made the role of sixth man (coming off the bench) his own in his early years, and was known for his ability to play multiple positions. He made 13 NBA All-Star teams and won eight championships in total. When he retired in 1978 after 16 seasons in Boston, Havlicek was the team leader in games played and points scored (records which still stand in 2018).
Tommy Heinsohn
Selected by the Celtics with a territorial draft pick in 1956, Heinsohn arrived as a rookie as a known quantity to local fans following his record-setting time at Holy Cross. He immediately helped Boston win its first championship, being named Rookie of the Year in the process. In total, the power forward won eight NBA titles in nine seasons with Boston. Heinsohn would also go on to lead the Celtics to two more titles as a coach in 1974 and 1976.
Sam Jones
Jones ranks second all time to teammate Bill Russell in NBA championships won over the course of a playing career with 10, won in his 12 years in Boston. Jones became a focal point in the Celtics' offense, scoring over 15,000 points. A five-time All-Star, Jones' No. 24 was retired by the Celtics. He was also named one of the NBA's 50 greatest players in 1996, the 50th anniversary of the league.
Kevin McHale
In his 13 seasons with the Celtics, McHale established himself as one of the best power forwards of his era. He made seven NBA All-Star teams, three All-NBA Defensive First Teams, and won two Sixth Man of the Year awards. In his time in Boston, McHale was part of three NBA champions, including the 1985-86 Celtics team, widely regarded as one of the greatest of all time. McHale was a master of post moves, perfecting a skill-set that made him one of the best low-post scorers in the league.
Robert Parish
Parish played in a record 1,611 NBA games in his 21 seasons. Spending 14 of those years in Boston, he established himself as one of the most consistent and reliable players in team history. Parish made nine NBA All-Star teams, all during his Celtics career. And he helped Boston to three championships. Along with Bird and McHale, Parish comprised one third of his era's "Big Three" in the Celtics' lineup.
Paul Pierce
Drafted 10th overall by the Celtics in 1998, Pierce would play in Boston for 15 seasons. In that time, he made 10 NBA All-Star teams, and was central in the 2007-2008 championship. In the 2008 NBA Finals, Pierce was named MVP. After scoring 42 points against the Lakers in 2001, he was dubbed "The Truth" by Shaquille O'Neal. Along with Bird and Havlicek, Pierce is the only Celtic to score over 20,000 points.
Bill Russell
One of the greatest champions in American sports history, Russell won 11 NBA championships in his 13-year career. As a rookie, he got a delayed start in Boston due to his participation in the Olympics (where he won gold). After joining the Celtics, Russell helped propel the team to its first title, setting the tone for an era of dominance. He won five NBA MVP awards, and was an All-Star 12 times. His shot-blocking and rebounding made him the centerpiece of a dynasty. After Red Auerbach retired, Russell was named player-coach, becoming the first African-American NBA coach. In that role, he won two more titles before retiring in 1969.
Bill Sharman
A Celtic for 10 seasons, Sharman partnered with Cousy in one of the best backcourts in early NBA history. Known for his shooting ability, Sharman made eight NBA All-Star teams, and was All-NBA First Team four times. He helped Boston win the first four titles in its history. As one of the league's best free throw shooters, Sharman led the NBA in free throw percentage a seven times (including five years in a row from 1952-1957).
Jo Jo White
Along with being drafted by the Celtics, White was also drafted in football (by the Cowboys) and in baseball (by the Reds). He eventually chose basketball, and played in Boston for a decade (1969-1979). A seven-time NBA All-Star, White was a precise shooter who was also extremely durable, playing in a team record 488 consecutive games. White played an instrumental role in Boston winning titles in 1974 and 1976.