Celtics
Marcus Smart gave a post-surgery update on his thumb injury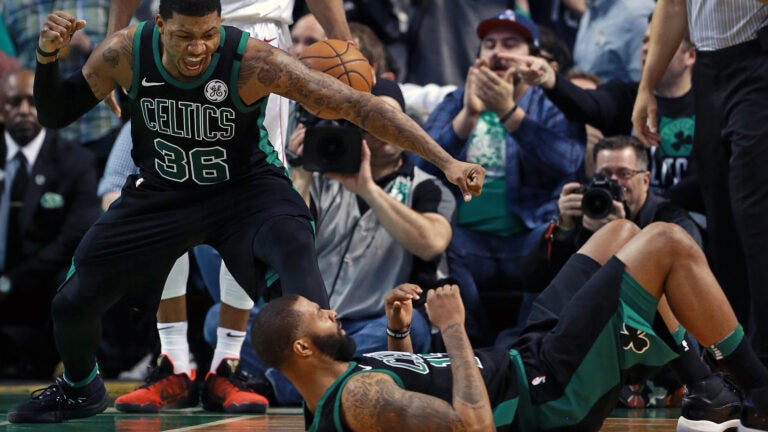 Marcus Smart claims he's the best bowler on the Celtics, but the injured guard couldn't show off his skills at Kings Dining & Entertainment Monday night.
Smart — who recently underwent surgery for a torn ulnar collateral ligament in his right thumb — arrived at the new Seaport establishment cradling a heavily wrapped hand and wrist. Although the 24-year-old said he was disappointed he couldn't participate in the second annual Bowling Bash for his YounGameChanger Foundation, he also seemed encouraged by the status of his injury.
"Hand is doing well," he said. "The doctor said the surgery was a success."
Marcus Smart, post-surgery, is at Bowling Bash for his charity tonight. He says he's ready to attack the rehab process. pic.twitter.com/iSzKeJAPEl

— Nicole Yang (@nicolecyang) March 19, 2018
"I'm taking it day by day," he continued. "There's really no timetable. I'm not trying to rush anything. As bad as I want to be out there, I know my teammates are going to play as hard as they can. I know they're awaiting my return — whenever that is. I'm just going to attack this rehab process and try to come back as fast as possible."
After injuring his thumb diving for a ball against the Pacers on March 11, Smart said he decided to pursue surgery based on the recommendations he received from multiple doctors. While he initially hoped he could continue playing and avoid further damage, a second opinion confirmed the ligament was torn completely.
"Doctors said, 'If this were me, I would get surgery now because the longer you wait, the harder it's going to be and cause more complications,'" Smart said. "It's a possibility you could be back sooner than you thought."
The team announced Friday Smart is expected to return to basketball activities in six to eight weeks — which means the end of April at the earliest. The first round of the NBA playoffs is scheduled to begin Saturday, April 14, but Smart expressed confidence that he will return to the court. The guard said he is "ecstatic" his injury is not necessarily season-ending.
"When I first got the injury, I thought it was a sprain, so I played with it," he explained. "But once the adrenaline came down, I kind of felt it. When we went to get evaluated and they told me what it was, it kind of scared me a little bit. I've never had a season-ending injury. But for them to say there's hope I could possibly return sooner than later, that was a big relief off my shoulders."
"I might as well get the surgery now — the quicker we can get it, the quicker the recovery," he said. "I'm eager to get back out there, hopefully sooner than later."
In the meantime, Smart said he believes the team is going to "handle their business." The Celtics have 12 remaining contests in the regular season and are expected to be the second seed in the Eastern Conference. While Smart said watching the team compete from the sidelines is "brutal," he plans to stay busy with his rehab, which currently consists of lower-body cardio workouts.
"Nothing really upper-body — can't really lift anything right now," he said. "That's still OK. There's still a way to stay in the groove of things, instead of getting out of shape. It's easy to get out of shape and it's hard to get back in."
When asked about his status for next season, given he is set to become a free agent, Smart said he is only focused on the short term at the moment.
"I haven't really thought too much about that," he said. "My biggest concern is getting this fixed and being ready for whenever I come back."