Celtics
10 things we learned from Ray Allen's upcoming tell-all book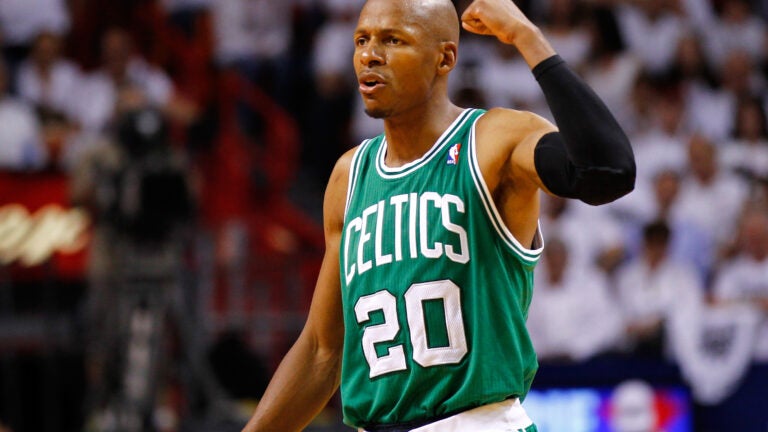 Ray Allen has a story to tell.
From growing up in South Carolina to playing college basketball at UConn to spending nearly two decades in the NBA, the 42-year-old has seen quite a bit over the course of his basketball career. In an upcoming book, titled "From the Outside: My Journey through Life and the Game I Love," the retired guard opens up about his relationships not only with the sport, but also with past teammates and coaches.
Allen walks readers through the ups and downs of several emotional experiences, including the 2008 championship run with the Celtics.
Here's what we learned from the 265-page memoir that goes on sale March 27:
He and Kevin Garnett met in high school.
While playing AAU basketball during the summer between 10th and 11th grade, Allen and Garnett carpooled to games at the University of South Carolina. Allen attended Hillcrest in Dalzell, S.C., which was about 150 miles southeast of Garnett's hometown of Greenville.
"The trip took a couple of hours, but that's what you do if you're 16 years old and you want to find out how you match up against players older than you," Allen wrote. "The two of us got to know each other quite well that summer."
Allen credited the summer of AAU with improving his level of play, as he gained self-confidence and learned how to be more aggressive on the court. Garnett even started to loosely compare him to Michael Jordan for his ability to score.
"'Man, you're like Jordan,' Kevin used to say. 'Every time he scores 30, you score 35.'"
How Rick Pitino and Kentucky treated him on his recruiting visit helped cement his decision to attend UConn.
The finalists for Allen's college basketball career were Alabama, Wake Forest, North Carolina State, Kentucky, and the University of Connecticut. Although he initially thought UConn was referring to the Yukon territory near Alaska, Allen ended up loving Storrs once he visited. In addition to the program's growing prominence, Allen said he was hooked by coach Jim Calhoun, the players' close-knit community off the court, and the lack of racial barriers he experienced in the South.
"This was the place for me," he wrote.
But Allen wanted to be sure, so he visited Lexington.
When reflecting on how he was treated by UConn, however, Allen said Kentucky couldn't compare. One of the two defining examples he believed elucidated the difference came when he was eating lunch with forward Jamal Mashburn and his roommate at a restaurant coach Rick Pitino owned.
"[Coach Pitino] happened to be there that afternoon, sitting with some friends a few tables away," Allen recounted. "Perfect, I figured, he'll stop by for a few minutes to say hello, and I'll learn more to help me make my decision. Only he didn't stop by. He waved, and that was it. Coach Calhoun would never have ignored us. He and I, in fact, enjoyed several meals together on my visit to Storrs."
Allen said Pitino's approach on his visit to Kentucky helped him realize the importance of being somewhere you are valued — "where it's clear somebody wants you to be an essential part of what they're doing."
He, at one point, genuinely thought he was going to be drafted by the Celtics.
Allen declared for the 1996 NBA Draft and was expected to be a lottery pick.
Just hours before the draft, he received a call from Red Auerbach — then president of the Celtics — who told him the team would take him if he was still on the board. Boston had the sixth overall pick, behind the 76ers, Raptors, Grizzlies, Bucks, and Timberwolves. After Allen Iverson, Marcus Camby, and Shareef Abdur-Rahim went one, two, and three, Allen figured Milwaukee would take him at four.
But the Bucks didn't.
"The moment I heard the commissioner call out, 'Stephon Marbury,' all I could think was: Oh my God! I can't believe it! I'm going to be a Celtic!" Allen wrote. "There was no way Minnesota, picking right before Boston, was going to take me, not after I wouldn't show up for the workout."
Minnesota did draft him though — and promptly traded him to the Bucks for Marbury. Allen said he immediately started crying after returning to his hotel room. He, once again, felt unwanted.
"The biggest night of my life, and I couldn't remember when I felt as devastated."
He had mixed feelings when he was traded to the Celtics.
When the Seattle Supersonics drafted Kevin Durant over a decade later, they also dealt Allen in a trade on the very same night.
"What was it with me and draft nights?" he wrote. "The Sonics traded me to Boston for Delonte West, Wally Szczerbiak, and the rights to the Celtics' No. 5 pick, Jeff Green, a forward from Georgetown. Just like that, I was on the move again."
"If anything, I should have been overjoyed, right?" he continued. "After all, this was not some run-of-the-mill franchise they were sending me to. This was the Boston Celtics, as close as it comes to royalty in the NBA. Plus, I would be only an hour from family and friends in Connecticut."
But Allen was upset with how the trade went down. He thought he was going to be important part of the Sonics' plans for the future. To make matters worse, he caught wind of the trade from the media instead of the team.
He learned early on he and Garnett didn't mesh well.
Allen said although he Garnett didn't cross paths too often in the future after getting to know each other as teenagers, the two "still had a great amount of respect for each other." Garnett even called Allen for reassurance when Timberwolves-Celtics trade talks were heating up in 2007.
Once they were on the same team, however, things quickly took a turn.
Prior to the team's first contest, Allen started dribbling a basketball in front of his locker — part of his long-established pregame routine. Garnett wasn't having any of it. Other players in the locker room stayed silent, but Allen said he could tell they knew the clash, albeit small, wasn't good.
"Neither of us was willing to give an inch," Allen wrote. "That's what happens when you have two alpha dogs in the same room, each determined to impose his will on the other. As franchise players, we were used to having our way."
If Allen could select only one player to play with, he would still choose Garnett.
Despite their very apparent differences, Allen said he would elect to play with Garnett out of all his past teammates from both college and the NBA. As he put it, "no one else comes close."
When Joakim Noah once congratulated Garnett on a step-back jumper and asked if he could teach him the shot — an exchange Allen said was common between players in the NBA — Garnett responded, "Get off my dick."
"If you're on his team, he will die for you," Allen wrote. "If you're not, he won't give you the time of day."
Allen also appreciated Garnett's everlasting tenacity — an intangible trait that he felt didn't necessarily light up the stat sheet.
"He never took a game off. A possession off," he wrote. "I can't say that of anyone else I played with, and I played with some of the best."
Paul Pierce, on the other hand, would explicitly announce he was "taking the night off" when matched up against a player who wasn't considered to be elite. Although it was obviously in jest, Pierce's attitude ticked Allen off. He was sure to express his disapproval to Pierce, who eventually no longer joked about taking it easy.
"No player should ever have a night off," Allen wrote. "The worst player in the NBA would not be in the NBA if he weren't good, which means he has the potential to beat you on any given night. And if you think you have to put forth a greater effort against the top players, you clearly aren't giving enough of an effort against everyone else."
Doc Rivers took the Big Three on a Duck Boat tour prior to the start of their first season together.
The day before the Celtics took off for Rome to play a few preseason games, coach Doc Rivers asked Allen, Garnett, and Pierce to meet him at his apartment at 8 a.m. sharp. Rivers wanted to take the trio on a private Duck Boat tour to give them a taste of what's to come.
"Get on board, Doc said. He wasn't kidding," Allen wrote. "With the whole boat to ourselves, we made our way slowly through the neighborhoods, and then down an embankment and into the water."
"'This is what we're going to do at the end of the year,' he said, 'and it's important that you guys know what it feels like.'"
Allen was a big fan of the idea and believed it reflected Rivers's approach to the game. He "understood the right balance between fun and hard work."
"If we lost a few games in a row, he would cancel practice and take us to a movie or come up with another activity to get our minds away from the game," Allen wrote. "Doc was the first coach I played for where it was not just about basketball; it was about reaching his players as human beings, too."
Michael Jordan had warned Allen about a potential future problem for the Celtics.
Michael Jordan gave Allen a reality check the summer after the Celtics had won their franchise's 17th championship. He told him: "You guys got lucky. Winning one is lucky. Winning two, now you would be doing something." Speaking from experience, the six-time NBA champ advised Allen against one of the challenges the team would likely encounter down the road.
"'The major problem you're going to have to worry about is your role players not wanting to play their roles anymore,' Michael went on. 'They go home after the season, and everybody tells them how great they are, and it goes to their heads. They come back and want more minutes and more shots.'"
Allen was initially skeptical about Jordan's prediction — especially after the team's 27-3 start — but soon learned, MJ was right.
"[Rajon] Rondo, [Kendrick Perkins,] and Glen 'Big Baby' Davis demanded larger roles," Allen wrote. "There was absolutely nothing wrong with that, in my opinion … Only having a larger role should happen naturally, in the flow of the offense."
That wasn't the case, according to Allen. Davis wanted more touches, but proceeded to take shots before the team was able to develop any kind of rhythm. Rondo, eager to adopt an even bigger role, was "altering the dynamic that had worked so well for [the team] in 2008."
"I didn't have quite the same feeling about the direction we were heading in as I had the year before," Allen wrote. "No Ubuntu in this group. Too often we had to remind guys to move the ball around, instead of looking out for themselves."
His relationship with Rondo was 'pretty bad for some time.'
Allen's tenure with the Celtics ended on a sour note — largely in part to his deteriorating relationship with Rondo. According to Allen, he and Rondo had multiple spats throughout his final three seasons in Boston.
2009: Allen was told he and Rondo were being traded to the Phoenix Suns because Rondo and Celtics president of basketball operations Danny Ainge didn't get along. When Allen passed this information to Rondo, he didn't take it well. The deal never ended up happening, but Rondo brought up the issue before practice one day.
After claiming he "carried" the team to the 2008 championship — and alleging every player on the team "had issues" with him — Rondo called out Allen for saying he was the reason the two were going to get traded. Allen maintained he never said that and was just telling him what he had heard.
2010-2011: Allen offered to help Rondo with his free throws one day before practice. Rondo's free-throw percentage hovered around 60-percent that season, so Allen thought improving that shot of his could be a "huge boost" for the team. Rondo, however, was not on board with Allen's suggestion.
"Rondo didn't say a word, but the look on his face said enough: I don't need your help," Allen wrote. "I walked away and never offered to work with him again. I can't help somebody who doesn't want to help himself."
2011-2012: At this point, Allen said Rondo had stopped passing him the ball on the court — even when he was wide open. After a regular-season game against the Pacers, the two started "screaming at each other" in the locker room. Rondo claimed Allen was jealous of him and vouched to "get [his] ass out of here" during the offseason, but Allen said he already had plans to leave anyway.
When Allen approached Rondo to try an resolve things on the plane home, Rondo was not interested. "I got 11 games to play with you, and that's it," he told Allen.
"There was no point in saying another word," Allen wrote. "Whatever was between Rondo and me could not be resolved."
He believes the criticism surrounding his departure was unfair.
Allen received significant backlash after signing with the Miami Heat following the 2012 postseason, but he believes the attacks are unwarranted for two reasons.
Am I wrong for thinking ray allen is a traitor for signing with his rival team the heat? Tell me what u think!!!!!!

— JARRETT JACK (@Jarrettjack03) July 7, 2012
1. To him, the Celtics and the Heat were not rivals. 
"So the Heat beat the Celtics two straight years in the playoffs?" he wrote. "You need more than two years to establish a rivalry."
2. He wasn't leaving for more money. 
Allen signed a two-year, $6 million contract with Miami — a significant pay cut compared to Ainge's two-year, $12 million offer. Allen's sister, Kim, had helped him realize the final years of his career were no longer about the money. For them, it was more important for the 10-time NBA All-Star to be happy and respected — something he felt was no longer the case in Boston.
Allen said he regrets not calling Pierce before news of the signing became official, but otherwise, he believes he has "nothing to apologize for."
As for when Garnett blatantly ignored him during the Heat's season opener against the Celtics? Allen said even though he was hurt, he was by no means shocked by the cold reception.
"KG would have snubbed his grandmother if she signed with another team."
"From the Outside: My Journey through Life and the Game I Love" goes on sale March 27, 2018.