Celtics
How Kyrie Irving's knee problems started and what they mean for the Celtics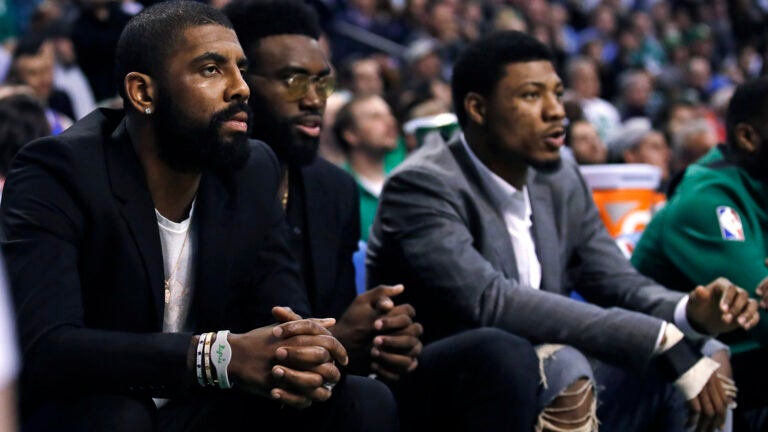 The Celtics are going to be without Kyrie Irving until roughly the start of the playoffs — if not longer.
The injury-plagued team announced Saturday that Irving, who hasn't played since March 11 against the Pacers, underwent knee surgery and will be out of action for another three to six weeks.
Here's a timeline of where Irving's knee problems began and how they crept back again to sideline him this season:
What originally happened?
June 2015: Irving's knee problems date back to his first of his three consecutive NBA Finals appearances against the Golden State Warriors.
The Cavaliers guard was hampered by injuries throughout the 2015 Eastern Conference playoffs, missing several games due to tendonitis in his left knee. Headed into Game 1 of the Finals, teammate LeBron James estimated Irving was far less than 100 percent.
"I'm just going to go out there and will myself to play," Irving told reporters.
June 4: After playing 43 minutes in Game 1, Irving fell awkwardly attempting to plant his foot while driving past Klay Thompson and crumpled on the court clutching his left knee. With about two minutes left in the overtime period of the game, he hobbled off the court in anguish and into the Cavs locker room.
June 5: Irving received an MRI, which revealed he suffered a fractured kneecap. He missed the remainder of the Finals.
June 6: The Cavs' team physician Dr. Richard Parker performed surgery to repair Irving's knee, and the All-Star guard was ruled out for at least four months. The Sporting News reported at the time surgery to repair such an injury typically requires "screws, wires, or heavy suture" to hold the fractured kneecap together.
June 10: Irving told reporters he thought the injury was the result of a "freak play" and that his previous knee problems were to blame.
December 20: Irving returned for the first time since the injury, playing limited minutes in a 22-point win against the Philadelphia 76ers. He finished with 12 points and four assists in 17 minutes.
I'm back.

— Kyrie Irving (@KyrieIrving) December 19, 2015
June 2016: Irving scored 27 points per game in Cleveland's victory in the 2016 Finals against the Warriors, including a clutch, go-ahead three-pointer in the final minute of Game 7.
Has Irving's knee soreness flared up before?
March 16: Irving sat out the entire fourth quarter of a regular-season game against the Utah Jazz due to what Cavs coach Tyronn Lue described as "left knee tightness."
"I took myself out," Irving told reporters. "I knew what was best for my body at the time."
March 18: Irving sat out Cleveland's game against the Los Angeles Clippers.
April 7: Irving again complained of knee soreness following a loss to the Atlanta Hawks. According to Cleveland.com, the guard limped to the bench and then the locker room during the third quarter of the game, but did return later in the fourth quarter. Irving told reporters the team's previous off-day had been "a terrible day for me and my knee."
"I mean it's never easy, even the year after, just to realize that you have plates and screws in your knee and stuff like that," he said. "I don't want it to feel sore anymore."
Irving added he understood it was the type of soreness that comes with having surgery and he just had "to be able to deal with it."
July 21: ESPN reported Irving asked Cavs owner Dan Gilbert to be traded.
August 22: The Cavs traded Irving to the Celtics for Isaiah Thomas, Jae Crowder, Ante Zizic and the Brooklyn Nets' unprotected 2018 first-round draft pick in a blockbuster deal.
January 25, 2018: Cleveland.com reported Irving had threatened over the summer to sit out at least some of the upcoming season to have knee surgery, after Gilbert initially refused to honor the 25-year-old's trade request. The escalation reportedly convinced the Cavs their relationship with Irving wasn't salvageable.
Somewhat buried in the report was the detail that Irving reportedly "needs minor knee surgery as a follow to the procedure he underwent during the 2015 Finals to repair his broken kneecap." While "not pressing," the minor procedure, which would typically be timed during the offseason, would "ease some of the swelling and day-to-day pain."
At the time of the report, Irving hadn't missed any games with the Celtics due to knee soreness, though he did reportedly mention it earlier in the week.
Irving was asked about the knee after appearing to favor it during Lakers game. "A little sore tonight," he said, "but it's part of being a professional, being able to weather that to give my team a chance to win."

— Jay King (@ByJayKing) January 25, 2018
January 26: Asked about the report, Irving refuted the claim that he considered surgery over the summer, but dodged the question when pressed if he still needs to have that procedure.
"Sounds like a HIPAA violation," he told reporters. "That's what it sounds like to me."
When did his knee problems reignite this season?
March 3 @ Houston: Irving played 35 minutes and scored 18 points in the Celtics' 123-120 loss to the Rockets.
March 5 @ Chicago: Celtics coach Brad Stevens announced Irving would miss the team's next game, against the Bulls, due to soreness in his left knee. The discomfort started against Houston, according to Stevens, but Irving chose to play through the pain — despite feeling it "throughout the night."
"He aggravated it," Stevens told reporters during shootaround in Chicago. "[He] woke up [Sunday] and felt a little bit better, [but] woke up today and did not feel any better. So, obviously, with that left knee, we're going to make sure that we do right by Kyrie, first and foremost, and make sure he feels great."
Stevens said Irving would not have to get an MRI. Although he acknowledged the possibility of missing the guard for multiple games, he also told reporters the issue did not sound like a "long-term concern." Irving echoed this sentiment and suggested the rest was related to maintenance.
"It's been about two years coming off knee surgery, so you have to do things like that, stay on top of it and make sure you're doing the right things," he said. "Sometimes it may be a little bit extra just from the demand you put on your body and then also the realization of how much basketball you've actually been playing for the last few years."
March 8 @ Minnesota: Irving played 30 minutes and scored 23 points in the Celtics' 117-109 win over the Timberwolves. Boston clinched a playoff spot with the victory.
March 11 vs. Indiana: Irving played 16 minutes and scored seven points against the Pacers before not returning to play in the second half. Stevens told reporters after the game he "had no idea" Irving's soreness was nagging him during the first half, but the guard mentioned feelings of discomfort during halftime.
"[He] felt some soreness in it, probably similar to the Houston game in the third quarter, and was getting it worked on after halftime," Stevens said during his postgame press conference. "We don't know what it is above general knee soreness and I think that's the case, but we will go and get as much testing as we need to."
Irving told reporters his knee is "aching a little bit more" than his liking, adding that the soreness isn't subsiding after two or three days like it usually does. But he said he's "pretty comfortable" with the direction the Celtics are going this season, so his primary area of concern is his status when he returns to the court.
"Competitively, I think that's what I'm more or less concerned about," he told reporters. "When I actually do get back on the floor, I want to feel the level I expect myself to play at — and I want to play at — and be able to sustain it."
When asked if he might have to pursue the minor follow-up procedure to his surgery in the near future, Irving said he wasn't sure.
"I don't know, I hope not," he said. "I think taking games like this, being smart about it probably will put me in a a better position not to be out for a long period of time. That's the last thing I want to do."
March 14 vs. Washington: Irving did not play against the Wizards. Stevens reiterated to reporters his absence is due to the ongoing knee soreness and not a result of any larger issue.
"Just got some soreness and some pain in that knee and, again, not something that you wouldn't have guessed he'd have some of," he said. "But obviously creeping up twice in 10 days, we want to be very careful with that."
March 16: Celtics president of basketball operations Danny Ainge confirmed on 98.5 The Sports Hub's Toucher and Rich that Irving will eventually need surgery to address his knee discomfort. He indicated, however, the operation was not urgent.
"He has some surgery that may need to happen," Ainge said on the radio program. "But maybe not this summer. Maybe the following summer or maybe the summer after that. I think he could probably do it any time he wanted, but I'm not sure it's needed at this moment."
Ainge told Toucher and Rich the Celtics were aware of the condition Irving's knee when they traded for him in August. Headed into the season, the team was not anticipating him to play all 82 games.
"We knew there would be maintenance issues, but his long-term prognostication is good," Ainge said. "He's going to have some maintenance issues here and there … We're just extra cautious. We have the good fortune of being extra cautious right now. We want him fresh and healthy and we think that he will be come playoff time."
Irving traveled with the team for their two-game roundtrip, but did not play against the Magic or the Pelicans.
March 20 vs. Thunder: Prior to the Celtics' game against the Thunder, reports emerged about Irving's plans for his knee. The guard intended to consult another medical opinion later in the week, according to Shams Charania of Yahoo! Sports. Tony Massarotti of 98.5 The Sports Hub added that, from his understanding, Irving needs to remove the screws in his knee or he will not play at all.
With lack of progress on his ailing left knee, Celtics All-Star Kyrie Irving plans to travel for a second opinion later this week, league sources tell Yahoo.

— Shams Charania (@ShamsCharania) March 20, 2018
My understanding is that Kyrie Irving is getting a 2nd opinion on his left knee, perhaps as soon as tomorrow. Bottom line: he needs the screws out. Knee is flaring up. He will either play thru it going forward or … he will get thee screws out and won't play at all. Stay tuned.

— Tony Massarotti (@TonyMassarotti) March 20, 2018
During his pregame media availability, Stevens confirmed Irving's plans to seek a second opinion. He emphasized the pain is "not anything new," despite the apparent escalation in treatment.
"He's worked really hard to manage the soreness throughout the entire season," Stevens said. "He's had some pretty good days recently, so I'm encouraged by it in the big picture."
Later in the evening, ESPN's Adrian Wojnarowski reported on SportsCenter there is "no structural damage" in Irving's knee.
"They still believe in Boston that the best remedy to get him better and back is rest," Wojnarowski added.
.@wojespn gives us an update on Kyrie Irving's sore left knee. pic.twitter.com/rwIKf2as4y

— SportsCenter (@SportsCenter) March 20, 2018
March 21: The Celtics left for Portland to begin a four-game road-trip on the west coast. Irving did not travel with the team.
March 23: The Celtics announced Friday that Irving will undergo a "minimally invasive procedure to alleviate irritation in his left knee" Saturday. The team did not initially offer a timetable for return.
March 24: Irving underwent a procedure to remove a tension wire in his left knee, the team announced Saturday afternoon. He is expected to return to basketball activities in three to six weeks.
Per the team: "The wire was originally placed as part of the surgical repair of a fractured patella sustained during the 2015 NBA Finals. While removal of the wire should relieve irritation it was causing in Irving's patellar tendon, the fractured patella has fully healed and Irving's knee has been found to be completely structurally sound.''
March 25 @ Sacramento: Stevens said the timeline for Irving's return will ultimately be determined by how the guard feels and noted the importance of distinguishing "basketball activities" from playing basketball.
"Kyrie is three to six before basketball activity," he told reporters. "Again, that's basketball activity. There's a big difference between that and playing, so we don't know when we're going to have [him] back."
Stevens on Kyrie: "I've texted with him. Left him a message this morning & haven't heard back. But the timeline will be determined on how he feels & how quickly he can get back on the court & everything else. There's still a process after that too to be ready to play in a game."

— Adam Himmelsbach (@AdamHimmelsbach) March 25, 2018
What does Irving's absence mean for the Celtics?
It is more than likely Irving will miss Boston's remaining nine games of the regular season. The Celtics are currently slated to be the second seed in the Eastern Conference — three games behind the Raptors and six games ahead of the Cavaliers. The team still has to play Toronto twice, which means Boston does have a shot at the top seed in the East.
Given that only four games separate the fourth through eighth seeds in the current standings, the Celtics could face the Pacers, the Wizards, the Bucks, or the Heat in their first postseason series.
If Irving returns on the earliest possible date of his projected timeline, he will be available April 14 — which happens to be the day the first round of the NBA playoffs is scheduled to begin. According to the league, the Conference Semifinals will start April 30/May 1 and could potentially be moved a day earlier, while the Conference Finals will start May 15/16 and could also be pushed a day earlier.
If Irving returns on the later end of his projected timeline, he will be available around the first weekend in May, which would likely correlate with Game 3 or 4 of the Eastern Conference Semifinals.
The Celtics are also awaiting the return of guard Marcus Smart, who is recovering from a thumb injury. Smart is expected to return at the end of April at the earliest.
"It's tough, but it's an opportunity for other guys to step up and guys are really taking advantage," Al Horford said Friday. "We're trying to move forward. It's hard, but we don't really have an option."